Alpha & Omega Ministries Apologetics Blog

Open Invitation to Peter Lumpkins
04/12/2013 - James White
Some will remember Peter Lumpkins, a blogger and author of a new book on all you need to know about Calvinism---actually, a pamphlet of about 34 pages of actual text written by Peter himself. In any case, he was one of the main defenders of Ergun Caner in 2010, and remains in that camp, despite the overwhelming mountain of evidence that all fair minded people have concluded convicts Ergun Caner of dishonesty and deceit.

In any case, a few days ago on the Dividing Line I worked through, fairly quickly, the main errors in Peter's booklet, demonstrating that Mr. Lumpkins, as has been documented many times before by myself and others, has a major problem with category errors. Remember, this is the same Peter Lumpkins who could hear one thing on a video, but put something else on the screen of a video he was making. I would link to it, but Peter, wisely, has made it "private," the act of one who knows he has acted dishonestly but refuses to admit it (note the parallels between Lumpkins and Caner). Here is the article about it anyway.

Since I took the time to respond to Lumpkin's booklet, he has gone back into the same mode of attack he and his compatriots demonstrated back in 2010. This has included the same kinds of hate filled rhetoric on his website by well known compatriots of his that marked the 2010 situation. I guess some things never change. In any case, lacking the ability to defend his booklet in any meaningful fashion, Lumpkins has resorted to classic ad-hominem and category errors, this time complaining that I dared to address multiple topics in a single program, and then make a general concluding statement that inconsistency in theology and exegesis is detrimental to apologetic activity (shocking statement, no?). Now, Peter wishes me to invest my time in posting comments on his blog where, of course, he is in control, he has his nasty-tongued compatriots to help stoke the fires, and, of course, he has a track record of editing and deleting as well. A fool's errand to be sure! Here is his "invitation":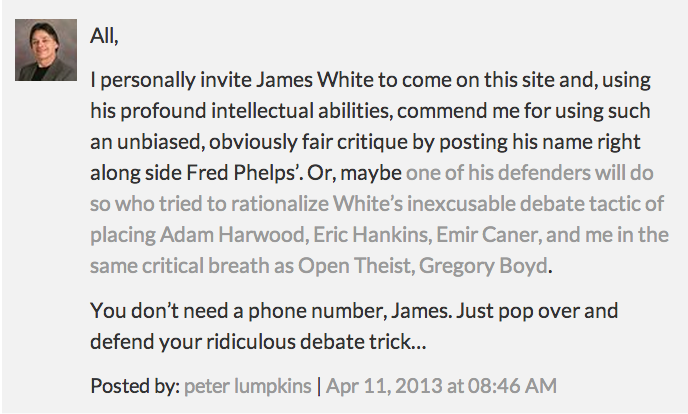 Now, let's put this to rest immediately (something I did on the last DL, but evidently, Mr. Lumpkins was not listening). His point is clear: he will make an invalid connection between myself and Fred Phelps and therefore prove that the alleged connection I made between Boyd and the few folks from the John 3:16 II Conference I reviewed is invalid.

1) The connection I made was a general one, defined by context: that exegetical error and theological inconsistency is detrimental to apologetic activity since, of course, apologists must have a consistent theological basis upon which to make their case.

2) Mr. Lumpkins has not grasped #1, hence, he has produced an allegation without substance. He has not provided the very connection I did by providing meaningful, and accurate, commentary either upon my own position, or even that of Phelps. This I had done on the DL, as any fair minded person knows.

Hence, if Mr. Lumpkins wishes to make his point, he will have to do two things: 1) address my actual comments and dispute the following statement: "Theological and exegetical inconsistency is detrimental to apologetic proclamation." 2) He will have to demonstrate this very kind of theological and exegetical inconsistency on my part so as to make a connection to a similar demonstration of inconsistency on Fred Phelps' part.

So, I would like to ask Mr. Lumpkins to let me know when he would be available to appear on The Dividing Line to undertake #1 and #2 above. He will be given 10 minutes uninterrupted time to do so. Then I will have ten minutes to respond, and then we will have five minutes for him to ask me questions, and five minutes for me to ask him questions. Seems like a generous offer, and, given that I have a long---decades long---track record in being able to engage in such encounters fairly (and Peter does not), I cannot think of any reason why he would decline. So, I look forward to hearing from him very soon!


11:43:18 - Category: Reformed Apologetics - Link to this article -

Why Calvary Chapel Keeps...Producing Calvinists
03/20/2013 - James White
I have often said that as long as the leadership of Calvary Chapel continues to ignore the biblical testimony to Reformed theology, while at the same time teaching their people to believe and study the Bible, they will continue to produce an unending stream of Calvinists. You cannot deal with Reformed theology by utilizing the surface level arguments of someone like George Bryson. The only way you can maintain the consistent anti-Reformed stance of Calvary Chapel is to use intimidation. And that is exactly what is taking place. And some folks in Calvary Chapel feel secure enough in their position to actually talk about it in the open. Here is a response to George Bryson posted by the men's pastor at the main Calvary Chapel in Costa Mesa, California. It seems to indicate that George Bryson continues to see himself as the guardian of the Calvary Chapel movement against the insidious invasion of the body snatchers, sorry, I mean, the Calvinists. I personally find this kind of modern-day Inquisition incredibly sad.

UPDATE: It would seem that the article linked to above has been removed. One of our channel participants found it in the archives here. RP


17:10:16 - Category: Reformed Apologetics - Link to this article -

Two Reformation Sunday Sermons
10/28/2012 - James White
Oh, forgot it was Reformation Sunday? Well, I didn't! In the midst of the craziness, and evil, of our day, it is good to remember that 495 years ago, God brought light to a darkened world. He may well have to do so again in the not too distant future! Here are two sermons from today at PRBC on the two great truths of the Reformation, sola fide and sola scriptura.






21:43:50 - Category: Reformed Apologetics - Link to this article -

A Response to Arminians David Baggett and Jerry Walls
10/26/2012 - Alan Kurschner
"In their recent book Good God: The Theistic Foundations of Morality (Oxford 2011), David Baggett and Jerry Walls have a chapter attacking Calvinism on allegedly philosophical grounds. Jerry Walls may well be the leading Arminian philosopher of his generation. So this chapter presumably represents the best philosophical case against Calvinism from an Arminian perspective." Read more...

See also the follow-up post: http://triablogue.blogspot.com/2012/10/impugning-god.html


06:03:45 - Category: Reformed Apologetics - Link to this article -

Dave Hunt: Repeater of Fully Refuted Fables
07/30/2012 - James White
I suppose it is possible the folks at the Berean Call are just recycling articles these days. But I was directed this afternoon to an article in the July 2012 newsletter from TBC titled "Calvinism's Surprising Catholic Connection." There is nothing new here, it's the same tired and refuted material we encountered in Debating Calvinism. Dave's willingness to use the most egregiously shallow historical argumentation on this topic, sadly, gives reason for anyone to question anything else he has done on many other important topics. Many of us tried to warn him, but he refused counsel. In any case, Hunt opines in his current newsletter:

In my debate with him [see resource pages], James White claims that "Calvin refuted this very passage in Institutes, and any fair reading of Augustine's own writings disproves this misrepresentation by Hunt." In fact, Calvin acknowledged the authenticity of the statement and attempted to defend it as legitimate reasoning for those who had not the assurance of faith by the Holy Spirit.
Of course, Dave has refused, consistently, to debate me. In fact, he refused to even appear on radio with me after the book came out, knowing full well he cannot defend his position in my presence. He was very angry the one time we ended up on the air together, as he protested he had not been told I was going to be on! We did the KPXQ program together, which led to his writing of What Love is This?, and then we did the book, and since then, he has refused numerous invitations to do a formal debate. Obviously, that, now, will never happen. ...
[Click Here to Continue Reading]


12:30:52 - Category: Reformed Apologetics - Link to this article -

John 12:32 in Context
07/22/2012 - James White
One of the most common excuses offered by synergists to the plain teaching of John 6:44 is to jump over to John 12:32. Do they have a basis for doing so?




15:16:35 - Category: Reformed Apologetics - Link to this article -

A Short Response to Wesley Norris
07/17/2012 - Alan Kurschner
We have all heard the repeated misrepresentations and maligning of Calvinism, so it is easy to become blasé over time when we hear it again. But we must have stamina to continue to respond and challenge them. Certainly, there are times when wisdom calls for ignoring them. But there are times when we are called to defend our Lord's character when his free grace is slandered.

That being said, recently I encountered an anti-Calvinist, Wesley Norris, who is bent on defaming Calvinist theology on the Internet by calling it "heretical" and falsely claiming that it teaches "that God actually chose people to go to hell for His glory."

He is woefully ignorant of what Calvinism teaches, for he conveys in his assertion of what it teaches that it is God's fault that sinners go to hell. That is simply a falsehood. Calvinism teaches that it is sinners who send themselves to hell. And God is glorified in his loving grace to save freely undeserving sinners for himself, and he is glorified in the righteous judgment upon deserving sinners that he did not freely save. The former receives mercy and the latter receives justice. E.g., Rom 9:6–24.

https://www.facebook.com/wesley.norris.79


19:42:26 - Category: Reformed Apologetics - Link to this article -

Perseverance OF THE SAINTS
07/01/2012 - Alan Kurschner
Hays writes:

Over at Arminian Invectives, Ben Henshaw has a running series on "unconditional eternal security." Oddly enough, he has that filed under "perseverance."

Problem is, Calvinism doesn't subscribe to "unconditional eternal security." There are some antinomian fundamentalists who take that position (e.g. Zane Hodges, Charles Ryrie, Randall Gleason), but that's in studied contrast to the Reformed doctrine of perseverance.

I don't know where Henshaw came up with the notion that perseverance of the saints is interchangeable with unconditional eternity security. I have noticed that some muddled Arminians detach adjectives from the TULIP acronym and misapply them to other Reformed doctrines. For instance, it's not uncommon for Arminians to detached "irresistible" from "grace," where it stands for monergistic regeneration, and then misuse "irresistible" as a general designation for Reformed soteriology.

Perhaps Henshaw is laboring under the misconception that if Reformed election is unconditional, then perseverance is unconditional. If so, his usage is idiosyncratic at best and illogical at worst.

In Calvinism, "eternal security" is conditional, not unconditional. It's contingent on the "perseverance" of the saints. In fact, that's why it's traditionally dubbed the "perseverance of the saints." Subtle, I know.

In Calvinism, "eternal security" is contingent on sanctification, contingent on faith. Good works are a condition of salvation.

Of course, there's a condition behind the condition. If "eternal security" is conditional on perseverance, then perseverance is conditional on God's preservation of the elect. And that's a sure thing.

Perhaps Henshaw is laboring under the misconception that if something is conditional, it must be uncertain.


http://triablogue.blogspot.com/2012/06/unconditional-eternal-security.html




11:47:46 - Category: Reformed Apologetics - Link to this article -

Roger Olson Shows the Logical Implications of Synergism
06/27/2012 - James White
Here is the article.

Here are two quotes:


And what I believe about it is that it depends on what is intended. Normal language interpretation would seem to me to indicate that asking God to save someone, without any qualifications, is tantamount (whatever is intended) to asking God to do the impossible (from an Arminian perspective).
Unless words no longer have meaning (and sometimes Olson backs off of his strong statements when faced with their meaning, as he did in reference to his last book), I think the only logical meaning of that line is "it is impossible for God to save anyone in and of Himself." Glad to have an Arminian openly admit that. I've been pointing that out for a long time.

If someone means THAT by "Lord, save my friend," then fine. But I don't think that's what happened or could have happened. "Lord, save my friend" (without qualification) normally reflects monergism, not synergism. However, it doesn't mean God won't hear the theologically incorrect prayer and act on it. Yet, if it is prayed publicly, some people may misinterpret it and think monergism is intended and right (when the prayer is answered as described).
Yep, asking God to save your loved ones is only logical for monergists. Think about it, synergists. :-)


14:36:14 - Category: Reformed Apologetics - Link to this article -

Theological Fire Safety: Let's Put Out a Few Flaming Straw Men!
05/31/2012 - James White
Smell that smoke? It's coming from the theological straw men lit up by the likes of Emir Caner, Jerry Vines, Paige Patterson, Malcolm Yarnell, and David Allen. The smoke is thick, but the fire is hardly hot. I refer to a newly released statement titled "A Statement of Traditional Southern Baptist Understanding of God's Plan of Salvation." I began seeing reference to it yesterday, and today I took a few moments to look it over. The sheer number of category errors, misrepresentations, and, at times, complete face-palming theological mistakes is mind-boggling. It seems the entire doctrine of original sin has been jettisoned as well, given language such as this: "We deny that Adam's sin resulted in the incapacitation of any person's free will or rendered any person guilty before he has personally sinned." Seems like Pelagius has returned from the dead! So why do infants die again? Well, anyway. Here is another example: "We deny that only a select few are capable of responding to the Gospel while the rest are predestined to an eternity in hell." These are theologians, yet, they are theologians of tradition, for they clearly continue to refuse to even hear what the other side has said for, well, all of church history. No one has ever argued, to my knowledge, that the elect have a capacity in and of themselves that the non-elect do not. We are all children of wrath outside of grace. The elect are no more "capable" of responding to the Gospel than anyone else. Dead men lack the capacity to respond to anything. Hence the necessity of saving grace. And on it goes.

So tomorrow afternoon, starting at 5pm EDT, we will do a Radio Free Geneva examining this new "statement" and exposing its contradictions, category errors, and simple false teachings. Join us, and invite any confused Southern Baptists to listen in as well!


12:25:51 - Category: Reformed Apologetics - Link to this article -