Alpha & Omega Ministries Apologetics Blog

Van Til and the Trinity: Man's Quest for Truth
12/31/2010 - Colin Smith
In the previous article we looked at how God can be truly personal, exhibiting all the attributes of true personality--including love--yet without being dependent on His creation. In this, the last part of the series, we shall briefly explore how Van Til saw in man's quest for ultimate truth an example of the necessity of the triune God of Christianity to make sense of the universe.
Philosophy has long grappled with the problem of "the one and the many." This problem, simply stated, is concerned with how we attain knowledge of things, whether by abstraction or by analysis. Abstraction takes a broad view of the thing in question, seeing that thing in the context of other things like it (e.g., a cat in terms of other felines, mammals, animals, and so on). Analysis breaks the thing down into its constituent parts and examines them to try to understand how they function together to make the thing. Both are forms of understanding, but do they give us true knowledge of the thing? Just because I know the context of the thing, or I understand how the thing is constructed, does that mean I truly know it? All we gain from either abstraction or analysis are sensory impressions that give us an experience of the thing, but these sensory impressions are themselves abstractions--either abstract unity or abstract particularity--and, Van Til argued, ultimately meaningless. Both abstract unity and abstract particularity demonstrate the futility of man's quest for a standard of truth outside of God. They are not personal; they do not compell belief; they are merely sensory impressions that give a subjective experience.
Van Til believed that the Trinity holds the key to the problem of "the one and the many." As Trinity, God is both one being consisting of three co-equal Persons, and hence in His being is found the resolution of all unity and diversity in the universe. The triune God is able to comprehend the entire universe in terms of particulars, relate those particulars together, and also see them in terms of the universal--the big picture. In the Trinity, all abstract particulars are related to the one universal, and the one universal is expressed in terms of particulars. As Van Til put it, in God, "unity... is no more fundamental than diversity, and diversity... is no more fundamental than unity." Since the Trinity consists of three co-equal and yet distinct Persons, the Trinity is ontologically (i.e., in terms of being) one and many. Because the universe was created by a Trinitarian God, therefore, it stands to reason that the universe is replete with examples of unity and diversity, one and many, all finding their origin and purpose in that one true God. It is the triune Christian God who organizes all aspects of reality in the universe; they are not just abstractions, but they all are correlative to God who institutes laws by which they all function together in an orderly universe. Furthermore, God is at liberty to take any of these particulars and re-order them within the context of the laws He has established. This is what we know as a "miracle"--not a peculiar but statistically possible event in a random universe, but the purposeful placing of a particular fact within a different context by a God who has created and established all things, both the universal and the particular, according to His sovereign plan.
Along the same lines of man striving for ultimate truth, Van Til recognized that unbelievers frequently utilized rationalism and irrationalism, or vacillated between the two extremes. For Van Til, this is common to all non-Christian forms of thought since they either deny any form of ultimacy in the universe and ascribe it all to mystery or chance (irrationalism), or they assume for themselves the mantle of authoritative interpreter and seek to understand the universe in terms of their own reason and experience (rationalism). Irrationalism looks to "brute" facts, abstract principles not interpreted by either man or God. Rationalism looks to the abstract particular, the constituent items that make up the thing as noted earlier. Van Til saw in the Garden of Eden an example of the interplay between irrationality and rationality. Man exercised irrationality by questioning the fact that God had spoken authoritatively, and by doubting the effects of eating the fruit. When man then reasoned with himself what God might do, and took God's rightful authority for himself, he exercised rationality.
It is true to say, however, that the non-Christian can equally level charges of irrationalism and rationalism at the Christian. He may regard the Christian view of a self-contained, all-knowing God who controls all things by His sovereign will as rationalism, and the idea that man is not at liberty to pass judgment on God's thoughts and must be subject to Him as pure irrationalism. In any case, it is clear that the Christian and non-Christian viewpoints are diametrically opposed. Non-Christian irrationality, where the universe is arbitrary, is in contrast to Christian rationality, where the universe is created, sustained, and ordered by a sovereign God. Non-Christian rationality, where all things are knowable to man, who does not need God to be able to correctly interpret facts and discern laws, is opposed to Christian irrationality, where God's thoughts overrule man's, man is subject to God in all things, and man depends upon God to truly know anything.
The apologetic value in recognizing this difference is that it allows the Christian to demonstrate the superiority of the Christian worldview by, for the sake of argument, assuming the non-Christian worldview and showing, as noted earlier, that within the non-Christian worldview, you cannot make sense of any fact--nothing truly has meaning. It is only within the Christian worldview that all facts, whether particulars or universals, come together and have meaning because they are all reflections and creations of a personal triune God who sovereignly controls all things for His glory and the good of His people.
This has been a very brief presentation of deep and important ideas. I encourage you to take a look at the original paper upon which this series has been based for references to source material where you can read further on the topic. You can find the paper on my website, under the "Papers" section.


09:07:08 - Category: General Apologetics - Link to this article -

Released!
12/30/2010 - Alan Kurschner
here and here.


18:35:33 - Category: Technology - Link to this article -

Radio Free Geneva on Today's Dividing Line
12/30/2010 - James White
Worked through Pastor Martin Gale's anti-Calvinism sermon today (see link below) in a special Radio Free Geneva edition of the Dividing Line, looking at common objections and the incoherence of those arguments. A great way to finish off 2010! Thanks to all who have listened to the DL this year, and we look forward to serving our Lord and proclaiming His truth in 2011! Here's the program.



11:19:56 - Category: The Dividing Line - Link to this article -

I Believe in Limited Atonement!
12/30/2010 - James White
...and you should, too! And here's why.






09:50:00 - Category: Theology Matters - Link to this article -

Muslim Miscellaneous
12/29/2010 - James White
Just a few items in the Islamic realm I wanted to take note of, but I will have to be brief. Polemics class looming, I'll be at the Deep South Founder's Conference the following week (even doing a debate there on the freedom or bondage of the will), and then off to the UK...much to do! So quickly....

Some may have seen the news coverage of this poster showing up in England. It is a tremendous example of the massive gulf of ignorance that exists between Christians and Muslims. Those who produced this item seriously think the degradation of Western Society is due to Christianity. How they cannot see that it is the abandonment of Christian values that leads to STDs, rape, etc., is truly beyond imagination. Such people are not thinking rationally, and it is often difficult to even attempt to reason with such people. But notice the conjunction of "claiming God has a Son" with "night clubs." Truthful people do not think in such a muddled way, and one can hardly have much hope that the Muslims who produced this propaganda actually know what Christians believe about the sonship of Jesus Christ. But the muddled thinking represented in this kind of rhetoric should be of concern not only for Christians who have to endure such things, but it should likewise be a great concern to Muslim leaders who proclaim the need for honesty and accuracy in their own community's preaching. To put it mildly, this is dawah that is repulsive rather than attractive.

So here is another image I was linked to that likewise focuses upon the ignorance of many Muslims about that which they so confidently abhor. The slanderous phrase "cross worshippers" is constant on the lips of many Muslims, but it is placed there in ignorance by their own religion, and again shows a horrific willingness to insult and degrade based upon arrogant ignorance.


While many of these people would continue to speak untruthfully even if corrected, I am still left to wonder how many have ever had any serious proclamation of the Lordship of Christ, our commitment to purity of worship, monotheism, etc.? Surely the idolatries of Rome lead to confusion that many evangelicals, hobbled by shallow theology and an unbiblical ecumenical spirit, struggle to dispel. Oh may the Lord raise up a mighty army of witnesses who will with clarity confess that we do not worship the cross, we worship the Lord who endured the wrath due to us on that cross, was buried, and rose again the third day, Lord of all, Lord of life, Lord of salvation!

Finally, one of the blogs I follow in my RSS feeds is called Muslim Matters. Today this article appeared: The Lives and Stories of Ergun "Mehmet" Caner. I have lost track of how many times I have pointed to the fact that Ergun Caner's refusal to openly and honestly admit his lies and exaggerations (along with the willful assistance he has received in continuing to refuse such repentance, given by such men as Norman Geisler) is not only a blight upon Christian apologetics in general, but is well known in the Muslim community, and in particular in what is known as the "Dawah" community, those who seek to evangelize/refute Christians. This article makes that point rather plainly, written, as it is, from a Muslim perspective. I was even mentioned briefly, and have submitted a comment to correct the impression given in the article (relating to why I would be involved in calling for Caner's confession and repentance). Clearly, Liberty University considers this a dead issue, as Caner is back to a full time teaching schedule in the Spring, even teaching a class on Eastern Religions! They are counting on the short attention span of evangelicals, and, they are probably right that "nobody cares" anymore. Well, nobody in their circle. Meanwhile, the Muslims laugh. Thanks, Ergun. You too, Norm.


21:09:21 - Category: Islam - Link to this article -

Radio Free Geneva on an Early Year End Dividing Line Tomorrow!
12/29/2010 - James White
A brother in Brisbane sent me a sermon from a Baptist Church that has decided to "take on Calvinism," and given that it illustrates perfectly the kind of resistance biblical theology faces from man-made traditions, we will listen in tomorrow on a special Radio Free Geneva edition of the Dividing Line. If you would like to listen to the sermon before hand to be "up to speed," you can listen to it here. Remember, we will be doing the program early, at 11am MST.


10:25:57 - Category: The Dividing Line - Link to this article -

Today on the Dividing Line
12/28/2010 - James White
Started with some thoughts on the centrality of the cross from Galatians 6, then started on our calls, with questions about perseverance, synergism and Romans 11. Then I played a few more clips from Bassam Zawadi. Here's the program.

Also, the suggested title to the book I mentioned during the program was correct, The Israel of God by O. Palmer Robertson.


19:25:40 - Category: The Dividing Line - Link to this article -

Bible-optional Christianity
12/28/2010 - Alan Kurschner

Update from Hays here.
---------------

Steve Hays posted the following quote from WLC and a few Bible verses here. Alan Kurschner reposted those citations, with attribution at the bottom. This morning, Rich tells me a bunch of people have been complaining who 1) either missed the attribution at the bottom or 2) were claiming WLC was being taken out of context. Now I will allow Steve or Alan to respond to the second assertion, however, I wanted to point out that this is the exact point I criticized WLC on in one of his debates with Shabir Ally, so this is not the first time WLC has made this statement. I have said repeatedly that WLC's theology is way too hobbled to support biblical Christian theism, which is why he has to produce a much smaller theism to defend. And this is one of the manifestations of starting with philosophy and then crafting a theology to match your philosophical opinions. ---JRW

William Lane Craig

"As for your two moral objections, the first is an objection to the doctrine of original sin. But once more, that doctrine is not universally affirmed by Christians and is not essential to the Christian faith. So don't let that be a stumbling block for you."

http://www.reasonablefaith.org/site/PageServer?pagename=q_and_a


Paul of Tarsus

12Therefore, just as sin came into the world through one man, and death through sin, and so death spread to all men because all sinned— 13for sin indeed was in the world before the law was given, but sin is not counted where there is no law. 14Yet death reigned from Adam to Moses, even over those whose sinning was not like the transgression of Adam, who was a type of the one who was to come.

15But the free gift is not like the trespass. For if many died through one man's trespass, much more have the grace of God and the free gift by the grace of that one man Jesus Christ abounded for many. 16And the free gift is not like the result of that one man's sin. For the judgment following one trespass brought condemnation, but the free gift following many trespasses brought justification. 17For if, because of one man's trespass, death reigned through that one man, much more will those who receive the abundance of grace and the free gift of righteousness reign in life through the one man Jesus Christ.

18Therefore, as one trespass led to condemnation for all men, so one act of righteousness leads to justification and life for all men. 19For as by the one man's disobedience the many were made sinners, so by the one man's obedience the many will be made righteous. 20Now the law came in to increase the trespass, but where sin increased, grace abounded all the more, 21so that, as sin reigned in death, grace also might reign through righteousness leading to eternal life through Jesus Christ our Lord. Rom 5:12-21

21For as by a man came death, by a man has come also the resurrection of the dead. 22For as in Adam all die, so also in Christ shall all be made alive.

45Thus it is written, "The first man Adam became a living being"; the last Adam became a life-giving spirit. 46But it is not the spiritual that is first but the natural, and then the spiritual. 47 The first man was from the earth, a man of dust; the second man is from heaven. 48As was the man of dust, so also are those who are of the dust, and as is the man of heaven, so also are those who are of heaven. 49Just as we have borne the image of the man of dust, we shall also bear the image of the man of heaven. 1 Cor 15:21-22,45-49.

H.T Steve Hays


16:48:30 - Category: Christian Worldview - Link to this article -

2011: The Year of...Book Writing!
12/27/2010 - James White
It's been quite a while since I went into "book mode," but 2011 will take me back to the keyboard for, Lord willing, two books. One is still under development (pray that the co-author I have contacted will join me in the project!) but the other is all set to begin work: What Every Christian Needs to Know about the Qur'an will be my contribution to the effort to educate, motivate, and edify the Body of Christ in the area of Islamic evangelism and apologetics. It will not simply be a review of the Qur'an per se, but I will use key texts from the Qur'an (having provided a hopefully helpful introduction and outline) as the framework upon which to build a presentation of the key issues (not all possible issues, not even the most "exciting" issues---but the issues that actually matter eternally) that separate Christianity and Islam and give rise to the primary areas of discussion when Christians and Muslims talk. As I have in my previous books, I will seek to present the issues plainly and clearly and understandably, all the while doing so in such a way as to educate and train the believer, increasing their confidence so as to lead to a growth in evangelism and outreach. Much of the fear that exists in the hearts and minds of Christians about speaking to that Muslim about the faith arises from ignorance fueled by a constant focus in the media upon the most radicalized forms of Islam. My prayer is that the believers who read this book will be emboldened to proclaim the Lordship of Christ to every Muslim.

Here's How You Can Help
Human nature being what it is, there is a downside to my going into "book mode." It's pretty simple: we are a small ministry. We do not have fund raisers. We do not send out fund raising letters, we don't have folks cold-calling contributors, and we rarely mention finances on The Dividing Line. But we are supported by regular folks who see the need for this work, and every once in a while we need to provide a reminder of this (as we constantly and thankfully have new folks discovering our work). When I am traveling and doing debates on a wide range of topics, this obviously helps the ministry in the sense of exposure and hence support. But when I am sitting in my office reading books, making notes, and writing chapters of a book that won't see the light of day for months into the future---well, let's face it, human nature is human nature, and we all know the saying, "What have you done for me lately?" So the biggest thing anyone can do to assist in "book writing in 2011" would be to let us know you will stand with us with regular support to keep the ministry moving forward, the DL airing regularly, etc.

Next, I use the Ministry Resource List to obtain the materials I need for these projects, and I have put a number of such resources on that list just recently, one of which is mighty expensive, but it would be incredibly helpful. The handful of folks who have kept an eye on that list over the past two years and have helped me out by providing those tangible resources have no idea how encouraging that is, and even more so, how necessary. I know a number of folks have commented on how they enjoy knowing that a particular book or electronic item they purchased was going to be used in a particular project, in preparation for a particular debate, etc. I am just thankful for the assistance and fellowship!

So please pray for these projects (they are not the only writing projects I have going) and stand with us in 2011 as we seek to proclaim the Lordship of Christ over all the earth! Indeed, please also remember my trip to the UK in February. We still have financial needs associated with that trip, so it would be a great encouragement if all those needs could be fully met!


06:20:47 - Category: Resources - Link to this article -

Thursday on the Dividing Line
12/25/2010 - James White
I've been more than just a little busy since doing the DL on Thursday. In fact, we did the program early because I had a rather important event that afternoon: helping my future son-in-law surprise my daughter Summer with a proposal of marriage (she said yes!). So do forgive my tardiness in blogging the program. Always remember, the Dividing Line audio file follows the same dating methodology, so even when I forget to blog it, it is easy to find (for those of you who do not subscribe to the podcast on iTunes). I continued my response to Bassam Zawadi in the first half hour, then took a number of calls on a wide variety of topics including the covenant, baptism, Jesus' loving the rich young ruler, 2 Peter 2:1, reprobation, and the Documentary Hypothesis. Here's the program. (Thanks to Google's chief competitor, Algo, for help in getting the topics for this program down!)


20:30:11 - Category: The Dividing Line - Link to this article -

A Must Read
12/25/2010 - James White
The more we learn, the more Paul's term "without excuse" (ἀναπολογήτους) is proven an understatement. More inarguable evidence of design.


13:47:52 - Category: Christian Worldview - Link to this article -

May Today Be Blessed by God's Presence With You and Yours
12/25/2010 - James White
The gift of God Himself in the Person of His Son is the greatest gift mankind will ever know. May the recognition of that gift cause us all to desire to be pleasing to Him today, and every day of our lives.


13:40:24 - Category: Godly Disciplines - Link to this article -

An Early DL on Thursday
12/22/2010 - James White
We will be doing the Dividing Line at the early time on Thursday (11am MST), so please join us then!


14:48:25 - Category: The Dividing Line - Link to this article -

George Bryson, Bassam Zawadi, and Callers
12/21/2010 - James White
Spent the first portion of the program responding to George Bryson's "Doom and Gloom" anti-Calvinist piece, played some sections of Bassam Zawadi's presentation on Christianity (I have been informed that it was not done in London, as I had expected, but in the UAE in the summer of 08), and then took callers, including a final call accusing me of violating 1 Cor 1:12. Here's the program.


15:44:32 - Category: The Dividing Line - Link to this article -

Toronto Muslim Writes Again
12/21/2010 - James White
Name: TORONTO MUSLIM

Email: crosshater@gmail.com

Subject: Islam

Message: Greetings Cross worshiper,

Congratulations on your new upcoming failure with your new book this time on Islam. I will buy one, read it, and debunk all lies in it. After that I will post all refutations online and wil even try to print a hard copy and give it out for free. Once again, congratulations on your new path to disaster. Your words in print will forever brand you as a liar and a heretical cross worshiping christian.

***********************************

If the world hates you, you know that it has hated Me before it hated you.If you were of the world, the world would love its own; but because you are not of the world, but I chose you out of the world, because of this the world hates you.Remember the word that I said to you, 'A slave is not greater than his master.' If they persecuted Me, they will also persecute you; if they kept My word, they will keep yours also.But all these things they will do to you for My name's sake, because they do not know the One who sent Me."
(John 15:18–21 NASB)

This Muslim is referring to the fact that I just signed a contract with Bethany House Publishers to write a new work, What Every Christian Should Know about the Qur'an. Unlike this hate-filled radical, I will be seeking to honor the Lord Jesus Christ by 1) speaking the truth about His Person and His message, and 2) honoring His claim to be the Truth by handling the text of the Qur'an in an honest and accurate way. I intend to use particular Qur'anic texts to introduce and explain the key issues that Christians must understand so as to be able to proclaim the gospel to Muslims and to pray for the persecuted church that seeks to do that each and every day in the midst of the kind of mindless hatred expressed by "Toronto Muslim." We cannot return this man's hatred, because we have been given new hearts by God's Spirit. Pray that God will reveal Himself to this young hate-filled radical, and pray that the Lord will grant me clarity of thought and expression so as to bless the people of God with this work.


13:17:17 - Category: Islam - Link to this article -

Dr. James Renihan on New Covenant Theology
12/20/2010 - James White
I listened to Dr. Renihan's clear, well ordered, and irenic presentation on New Covenant Theology this morning on a quick 42 mile bike ride. Since a number of questions have been raised by a phone call on the last DL on this topic, I thought I would direct folks to his fine comments. The lecture is found on SermonAudio, one of the best sources of sound preaching and teaching ever devised (it should be bookmarked and regularly visited!). You can find the sermon here. Enjoy, and be edified.


12:54:55 - Category: Theology Matters - Link to this article -

Instead of Reading the Entire Bible in 2011, Read the Gospels Deeply
12/20/2010 - Alan Kurschner
It's about that time of the year when we are introduced to creative ways to read our Bible from cover to cover for the next calender year (did you do it this year?). Instead, I would like to suggest that you take each day of next year to contemplate each unit of the gospels. Did you know there are conveniently about 365 units in the gospels?

In the past, I cited five good reasons to own a gospel synopsis. The fifth reason was,

Read a synopsis in one year by reading one pericope [a gospel unit] every day! By coincidence, the synopsis contains 367 pericopes (That is, all four gospels combined contain 367 units.). The edition that I recommend for English is the Synopsis of the Four Gospels Edited by Kurt Aland.
In 2011, immerse yourself daily in Jesus' words and deeds.






11:13:47 - Category: Godly Disciplines - Link to this article -

James 4:5 - An Exegetical Problem
12/20/2010 - Jeff Downs
On December 3, 2010 Dr. Sid Dyer, professor of Greek and NT and Greenville Seminary delivered his Inaugural address. The title of the lecture was "A Simple Solution to the Complex Exegetical Problems in James 4:5." This lecture simply will not interest some of you, but I know there are others who revel in these issues. Click here to listen.

Here are a few recommended resources on the book of James:

James (BECNT), by Dan McCartney. James (Reformed Expository Commentary, by Daniel Doriani. James (NIGTC), by Peter Davids. And this new work on the theology of James.


10:34:18 - Category: Textual Issues - Link to this article -

The Qur'anic Test of Muhammad as a Prophet
12/18/2010 - James White
I will join Chris Arnzen tonight on Iron Sharpens Iron (http://sharpens.blogspot.com/) to discuss the Qur'anic test of Muhammad as a Prophet. Listen in!


14:55:28 - Category: Islam - Link to this article -

Formal Sufficiency of Scripture
12/18/2010 - Tur8infan
One of the claims we sometimes hear from Rome's apologists these days is that the Scriptures are materially sufficient, but that they are not formally sufficient. This sounds better, no doubt, than simply saying that the Scriptures are "insufficient." In a series of posts, Pastor David King and I (TurretinFan) are exploring the topic of the sufficiency of scripture in the backdrop of Roman Catholic claims to the contrary. In fact, we were spurred on to do this series based on a challenge from one of the contributors of a popular Roman Catholic blog. The series is on-going, with one more post planned.

At present, we have introduced the topic and explained what the Reformed position is. This is probably the most key part of the series, in that our Roman opponents would prefer that our position would be something like "there is no place for the church," or "the church does not help us interpret Scripture," or something like that. Of course, our position has a very high view of the church - it just does not make the church the rule of faith and life - the ultimate authority. Instead, our rule of faith and life is the Scriptures of the Old and New Testaments.

The second post in the series is really the next most important post. Having identified what our position is, in the second post we explain that what we believe is what the Scriptures teach. Scripture's own testimony as to its own clarity and illuminating power are conclusive. It is readily apparent from Scripture that Scripture teaches its own formal sufficiency.

The next four posts set forth the early Christian and patristic era testimonies. They show that what we say about Scripture, what Scriptures says about itself, was recognized and understood in the early church, both in the East and West. What we hope yet to provide is a post addressing "scholarly" opinions on the subject. After all, some of our theologically opponents (especially those who cannot handle the Scriptural arguments or patristic evidence) like to claim that if what we are saying is true, we are the first to make this observation.

In any event, I just want to share these posts with those who have an interest in Sola Scriptura, both as it relates to explaining the Reformed position, as well as defending it from Scripture, and showing that historical theology abundantly demonstrates that it was the view of the early church.

Introduction - Explanation of Formal Sufficiency
Scripture's Own Testimony Regarding Formal Sufficiency
Early Christian Writers (1st - 2nd Centuries)
Third Century Fathers
Fourth Century Fathers
Fifth Century Fathers - This section is actually quite massive (larger than the preceding sections combined).

There are also a couple of miscellaneous posts on the same theme. One relates to a view of "Partim-Partim Sufficiency" that is of less interest these days, since Rome's advocates argue for Material Sufficiency (Rome has yet to tell them which - of the two opposing views held within their ranks - is correct). The other post makes the point that if you deny formal sufficiency, you're basically insulting Jesus, the same way you would be if you said he had a speech impediment. Jesus can and does speak clearly to us in Scripture, telling us what we need to know to be saved.

Partim-Partim "Sufficiency" Rebutted
Formal Insufficiency, an Insult to Jesus

To the Glory of God!

-TurretinFan


12:26:25 - Category: Roman Catholicism - Link to this article -

My Birthday Biking Adventure
12/17/2010 - James White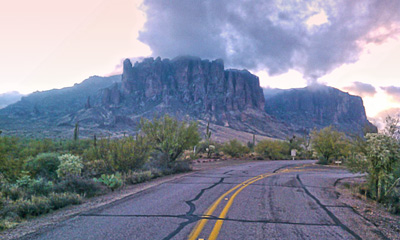 So if you go back to December 17th (or thereabouts...depending on weather, travel, etc.) since 2005, you will find posts from yours truly about a tradition I started five years ago now (here is the first year's post, here is another). I decided to climb 100 feet for each year of age, riding up South Mountain in Phoenix. Well, this year I've dropped a ton of weight (literally) and am on track right now to ride about 60% farther than last year (currently on track for 8,700+ miles for the 10/11 riding year). I have set a goal to climb 264,000 ft. (50 miles) this year. So, climbing only 4800 feet would have been...too easy (in fact, I had climbed 8200 ft. in two rides earlier in the week). What to do? Easy: head out to Tortilla Flats, out in the Superstition Mountains, and climb yourself silly. Goal? Well, the most I've climbed in one day before is 6,177 ft (Mt. Lemmon outside of Tucson). So, I set my goal for 8,000 ft. of ascent in one day. I figured that would be a nice round number, and leave room for improvement in the future! So, I started out long before sunrise this morning, arriving around sunrise, and began a five hour, 16 minute ride, including six ascents from Tortilla Flats to EOP (End Of Pavement---riders in the Phoenix area know where that is), providing me with the grand total of...8,031 feet of ascent! If I pull off a quick 25 miler tomorrow with only 773 feet of ascent (that's flat!) I will finish my birthday week with 170 miles and 17,000 feet of ascent (get the theme?). Today I listened to hours of debate preparation material, as well as the Dividing Line debate I did back in 1999 with Thomas Holland (I don't see it in the A&O store yet...should be there soon) over the course of the ride. But for the last two ascents I needed up-tempo riding music to keep me going (Islamic lectures just don't quite keep you pushing up the mountain real well). Thankful once again for the measure of health the Lord has granted!


20:22:11 - Category: Personal - Link to this article -

Christmas Idea for Wives and Girlfriends of Bibliophiles
12/17/2010 - Alan Kurschner
Need I say more?


12:33:51 - Category: Resources - Link to this article -

Thursday Night Miscellaneous
12/16/2010 - James White
Lord willing I will have time (and strength) tomorrow evening to fill you in on my "Birthday Bike Adventure" tomorrow, as I have mentioned my "climb a hundred feet for every year of age" birthday celebration tradition since 2005. I will be adding a little...extra tomorrow.

For those with iPads or iPhones (or iPod Touches), there is an awesome Qur'an app available, called "MyQuran" from Salik Productions. As far as I have seen, this is the best Qur'an software out there, and I include anything I've found for my fully functional MacBook Pro OSX 10.6 laptop. It's that good. I have inquired and have been informed that they are working on a Droid version.

Speaking of new stuff, two exciting things. Accordance should soon be posting its iPad/iPhone app, which will make me the happiest geek on the planet. I can't wait to see what it is able to do.

Also new is Jovan MacKenzy's new album, "Strangers and Pilgrims." Yours truly appears twice on the album, once from a sermon from PRBC on Hebrews 2, and once reading a text from Hebrews 11. Never expected to hear one of my sermons in a rap song...gotta love it!

Oh, and for those who thought me unkind on today's DL about Brigham Young's wives, well, look for yourself.


18:02:33 - Category: Misc - Link to this article -

A "Skype Only" Dividing Line
12/16/2010 - James White
Well, it was raining in Phoenix today (don't worry, it won't be raining tomorrow!) so, our phones went nuts. So, we could only take Skype calls, but that's OK, it worked out. I started off with some quotes from a fascinating Brigham Young sermon wherein he said he had not read the Bible for years and taught the Adam God doctrine. Then we started taking calls on assurance of salvation, New Covenant Theology, and Islam. Here's the program.


17:32:16 - Category: The Dividing Line - Link to this article -

Today on the Dividing Line: Incarnational Thoughts, Callers
12/14/2010 - James White
Today on the program we started with a devotional/sermon (provided below in video format as well), and then took calls on Mormonism, New Perspectivism, and the nature of righteousness. Went a little long, in fact. Here's the program.






19:53:22 - Category: The Dividing Line - Link to this article -

Muhammad's Mistaken Jesus
12/14/2010 - James White
00:01:00 - Category: Islam - Link to this article -

The Twelve Doctrines of Christmas
12/12/2010 - James White
19:59:26 - Category: Misc - Link to this article -

Can Muhammad Save You?
12/12/2010 - James White
Below this video clip from ABN (thanks to Bassim Gorial for the permission to post this on my own YouTube site) I am posting the specific hadith from Sahih Al Bukhari (Volume 6, Book 60, number 3). A vitally important discussion of the role of Muhammad in Islamic theology, contrasted with the role of Jesus in Scripture.





Volume 6, Book 60, Number 3:
Narrated Anas:

The Prophet said, "On the Day of Resurrection the Believers will assemble and say, 'Let us ask somebody to intercede for us with our Lord.' So they will go to Adam and say, 'You are the father of all the people, and Allah created you with His Own Hands, and ordered the angels to prostrate to you, and taught you the names of all things; so please intercede for us with your Lord, so that He may relieve us from this place of ours.' Adam will say, 'I am not fit for this (i.e. intercession for you).' Then Adam will remember his sin and feel ashamed thereof. He will say, 'Go to Noah, for he was the first Apostle, Allah sent to the inhabitants of the earth.' They will go to him and Noah will say,

'I am not fit for this undertaking.' He will remember his appeal to his Lord to do what he had no knowledge of, then he will feel ashamed thereof and will say, 'Go to the Khalil--r-Rahman (i.e. Abraham).' They will go to him and he will say, 'I am not fit for this undertaking. Go to Moses, the slave to whom Allah spoke (directly) and gave him the Torah .' So they will go to him and he will say, 'I am not fit for this undertaking.' and he will mention (his) killing a person who was not a killer, and so he will feel ashamed thereof before his Lord, and he will say, 'Go to Jesus, Allah's Slave, His Apostle and Allah's Word and a Spirit coming from Him. Jesus will say, 'I am not fit for this undertaking, go to Muhammad the Slave of Allah whose past and future sins were forgiven by Allah.' So they will come to me and I will proceed till I will ask my Lord's Permission and I will be given permission. When I see my Lord, I will fall down in Prostration and He will let me remain in that state as long as He wishes and then I will be addressed.' (Muhammad!) Raise your head. Ask, and your request will be granted; say, and your saying will be listened to; intercede, and your intercession will be accepted.' I will raise my head and praise Allah with a saying (i.e. invocation) He will teach me, and then I will intercede. He will fix a limit for me (to intercede for) whom I will admit into Paradise. Then I will come back again to Allah, and when I see my Lord, the same thing will happen to me. And then I will intercede and Allah will fix a limit for me to intercede whom I will let into Paradise, then I will come back for the third time; and then I will come back for the fourth time, and will say, 'None remains in Hell but those whom the Quran has imprisoned (in Hell) and who have been destined to an eternal stay in Hell.' " (The compiler) Abu 'Abdullah said: 'But those whom the Qur'an has imprisoned in Hell,' refers to the Statement of Allah:

"They will dwell therein forever." (16.29)


12:39:42 - Category: Islam - Link to this article -

How Quickly They Learn the Tactics!
12/11/2010 - James White
Taylor Marshall has not been a devoted follower of Rome for very long, but he has surely learned the standard tactics of the Roman Apologetics Group (RAG) quickly. The RAG manual is very large (we managed to obtain one covertly from a liberal Church of England guy---not even the Jesuits could tell he wasn't one of them!), and contains an innumerable cadre of brilliant "tactics of distraction." But some are used so often it is easy to create a list of them.

A few days ago I noted a number of problems with Taylor Marshall's presentation on the Immaculate Conception, in particular, its incoherent use (or abuse) of Scripture, as well as its completely selective citation of historical sources. This was all in the context of asking whether a person who is a graduate of Westminster Seminary would even attempt to communicate to his former religionists in a meaningful, fair, accurate fashion. It would strike me that a sound response would provide some kind of compelling argument for the kind of interpretational system offered, or, some explanation of the quotes from Ludwig Ott, or at least some kind of weighty historical citations refuting my over-all case.


Instead, Mr. Marshall demonstrated that he has already drunk deeply at the well of Roman Catholic apologetic tactics. Rome learned long ago not to go toe-to-toe, for let's be honest, the battleground is not hers. She can only hope to prevail on one ground, her own. So, you assume that ground, and then define your critic, your opponent, as "anti-Us." So, before you even get to the text of his blog, you have the poison thrown into the well, the constantly prescribed ad-hominem that is at the very heart and soul of Rome's apologetic methodology: those who would dare oppose us, who would dare say we are twisting Scripture, dare point out how often history directly contradicts us, they are all...anti-Catholics. Remember, Rome was using this tactic long before the homosexuals came up with the ever-ready, mind-numbing, discussion stopping "homophobe" label. But it has the very same purpose, of course. It is the constant drumbeat of Catholic Answers, the regular phraseology of Envoy, and here we find it in the title of Marshall's response, "Please Pray 3 Hail Mary's for This Anti-Catholic Man."

Once you have gotten your constituency properly numbed by the use of the mantra "anti-Catholic," you can begin the personal belittling, and remember, if it is in service of "mother Church," anything goes. So, we have:


Many Catholics are not fully aware of how much some Protestants hate Catholicism. James White is one of those Anti-Catholics and he has made a living out of "refuting" Catholicism.

Make sure to ascribe hatred to those "Anti-Catholics," because you do not want to have anyone thinking that it is just possible that someone would oppose Romanism out of a love for, and allegiance to, Jesus Christ, His Gospel, and His Church! No, that possibility must be banished, so, you can freely adopt the role of heart-reader and judge of motives, and impugn those "Anti-Catholics" in this manner. Of course, since you have already marginalized them by defining them by your own religion (their own surely is not sufficient to define them!), who needs to worry about ignoring the full picture of their work? I mean, just because my blog is currently featuring hours worth of teaching and ministry on the subject of Islam, that's irrelevant. So is the work I've done in debating Bart Ehrman, John Dominic Crossan, Marcus Borg, Dan Barker, John Shelby Spong, etc. I'm just a wild-eyed "Anti-Catholic" according to the cookie-cutter Roman Catholic apologetics manual. You'd think they would come up with something new, but, no, it's the same, over and over again.

The only positive of this non-response (no attempt is even made to pretend this is a response) is that he linked to the full article, which would allow any and all to see for themselves the facts of the matter. But he closed with this,


...but don't forget to pray three Hail Mary's for his conversion. Even more, why don't we all leave a comment over at his site saying that we love him and that are praying for his conversion to the Catholic Faith. Storm the gates!

Another good reason not to have a comments section! So to all who are praying for my conversion to Romanism, let me repeat what I said before: doesn't it strike you as odd that you pray for conversion to a system rather than conversion to Christ? And that you are likewise praying to someone who has absolutely no knowledge of your prayers? You have been deceived, deluded, led astray, to think Mary is listening to your prayers, let alone that she would seek to convert me (if she even had the ability to do so) to a system that is so thoroughly opposed to the finished, completed work of her Son, a religion that did not exist when she lived, and about which, thanks be to God, she knows absolutely nothing. Mary (the true Mary, the Mary in heaven today, a faithful servant of Christ, not the pagan Queen of Heaven that Rome has created over the centuries) has never heard of a Pope, let alone heard a prayer from you, or anyone else.

So make note of this situation: an apostate embraces Rome, and abandons the gospel. He then promotes falsehood, twisting and distorting the Scriptures, and misrepresenting history, badly. When I point out these problems, what is his response? A clear, compellingly argued rebuttal, replete with meaningful exegesis, and cogent, weighty historical citation? No, of course not. Sling the anti-Catholic insult, attribute hatred, and pretend to take the high road by continuing your belief in the barely baptized pagan mythology of Marianism! It truly is amazing how fast some folks pick up the tactics used by Rome for centuries.


20:23:48 - Category: Roman Catholicism - Link to this article -

Does Muhammad's Name Appear in Song of Solomon 5:16?
12/11/2010 - James White
The answer, of course, is "no." But how would you respond to the bright-eyed, confident, convinced Islamic college student who told you that surely Muhammad's name does appear in the Bible, and the renowned Bible scholar Ahmed Deedat had proven it to be so? Dr. Bassim Gorial gave me permission to post material from my last appearance in the Jesus or Muhammad Marathon on ABN (www.abnsat.com), for which I am very grateful. Included in this video is a Muslim caller who, well, changed her mind halfway through the call.






08:13:47 - Category: Islam - Link to this article -

Holy Spirit
12/11/2010 - Jeff Downs
Power from on High The Person and Work of the Holy Spirit is the theme for the annual Greenville Seminary conference to be held at Woodruff Road Presbyterian Church, Simpsonville, SC, March 8-10, 2011.

Topics and Speakers:
"The Person and Work of the Holy Spirit", Dr. Morton Smith
"Westminster Standards and the Spirit", Dr. Joe Morecraft
"Regeneration and Conversion" Mr. Ian Hamilton
"Witness and Seal of the Spirit" Mr. William Shishko
"John Owen on the Spirit" Mr. Ryan McGraw
"Spirit and Preaching" Dr. Joseph Pipa
"Sanctification" Mr. Ian Hamilton
"Spirit and Revival" Dr. John Carrick
"Cessation of the Gifts" Dr. George Knight, III

For further information, including registration click here

Here are some resources on this subject:
Holy Spirit, Sinclair Ferguson. He Who Gives Life: The Doctrine of the Holy Spirit, Graham Cole. Or this newer edition to the person and work of the Spirit Anointed with the Spirit and Power: The Holy Spirit's Empowering Presence, John Harvey. And one more God's Empowering Presence: The Holy Spirit in the Letters of Paul, Gordon Fee.


07:53:16 - Category: Resources - Link to this article -

Yasir Qadhi Lectures on the Hadith
12/10/2010 - Tur8infan
On the Tuesday Dividing Line, Dr. White alluded to some lectures on the hadith literature. These were lectures, as I (TurretinFan) understand, by Yasir Qadhi. For those interested in listening to those lectures (which, of course, we don't endorse from a theological perspective) they may be found at the following link (link). Thanks to Rhology for pointing me to these lectures.


05:30:38 - Category: Islam - Link to this article -

Today on a Guest Hosted Dividing Line!
12/09/2010 - James White
I am so thankful to TurretinFan for guest hosting the DL today. I caught parts of it, but I tuned in after all the first-time technical difficulties (including our first problems with our relatively new, updated phone system, AND, I am told, our new phoneline provider). What are the odds of those two things happening on the same day we have a guest host for the first time in a long time? Well, anyway, the conversation was still a blessing...and I am thankful to Pastor David King and James Swan for joining TurretinFan to discuss the mishandling of church history by Rome's apologists, especially as it relates to the myth of the dogma of the Immaculate Conception. Here's the program.


19:04:13 - Category: The Dividing Line - Link to this article -

A Holly Jolly Blog Post
12/08/2010 - James White
OK, if you are a crusty Puritan, move on, nothing to see here….

If you are a non-crusty Puritan (like me), and everyone else…

I wanted to take just a brief moment to acknowledge some of the folks at this season who have been an encouragement to me over the past year and, in light of that, whom you might wish to consider at this time of year when thinking of gift giving, etc. For example….


Most of you know that I completely changed my diet and ramped up my exercising (by over 50% mileage wise, so far) in April of this year following racing in El Tour de Phoenix (now to be known as El Tour de Mesa). When you change your diet you need help sticking with it, and I found some of that assistance from one of our channel "rats," graceb4me, or as we refer to her, gracey. She is part owner, along with her husband, of Basiks at Home Naturally Healthy Products. Gracey and her husband gave me a complimentary stack of spice tins when we met at the CRI conference in May in Florida, and those spices really helped me stick with my new diet by making it yummy. In fact, I made turkey and dressing for Thanksgiving, and it turned out great (in my opinion at least!), and I used the original Basiks blend as my primary seasoning for the dressing. But instead of loading on the butter, I used olive oil and made a much healthier recipe. So, here's to gracey and the folks at Basiks!

Next, you all should know Carla Rolfe and her great design work in coming up with a line of A&O products. She continues to crank out great designs, especially around the holidays. Her A&O store is here, her CafePress store here, and her Zazzle store here. Another of our faithful channel rats! I think I will be heading her way for some gifts myself.


The third of our faithful channel rats I'd like to mention is our old friend Mylo Hatzenbuhler, aka, Clyde Bauman. If you have been entertained by the wonderful parody tunes I sometimes play before the DL, you know all about the comedic genius of Mylo Hatzenbuhler. But this year Clyde put out a great album of serious music you will want to hear, Prairie Memories. And if you want Mylo's take on Christmas (and the classic "Winter in Nordakota" is a must!), don't miss A Very Mylo Christmas.

Well, I have now made the channel rats happy! To all who make up, to greater or lesser extents, the family of #prosapologian, a blessed season of reflection upon the greatest gift ever given, the Incarnation of our Lord, Jesus Christ.


11:16:37 - Category: Misc - Link to this article -

You Scratch My Back, I'll Scratch Yours
12/08/2010 - James White


I wonder if The Potter's Freedom will be required reading, too? :-)


10:38:27 - Category: Reformed Apologetics - Link to this article -

Obligated to Mythology: Modern Romanism's Continued Exaltation of Mary in the Face of Biblical Truth and Historical Reality
12/08/2010 - James White
Today is a "holy day of obligation" in the Roman Church. Followers of Rome are obliged to participate in Mass on such days (exceptions, of course, exist). The reason for today's obligation? The definition by the Roman Church of the dogma of the Immaculate Conception. I will not, in this brief article, go back over all of the many problems with the dogma of the Immaculate Conception, problems I presented as clearly as I could in my debate with Christopher Ferrara this past summer. I have only a few moments as I travel to comment on an article posted yesterday by Taylor Marshall, an apostate who is seeking, to the best of his abilities, to encourage apostasy amongst others in Reformed churches and seminaries. [Post-modernism infection alert: if identifying someone as an apostate immediately offends you, consider well whether you have become so conformed to the spirit of this age that a factual, documented assertion can be a source of offense to you. Marshall, like Robert Sungenis, graduated from Westminster Theological Seminary (MAR, Systematic Theology), so to one who continues to hold firmly to sola fide and sola scriptura, such a one has fallen from his profession, hence, committed an act of apostasy.] He has recently written a book, The Catholic Perspective on Paul (as if there is only one such perspective!), which has been sent free to a handful of seminarians across the country. He is one of the primary contributors to Called to Communion, a blog outpost of primarily former Reformed men who have defected to Romanism.

I was attracted to Marshall's article for only one reason. Knowing that the Immaculate Conception is unknown to the authors of Scripture, unknown in the early centuries of the church, denied by many for centuries even after it developed out of the burgeoning Marian piety, and defined as dogma only 156 years ago, and assuming that such a "convert" to Rome would be aware of all of these problems, how would he present this dogma, one which so clearly demonstrates that Rome is in no way bound by either Scripture or tradition? Would he admit the facts of the case, present a balanced argument, and really seek to be truthful in calling his former co-religionists to his newfound faith? Or would he succumb to the essence of Romanism and, like his new found ultimate authority, spin the facts?

It did not take long to discover the answer. This graduate of Westminster Seminary presents a case that, to anyone with the slightest familiarity with the facts of the case, is egregiously fallacious and, quite simply, dishonest. It is, of course, possible that Marshall is ignorant of the facts concerning the history of the dogma; it is possible he accepted the surface level answers proffered by the Keatings and Akins and Sheas of the world, and abandoned all he had professed before without any kind of meaningful or in-depth inquiry. The fact that his bio proudly notes his distribution of Jack Chick tracts in the past does not bode well for the settledness of his convictions on the matter of Rome's errors, to be sure. But looking at his presentation we note:

1) Honoring your mother does not mean you protect her from the stain of original sin, and the leap from Jesus' perfect obedience to the Law and the overthrow of clear biblical teaching (and even the clear patristic witness that God alone is without sin) is another of the amazing gymnastic moves prompted by devotion to Romanism.
2) "She never sinned once." She identified God as her Savior (and any and all suggestions that she herself understood the dogma of the application of Christ's merits to her preemptively at conception are so utterly ridiculous they only illustrate the cultic nature of Marianism) and is never exempted from sin by inspired writers. Well known church historian J.N.D. Kelly listed such notables as Irenaeus (Haer. 3, 16, 7), Tertullian (De carne Chr. 7), and Origen (Hom. In Luc. 17), who taught that Mary committed acts of personal sin (a fact ignored by Marshall). It is another example of how "Scripture and Tradition" means nothing to the modern Romanist. Sola ecclesia.
3) Luke 1:28 has as much to do with Mary being immaculately conceived as the Lord's words to Paul in Acts 23:11 mean Paul had never experienced fear in his life, or had an inherent characteristic of bravery, implanted in him at conception. Such eisegesis which ignores context, grammar, syntax, audience, and every other necessary element of interpretation, while common in Romanism, only shows its utter disconnection from the Apostles who wrote the inspired text.
...
[Click Here to Continue Reading]


09:40:36 - Category: Roman Catholicism - Link to this article -

Yesterday on the Dividing Line
12/08/2010 - James White
We had a rather, uh, technically challenged DL live from Detroit yesterday. The first time I disappeared was due to the hotel wireless: they simply cycle all the users off twice a day, and, well, that happened about eleven minutes in. Why I dropped the connection three or four more times, I don't know, but I think Rich managed to edit most of those out. In any case, we addressed Chuck Smith's attempts to gloss over Romans 9:9-10, and the issue of the hardening of Pharaoh's heart, in the first twenty minutes or so. Then we took some e-mail questions, including one about a textual variant at Ephesians 2:8, commented briefly on the NASA press conference on extra-terrestrial life, and then took callers. Here's the program.


07:02:02 - Category: The Dividing Line - Link to this article -

Generations Radio Interview
12/07/2010 - James White

I joined Kevin Swanson for a quick discussion of important aspects of apologetics recently, and the program has been posted here.


18:12:16 - Category: General Apologetics - Link to this article -

Jesus Obeyed the Fifth Commandment - Therefore Mariolatry is ok?
12/07/2010 - Tur8infan
Jesus explicitly repudiated people who singled out his mother for special attention. For example:

Luke 11:27-28
And it came to pass, as he spake these things, a certain woman of the company lifted up her voice, and said unto him, Blessed is the womb that bare thee, and the paps which thou hast sucked. But he said, Yea rather, blessed are they that hear the word of God, and keep it.

When we bring up the fact that Jesus explicitly repudiated people who singled out his mother for special attention, however, we sometimes get a zinger like this one: "Our Lord obeyed all the commandments including 'honor your mother and father' and did not repudiate her." (Sean Patrick)

This zinger is faulty for a couple of reasons:

1) Of course, no one is arguing that Jesus sinned. Jesus could say that his flesh and blood relationships with his physical siblings and mother are basically insignificant compared to the relationship every believer has by faith in Christ, without breaking the fifth commandment.

2) The zinger assumes that Jesus was under Mary's authority. It's tempting to make this argument because Mary was - as to his humanity - his mother. But Jesus was unlike every other child - he was his own mother's creator. She owed her existence to him in a much more important way than the way in which he owed his existence (i.e. only the existence of his human nature - and only by choice) to her. It is no dishonor to her, therefore, for Him to repudiate the idea of her having either special devotion or any special privileges with respect to him in the Kingdom of Heaven.

3) The Mariolaters are actually in good company in making this error in reasoning. Peter (who Jesus called Simon here, demonstrating to us that the name "Peter" was a surname, not a change in name) made a similar mistake.

Matthew 17:24-27
And when they were come to Capernaum, they that received tribute money came to Peter, and said, Doth not your master pay tribute? He saith, Yes. And when he was come into the house, Jesus prevented him, saying, What thinkest thou, Simon? of whom do the kings of the earth take custom or tribute? of their own children, or of strangers? Peter saith unto him, Of strangers. Jesus saith unto him, Then are the children free. Notwithstanding, lest we should offend them, go thou to the sea, and cast an hook, and take up the fish that first cometh up; and when thou hast opened his mouth, thou shalt find a piece of money: that take, and give unto them for me and thee.

Jesus was Jewish and within the realm of the Roman empire, but whether this was the temple tax or the Roman tribute, Christ was not required to pay. And remember that tribute and honor are different, but fall within the same general category of duties of the fifth commandment.

Romans 13:7 Render therefore to all their dues: tribute to whom tribute is due; custom to whom custom; fear to whom fear; honour to whom honour.
...
[Click Here to Continue Reading]


17:24:18 - Category: Roman Catholicism - Link to this article -

Listen in to ABN Tonight...Through Wednesday Night!
12/06/2010 - James White
The Jesus or Muhammad Marathon continues tonight at http://abnsat.com/webcast_channels/wc_live.html, so make sure to tune us in! In fact, I know where we will be starting tonight. Brother Joseph said a Muslim had just today sent him an e-mail promising absolute proof of Muhammad appearing in the Bible, and provided the following video as evidence. We will be examining this claim and demonstrating that it is utterly and completely without merit. But note the fine quality of the presentation! See, utter falsehoods can be made to sound, or look, like the truth! All the more reason to be prepared and to pray for discernment!





We start at 6:30 pm EST, less than two hours from now!


13:37:31 - Category: Islam - Link to this article -

Peru Talk Posted
12/06/2010 - James White
My presentation on justification for the saints in Lima, Peru has been posted to YouTube, and Lane Chaplin has made a playlist of the videos. Obviously, this is primarily for Spanish speaking folks, and illustrates the challenge of speaking in single sentences, or sometimes, single phrases, in translation. So thankful for the saints there. Here is the playlist, and the first video:






06:12:15 - Category: Theology Matters - Link to this article -

Logos Bible Software Now Available Through AOMin.org
12/03/2010 - Rich Pierce
Logos has reached out to us and has generously created a webpage exclusively for our fans to use. The link below will not only help to support Alpha and Omega Ministries but will also give a 20% discount on key Logos products for anyone using the AOMIN coupon code when you checkout over at the Logos store. Check them out here.


11:36:54 - Category: Resources - Link to this article -

Today on the Dividing Line: What a Program!
12/02/2010 - James White
Felt like I was back in a seminary classroom today! It was great. Our first caller, Peter, set a new record for how many questions you can cram into one phone call. Well done. Then we had a great conversation with Landon on presuppositional apologetics, then talked to Dan from Maine on NT Wright and justification, and even talked with a brother from the UK on Islam. Talk about a wide-ranging program! Loved it. Here's the program.


19:42:01 - Category: The Dividing Line - Link to this article -

Two Completely Different Items: One Blog Entry
12/01/2010 - James White
As I have much to get done between now and my flight to St. Louis (hello TSA, here I come!), I am going to drop these two items together despite the fact that they are...well, worlds apart.

First, John Bugay provided some insightful commentary on the conversion syndrome today here. I was, ironically, listening briefly to "Deep in Scripture" from the Coming Home Network today while driving home, and had pondered the fact that the deepest I have ever heard anyone go on Scripture on that show would be substantially less deep than the junior high schoolers get at PRBC on a regular basis, so---what's the draw? Then I realized that the conversion syndrome always leaves a tell-tale sign: it is what people have converted TO that tells you about the nature of the conversion. When I hear stable, long-lasting, mature converts from Romanism, they do not focus their story on Rome. They focus on Jesus, and the gospel. But what is the constant drumbeat of the converts to Rome? Jesus? Salvation? No, it is...Rome. The Church. The Pope. They are converts to a system, an organization, not a Person. Listen carefully, and you will hear it when they speak.

Now on a completely different topic: we often hear folks criticizing Islam for failing to condemn acts of violence committed in the name of Islam, and there is a great deal of merit to the criticism especially when we are talking about the leadership of major Islamic institutions in majority Muslim lands. But I subscribe to a number of Islamic blogs and newsfeeds, and I do see a concern on the part of at least segments of American Islam about violent radicals. What has interested me the most has been the attempts made by so-called "moderates" regarding providing a theological/Qur'anic argument against jihadism. I wish them well in their argumentation, obviously, as I fly more than most folks do! But the road is a hard one, and when I read articles such as this one, I am left wondering just how compelling the case really is. It seems it is a matter of "which authorities are you going to accept?" because the foundational documents are just not clear enough to close the case with finality. But I am going to spend more time on this article so that at least I have a good grasp of how you could make the argument. Might come in handy someday! There is a linked audio file as well.


13:29:24 - Category: Misc - Link to this article -