Alpha & Omega Ministries Apologetics Blog

Wow....Why DID We All Wear Those HUGE Glasses?
04/30/2010 - James White
Looking at Ergun Caner's glasses in the preceding article reminded me of my own spectacles from the early 1980s. What WERE we thinking anyway? Well, here's an example I just ran across on Twitter. I didn't know this was available on line, but, here it is! A Marian debate with Robert Fastiggi from...back when I sported a full beard, had hair, and had, if I recall correctly, just gotten into cycling. And, it seems, I had stolen Ergun Caner's glasses for the day...



Roman Catholic Doctrine of the Virgin Mary Debate from Larry Wessels on Vimeo.




17:06:51 - Category: Roman Catholicism - Link to this article -

Gotta Love Yearbooks
04/30/2010 - James White
So a former Southeastern seminary student (who shall, for his own health and welfare and peace of mind, remain anonymous), sent me a shot of his yearbook. You will notice the Caner brothers were students at the school together, which is consistent with their story. But what is intriguing is the hometown listed for both of them: Stockholm, Sweden. That is, indeed, Ergun's hometown (not Istanbul, Turkey). But, Emir was born in the United States, not in Sweden. Of course, this is a yearbook, and we all know how notorious they are for messing things up (often done by students, not by professionals), but it is interesting to note the information. I am still looking for some shots of Ergun Caner in his turban in high school.


16:04:25 - Category: Misc - Link to this article -

David Wood Lays Out Islam's Problem
04/30/2010 - James White
My friend David Wood provides an excellent example of the historical problem of Islam. I hope to be joining David on Jesus or Muhammad in June around the same time I debate a Shia Muslim Imam in the area, but as I noted a few days ago regarding the Christopher Hitchens debate, we need your help to make it happen. Listen to David's discussion:






07:43:44 - Category: Islam - Link to this article -

Catholic Answers' New Advert
04/29/2010 - James White
James Swan pointed out that Catholic Answers is running a new banner ad in their forums:




I confess, I wonder how many of Catholic Answers supporters have started to wonder, "Hey, why doesn't this ministry I support do formal public debates anymore? I mean, this isn't even a debate, it's a radio program from 1995...fifteen full years ago." Yes, and its a radio program where, in the second hour, Jimmy Akin (by rather careful counting) received 65% of the discussion time. Yeah, a real "debate."

Of course, this is the same Catholics Answers who recently had their head of apologetics finally do a debate---on the Dividing Line. You all may recall the recent debate with Tim Staples on purgatory. Yet, I wonder why we don't see banner ads for that debate? Probably because they have yet to even mention it on Catholic Answers Live. And though I have tried numerous times to get Tim Staples to respond to the e-mail I sent after the debate (sent to the very same e-mail address I used before the debate, to which Tim always responded in a fairly timely manner), so far all is silent at the CA headquarters about ever, ever making that debate available. Ironically, it was a real debate, with even amounts of time, a single topic, cross-examination, etc. We can continue to hope that someday we will see a banner ad for that debate, too, but, let's hope we don't have to wait fifteen years for that to happen.

So, Jimmy Akin, Tim Staples---all you fellows over there. Fifteen years is a long time. Just think of how far video has come in all those years! Sola scriptura! Purgatory! The Papacy! The Priesthood! Wouldn't your supporters love to hear those topics debated? We stand ready.



21:19:40 - Category: Roman Catholicism - Link to this article -

From Jihad to Jesus Today on the Dividing Line
04/29/2010 - James White
We went over the entirety of Ergun Caner's testimony played on Monday's Focus on the Family broadcast on the program today. Given how this story is moving into a national platform outside of the Christian community, at least there will be documentation that 1) serious and open attempts were made to call for accountability, and 2) the intentions of those of us who spoke out were focused upon the purity and integrity of the gospel. Here is the program.


20:15:11 - Category: The Dividing Line - Link to this article -

A Comment on Yesterday's Line of Fire Radio Program
04/29/2010 - James White
The following comment was posted in reference to my appearance on the Line of Fire radio program with Dr. Michael Brown yesterday. My response follows.


I usually enjoy your program, but today was an exception. Hearing Dr White speak, I was reminded of the Jews during the ministry of Jesus, those who would mock Jesus because He was not what they had expected. They didn't believe Jesus was who He said He was because they didn't have eyes to see or ears to hear.

What if The Church of Jesus Christ of Latter-day Saints is true??? That would mean that Jesus Christ and God the Father did appear to Joseph Smith and the true Church was restored. It would mean that God speaks through a living prophet today.

I want to ask you and Dr. White a question… Are you and Dr. White really about what you profess, or are you in it for the money, fame or power of your position??? Your anti-LDS attitude truly makes you suspect. The LDS Church never cuts other faiths down— they invite others to come and see for themselves if what they have to offer is true or not. They encourage their members to come to their own conclusions. Does that same philosophy threaten you in any way?

I have investigated many different faiths in my lifetime. I'll never forget the strong spirit I felt during a special Easter program held in a Baptist church I attended years ago. Over the years I've loved hearing people express their honest, heartfelt testimonies of Christ in many different religions. I don't think there is one religion only that can lead a person to a belief in Christ —and neither does the LDS Church. Belief in Christ comes by hearing and applying God's word in our life.

I came to know God as my Savior, almost 22 years ago, after reading His words. I was truly born again, something people who knew me then and now can testify of. My life has never been the same and my love of the scriptures has only increased since then!

Ever since I was born again, I have loved reading the Bible and Book of Mormon daily and I love hearing truth wherever it is spoken! My favorite movie to this day is, "Facing the Giants", written by a Baptist. I love that movie because it is my story in many ways. I went from the depths of despair because of infertility, to the heights of being born of God in the Spirit and experiencing a love, peace and joy I had never known before.

I don't understand the need you have to make others believe the LDS Church is following a false Christ. Evil may confess that Jesus is the Christ, but evil doesn't cause anyone to come to Christ and live by His teachings! I and millions of others like me have found faith in Christ and are now faithful members of the LDS Church. If the LDS Church were proven to be false I would never regret the person it has helped me become. Isn't that the ultimate test of truth???

Debbie


Greetings Debbie:

Thank you for writing. Having spoken with many thousands of LDS over the years, I have heard your objections many times. Before I spoke on the subject of Mormonism publicly I took the time to study it carefully (even your own Scriptures require this: "But, behold, I say unto you, that you must study it out in your mind; then you must ask me if it be right, and if it is right I will cause that your bosom shall burn within you; therefore, you shall feel that it is right." D&C 9:8). I read the LDS Scriptures, and such books as A Marvelous Work and a Wonder, Teachings of the Prophet Joseph Smith, Articles of Faith, Jesus the Christ, and Mormon Doctrine. I obtained the Documentary History of the Church and the Journal of Discourses, etc. It is improper for anyone who loves the truth to respond to someone else's beliefs sheerly out of emotional attachment to our own faith. ...
[Click Here to Continue Reading]


14:09:18 - Category: Mormonism - Link to this article -

A Must Read Article on the Caner Situation
04/29/2010 - James White
Tom Chantry has provided a rather lengthy, but very well written and thoughtful discussion of the Ergun Caner situation. Unlike most of what you read in the blogosphere, it has flow and style. You can start here, but be prepared to do something early 21st century people rarely do: invest more than 45 seconds on one topic! Chantry nails the real problems: 1) the cult of celebrity, and 2) falsehood in the "service" of the gospel. He likewise attempts, as I have, to warn the leadership of Liberty: the clock is ticking. You have little time left in which to do the right thing and bring much needed clarity to this situation. Full disclosure, no matter how painful, must take place before the reporters from CNN or NBC or ABC are camped on the front lawn of the administration building in Lynchburg. None of the questions can be ignored. If Ergun Caner lived in Turkey, both in Ankara and on the border with Iraq, the dates must be provided. Explanations of the legal documents showing him to have been in the US from about 2.5 years of age need to be explained. The order for the Caner boys not to be removed from the US from about age 7.5 for Ergun, in light of his oft repeated claim to have come here much later, immersed in Islamic, not Ohioan, culture (even to the point of having broken English), has to be explained. His claims about debating Islamic leaders in thirteen countries needs to be explained. Nothing can be left hidden, full disclosure is now the only way for a Christian institution. Once again, we pray Dr. Caner and Liberty will do what is right and begin the process of removing this blight from the witness of Christ's church in the world, and to the Islamic people in particular.

Further, a note to those who are concerned about how the secular media is going to "spin" this story. Some are ready to sacrifice integrity and truthfulness in light of the fact that we all know the secular media will white-wash us all with Caner's dishonesty and self-promotion. Some seem to feel it is better to lower our standards and "protect a brother" who has yet to repent, yet to ask for grace, yet to confess the truth, than to experience the unfairness of the men of the world. May I suggest this will only encourage others to follow in the path of self-aggrandizement and embellishment? That it will bring dishonor to the gospel of Christ, not only in the eyes of the world, but especially in the eyes of Muslims who are watching very carefully to see who will be honest here, and who will cut and run? "Yes, Christians speak often of their Jesus as the way, the truth, and the life, but when it comes to doing the hard things, holding the line for more than just a little while, standing up in the face of scrutiny and scorn, they don't prove to have much faith." No, that is not an option.


12:44:50 - Category: Misc - Link to this article -

Will You Partner with Us?
04/28/2010 - James White
Two tremendous opportunities have opened up for ministry in just a few months. But we need your help.


First, we have gotten a positive response from Christopher Hitchens for a debate on Long Island in August. We are hoping it will be around the time of the John 10:16 Conference, however, it might have to be late August instead. I suggested we debate the title of a chapter from his book, God is not Great, hence, "Is the New Testament Evil?" Hitchens has done dozens and dozens of debates on various issues revolving around bare atheism. I think a debate dealing with his assertions concerning the Christian Scriptures would be a new thing for him, and a needful topic for those of us who have heard many of his previous debates.

Within just a few minutes of my hearing about the Hitchens debate, David Wood contacted me about an opportunity to defend the veracity of the New Testament against a Shia Imam in Dearborn in June, along with an opportunity to join him on the Arabic Broadcasting Network at the same time to do some programs on Islam, as well as preach in a church there in the area.

So, two tremendous opportunities--and our travel fund is exhausted. Busted. Gone. So if you would like to help make these opportunities a reality, please join with us. I already have debates lined up in September and October (two of which are with Roman Catholic apologist Robert Sungenis), and I will be training pastors in Peru in November on Mormonism, Jehovah's Witnesses, and Roman Catholicism, so I am definitely keeping things busy! But these two new opportunities are very exciting, and we need the help of God's people to make them happen.


17:23:10 - Category: Misc - Link to this article -

Keating's Catholicism and Fundamentalism, Then and Now
04/28/2010 - James Swan
Its been over twenty years since Roman Catholic apologist Karl Keating's book Catholicism and Fundamentalism (San Fransisco: Ignatius Press, 1988) was released. This book was one of the catalysts for the resurgence of Roman Catholic apologetics today. Keating had already founded Catholic Answers a few years prior, but this book catapulted his efforts dramatically. I've heard more than a few converts to Roman Catholicism mention the importance of this book in their swim across the Tiber. Catholic Answers now asserts, "This book is so insightful that it has been used as a college textbook in theology classes across the country. Yet it is so full of heart that it has inspired and guided Catholics everywhere to defend their faith."
I've had this book for some time now (for reference purposes when studying Romanism). Recently I revisited sections of it and came across an interesting commentary that applies to the current practices of Roman Catholic apologetics.

Keating documents some of the counter-Roman Catholic ministries popular in the 70's and 80's. He goes into great detail of a particular ex-priest turned "fundamentalist," highlighting how this man used his conversion story as an apologetic against Roman Catholicism (pp. 51-57). He then mentions the materials produced by these organizations included testimonials from ex-Catholics (p. 59). He then documents some of these stories, along with some of the other methods for evangelizing Roman Catholics "testimonies of former priests... testimonies of former nuns... testimonies of former Catholic laymen... miscellaneous tracts, most of them on particular Catholic doctrines or practices" (p. 63).

Keating is not a convert to Roman Catholicism. It is obvious from reading his book that the tactics used by those tempting his comrades away from Rome greatly disturbed him. As one raised in Roman Catholicism, he saw the methods used on his fellow churchmen as lacking in facts, playing to the emotions of the potential convert. Keating spends the majority of his book attempting to present the factual basis for Romanism. He concludes, "The key, then, is instruction- and not just in the proper approach to the Bible, but to all aspects of the faith. Almost without exception, Catholics returning to the Church from fundamentalism report they never would have left had they been well catechized... Fundamentalist neighborliness, however freely accepted, would not have resulted in the acceptance of fundamentalist doctrines" (p. 341).

Fast-forward to our present day. Now twenty years later, Roman Catholics have come to embrace many of the methods, if not all, which Keating so clearly portrayed as tools of manipulation back in 1988. Catholic Answers sells tapes and books of conversion stories. There is a long running EWTN show specific to conversion stories. On the Catholic Answers radio program I've heard them more than once recommend Patrick Madrid's Surprised By Truth conversion story books as witnessing tools. Roman Catholic organizations have found that the use of a good conversion story... sells.

Keating's book makes an excellent point which I wonder if he'd make today with the same vigor:

"Now it may well be that a man leaving one religion for another can write fairly, without bitterness, about the one he left behind. After all John Henry Newman did just that in his autobiography, Apologia Pro Vita Sua. But it stands to reason that most people who suddenly think they have an urge to write about their change of beliefs just want to vent their frustrations or justify their actions. Their books should be read with discretion, and they should not be used at all as explanations of the beliefs of their old religion if the books betray the least hint of rancor" [Catholicism and Fundamentalism (San Fransisco: Ignatius Press, 1988), p. 33].

Indeed, as I've been through at least one hundred or more Roman Catholic conversion stories, their testimonies in many cases are vented frustrations and attempts to justify actions. When I hear or read ex-Calvinists, ex-Lutherans, or ex-Evangelicals explain their old beliefs of their old religion often if not always, the former religion is ill-portrayed or misunderstood. Perhaps it isn't outright rancor, but it's at least an explanation with a hint of mockery.

Who watches over the proper use of the conversion story for Roman Catholic apologetics? It certainly isn't the Vatican. This apologetic use of the conversion story is directly borrowed from Protestantism. As the "fundamentalists" Keating wrote about read his book, they swam the Tiber, bringing their methods with them to the shores of Rome. They brought their vocabulary and their communication skills- Roman Catholic apologetics had been rejuvenated using the very practices Keating critiqued in 1988. What was once the tactic of the enemy became the evangelism method of choice for Roman Catholic apologetics.



00:01:00 - Category: Roman Catholicism - Link to this article -

An 80-Minute Dividing Line Today
04/27/2010 - James White
Started off with Matthew Bellisario and some other various stories, moving into a review of William Lane Craig's recent anti-Reformed comments and his "keep the bar as low as possible" method of evangelism comments on Moody Radio. Then we talked about Dave Hunt's flipping of Romans 9 on its head. Finally, we took a good bit of time to review Ergun Caner's Trinitarian Face Plant in the "interview" with a Oneness Pentecostal pastor. I went over his confusing and contradictory attempt to enunciate orthodoxy in light of his attempts to avoid dealing with his problems by casting himself as the victim, the persecuted champion of truth. Still hoping he will come to his senses, but time is short. I have been interviewed by the Lynchburg newspaper, and now by Christianity Today. If those reporters demand real answers and not excuses---well, the issue will come to a head. Went twenty minutes long in explaining the necessity of dealing with these issues fully. Here's the program.


14:20:52 - Category: The Dividing Line - Link to this article -

A Vindication of Paul's Gospel
04/27/2010 - James White
00:01:00 - Category: General Apologetics - Link to this article -

The Latest E-Mail Support Request from Catholic Answers
04/26/2010 - James Swan
Last year I bought a product from Catholic Answers, and since then I've been bombarded with e-mail support requests. Here is the latest:


From: Patrick Coffin
Subject: Front row seat to a high-powered debate

The Bible Answer Man Debate: Imagine having a front-row seat to a high-powered debate between a Fundamentalist Bible teacher and a Catholic apologist. Donate to our Spring 2010 Radio Club Drive by May 3, 2010, with a pledge of just $18 or more per month, or a one-time gift of $200, and you'll receive The Bible Answer Man Debate between James White, director of Alpha and Omega Ministries, and Catholic Answers' own Senior Apologist Jimmy Akin.

This unique debate happened on Protestant turf, with radio host Hank Hanegraaff ("The Bible Answer Man") serving as moderator. In this three-CD set, Jimmy Akin and James White- as Hanegraaf admits, without rancor or ad hominem attacks- get down to the nitty-gritty on what still divides Catholics and Protestants, and how Catholics can best approach objections to the Catholic faith, whether the issue is Mary, justification by faith alone, points of Church history, or interpretation of Scripture.

The Bible Answer Man Debate is informative for Catholics and a real eye-opener for other Christians- a must-have for any apologetics library! A $29.99 value, it's our gift to you when you join by May 3, 2010 . . . our way of saying "Thank you" for partnering with us!

There are a few interesting things about this e-mail. First, Dr. White is described as a "Fundamentalist Bible teacher." Now, while Dr. White holds to the fundamentals of the Christian faith, "Fundamentalist Bible teacher" means something quite different these days. Dr. White is a Reformed apologist, the author of more than twenty books, a professor, an accomplished debater, and an elder of the Phoenix Reformed Baptist Church." Fundamentalist Bible teacher" refers to those that Karl Keating's books (Catholicism and Fundamentalism) are written against: typically independent Arminian evangelicals.

The second thing to note is the debate advertised is from 1995. It's fifteen years old. Has Catholic Answers not done anything more current worthy to gain support? Well, Alpha & Omega also offers that debate for far less $$. Dr. White also did an in-depth review of the debate.

The third thing to note is that one of the top apologists at Catholic Answers did recently debate James White. Dr. White debated Tim Staples back in January on Purgatory and 1 Corinthians 3. How frequently does Catholic Answers advertise this recent debate? Never. I've yet to find any mention of it either in a support letter or on Catholic Answers Live. It's like the debate that never was in the reality of Catholic Answers. So why does Catholic Answers continually use a 15 year old debate to gain support? Listen to Dr. White's in-depth review to find out.

That Catholic Answers continues to call this discussion a debate is humorous and hypocritical. The discussion ran 3 hours. During the second hour, Jimmy Akin was given much more time. During the entire broadcast, Dr. White wasn't even given a chance to respond to many of the claims being put forth. It appears Catholic Answers would rather offer a product in which an opponent is not given a fair chance to respond, rather than the recent timed debate with Tim Staples. I can't read the hearts of those in charge of Catholic Answers, but their tactics in providing "answers" via the materials they promote are highly questionable. Recall what Solomon stated long ago, "The Lord abhors dishonest scales, but accurate weights are his delight" (Proverbs 11:1).


16:39:50 - Category: Roman Catholicism - Link to this article -

Augustine on Images and Idolatry
04/26/2010 - James Swan
In Book IV of The Institutes of the Christian Religion, Calvin commented that history shows church councils have disagreed with church councils (IV, 9:9). In his comment, he makes a passing curious reference to Augustine and the debate over the use of images in church and worship:

Need I then recount how councils disagreed with councils? And there is no ground for anyone to murmur against me that of the two that disagree one is not legitimate. For by what shall we judge such a case? By this, unless I am deceived, that we shall determine from Scripture which one's decree is not orthodox. For this is the only sure principle on which to distinguish. It is now about nine hundred years since the Council of Constantinople, convened under the Emperor Leo, decided that images set up in churches should be pulled down and smashed. A little later, the Council of Nicaea, which the Empress Irene, in hatred toward the first council, assembled, decreed the restoration of images. Which of these two shall we acknowledge as legitimate? The latter, which gave images a place in churches, has subsequently prevailed among the people. But Augustine says that this practice involves an ever-present danger of idolatry.
While not noted by Calvin, The Institutes cites "Augustine, Psalms, Psalm 1 13. 2. 5 (MPL 37. 1484; tr. LF Psalms [Psalm 115] V. 287 f." as a reference. The comment from Augustine is indeed fascinating:

5. Does anyone worship or pray with his eyes fixed on the image, without being persuaded that the image is hearing his petition and without hoping that it will give him what he wants? Probably not. So thoroughly entangled do people become in such superstitions that they often turn their backs on the real sun and pour out their prayers to the statue they call Sun; or again, while the sound of the sea is battering them from behind they batter the statue of Neptune with their sighs as though it were conscious, that statue which they venerate as representative of the actual sea. What causes this error-almost forces the illusion on them, in fact-is the human likeness with all its bodily parts. The minds of the worshippers are accustomed to living with their own bodily senses, and so they judge that a body very similar to their own is more likely to be responsive than the sun's orb, or the wide waves, or any other object clearly not built on the same plane as the living creatures they are used to seeing.

6. It may be objected that we ourselves have many vessels and other accessories made of similar metals, which we use in the celebration of the sacraments. They are consecrated to divine service and are called holy in honor of him who is worshipped through their use for our salvation. Such vessels and implements are obviously the work of human hands: what else could they be? But do they have mouths that will never speak, or eyes that will never see? And does the fact that we make use of them to offer our supplications to God mean that we are begging anything from them? Of course not.

The principal cause of insane, blasphemous idolatry is this: a form resembling that of a living person- a form that by its lifelike appearance seems to demand worship- is more powerfully persuasive to the emotions of its wretched suppliants than the plain fact that it is not alive and ought to be scorned by anyone who is. The evidence of mouths, eyes, ears, nostrils, hands, and feet in the idols has more power to lead an unhappy soul astray than the evident inability on their part to speak, see, hear, smell, handle things, or walk has power to bring such a soul back to the truth.

7. The inevitable result is the deterioration the psalm goes on to describe: May those who fashion them become like them, and all who put their trust in them. Let people with open and seeing eyes gaze at images that neither see nor live, and let their minds become closed and dead as they worship.

[John E. Rotelle, O.S.A., ed., The Works of Saint Augustine, Part 3, Vol. 19, trans. Maria Boulding, O.S.B., Expositions of the Psalms, Psalms 99-120, Exposition 2 of Psalm 113.5 (Psalm 114) (Hyde Park: New City Press, 2003), pp. 315-316].

Note first, the skepticism on Augustine's part, where he anticipates the Roman objection that people are not praying to the image itself, but to the thing/person represented by the image. Second, often Rome's apologist argue "we keep pictures of our family and loved ones as a way to remind us of them, we also keep statues and images in our homes and churches as a way to help remind us of our Lord and the heroes of the faith: the Blessed Virgin Mary, the saints, and the angels" [Patrick Madrid, Where is That in the Bible? (Indiana: Our Sunday Visitor Publishing Division, 2001 ), p. 132]. Madrid leaves out the fact that Roman Catholics also pray to these saints, asking for their help and intercession.

Augustine though states the obvious:

Does anyone worship or pray with his eyes fixed on the image, without being persuaded that the image is hearing his petition and without hoping that it will give him what he wants? Probably not. So thoroughly entangled do people become in such superstitions that they often turn their backs on the real sun and pour out their prayers to the statue they call Sun... The principal cause of insane, blasphemous idolatry is this: a form resembling that of a living person- a form that by its lifelike appearance seems to demand worship- is more powerfully persuasive to the emotions of its wretched suppliants than the plain fact that it is not alive and ought to be scorned by anyone who is.

Chantal Epie's The Scriptural Roots of Catholic Teaching (New Hampshire: Sophia Institute Press, 2002) states, "The saints did not allow themselves to be worshipped like God. Yet they did not chase away those who came to them asking for miracles. In accordance with His promise, God granted many favors through their intercessions" (p. 257). While Romanists may claim they aren't placing their faith in a saint, one can't help but agree with Augustine's caution. Rome's apologists can balk against this charge all they want, but they should consider the source from which it comes, and as Calvin states, "the ever-present danger of idolatry."


16:04:12 - Category: Roman Catholicism - Link to this article -

Monday Miscellaneous
04/26/2010 - James White
Jamin Hubner has an excellent discussion concerning this amazing quotation from William Lane Craig on the Janet Parshall Show:

Let me first make a point, Chris, that I'll hope you'll understand, and that is I don't try to prove the inerrancy of Scripture to a nonbeliever. I think Scriptural inerrancy is a Christian doctrine that someone comes to believe after becoming a Christian as a part of training in Christian doctrine and discipleship. In order to get someone through the door, through the gate into eternal life, you don't need to convince them that Scripture is inerrant. All you have to do is convince them that Jesus was who He claimed to be, that he rose from the dead, in authentication of those claims and that therefore you need to place your faith in Him and become a Christ-follower. And what implications that has for your doctrine of Scripture can follow later on. In other words, my strategy of evangelism is to set the bar as low as possible, to put as few hindrances in the path of the unbeliever to getting him to come in faith, to faith in Christ. So I don't argue about inerrancy with an unbeliever. I just argue that we have historically reliable documents to show things like the empty tomb, the resurrection appearances and transformation in the lives of the disciples, and what that leads to. (Live recording was April 24)

Next, Liberty University has invited Glenn Beck to speak at their graduation. For those unaware of the background, Beck is a Mormon. It seems discernment has been banished from the campus in Lynchburg. To add insult to injury, Ergun Caner tweeted about the invite, "Glenn Beck at the LU Graduation! Love it! And I'm loving the snarking of the haters. LU folk: rejoice when they revile!" So, for Ergun Caner, if you think it is unwise to ask a Mormon to address a Christian university's graduating class, you are a "hater." And if folks point out the lack of simple discernment on the part of the leadership, you are "reviling," just like the enemies of the faith revile...Christians. Could it get any stranger at Liberty? Lane Chaplin tweeted regarding the situation, "Apparently the exchange will go, 'So you're a Mormon?' Beck will respond, 'Yes.' Then @ErgunCaner's site will be amended to include the db8."

Finally, my overview of 1 Corinthians 15:1-11 from PRBC in the Sunday morning service.






00:01:00 - Category: Misc - Link to this article -

Preview of Possible Topics on the DL on Tuesday
04/24/2010 - James White
Of course, other things could intrude upon my thinking between now and then, but right now, there are a few items I want to get to. First an announcement, secondly a humorous item, finally a really important item.

Next Wednesday I will be joining Michael Brown on his radio program. No, no debates this time: they have recently gone on the air in Salt Lake City, so we will be discussing Mormonism! Should be interesting.

Next, James Swan just directed me to a Catholic Answers web forum thread about some comments I made on the last DL. It wasn't so much what the fellow said (he has a long history of taking shots at me), though he did ignore the majority of my comments, context, etc. (standard fare for the folks who lurk in those forums, sadly), but what caught my attention was the other participants who were willing to comment without having actually taken the time to listen to the DL. In other words, "Well, one Roman Catholic listened to ten minutes, that's enough for me!" The mind-set in those insulated little worlds is at times just frightening.

But far more important is this clip from Ergun Caner. This is the very end of one of the "interviews" Caner has posted as part of his classes for Liberty. He interviewed a local Oneness Pentecostal pastor. For those who have heard my debates on the Trinity, including the one with a leading Oneness proponent (you can see most of the debate here and here), the experience of listening to the entire thing is simply painful. The truth is never defended, falsehood is presented, and even though at one point Caner calls this debacle a "debate," it is, of course, anything but. However, right at the end the associate pastor of the Oneness presenter asks Caner a simple question. A question that anyone who has done a single debate with a Muslim on the topic of the Trinity or the deity of Christ has had to answer over and over again. A question I had to answer three different times while standing in Leicester Square in London back in February with three different Muslims. A simple, basic question: if God the Father has eternally existed, and God the Son has eternally existed, how can a Father have a Son who is the same age? I have often commented that I had to deal with many of the same arguments back in 1999 when I did two debates within a few days, one with a Muslim, one with a Oneness proponent. Ironic. In any case, it is the basic question of the relationship of the Father and the Son.

Ergun Caner is the president of a theological seminary. He claims to be a former Muslim, to debate Muslims on university and college campuses literally all around the world. He is the head of the Global Apologetics program at Liberty. Global apologetics. Think of it. So here is an associate pastor at what seems to be a pretty rural little Oneness Pentecostal church asking one of the most basic questions you can ever field on the topic of the Trinity. This is the one, single time Caner had to try to present the orthodox position on anything in this interview (I refuse to call it a debate: words have meanings). The resultant flood of incoherent verbiage is simply shocking. Not only does he contradict himself, he clearly diminishes the concept of sonship to a merely incarnational term. I cannot possibly imagine how anyone can make heads or tails out of his response, and surely, the Oneness folks could not. And oh, what must the Liberty students have been thinking? Finally their great champion steps forward after all this time to present the truth and...what happens? I cannot help but think of the looks on the faces of the Roman Catholics in the audience in 2001 on Long Island when Peter Stravinskas got up to give his closing statement in the purgatory debate. It had been a rough night for him, and the cross-examination period had left the Protestants happy and the Roman Catholics disturbed. So when he launched into his closing statement, a statement that I could not begin to follow myself, I watched the people in the audience move from expectation to confusion to utter dejection. And that must have happened a lot faster during this three minute Trinitarian debacle for Ergun Caner's devoted students.

My observations here are, of course, irrelevant to the issue of Dr. Caner's myth-making regarding his background. However, they are clearly related. I have never heard him go in-depth in any kind of exegesis or preaching. He could not even hold his own against Nadir Ahmed in an e-mail exchange. And here we have him fumbling all over himself attempting to handle the most basic questions regarding the Trinity. What on earth is going on in Lynchburg? I am left without words.


21:07:58 - Category: Misc - Link to this article -

Today on the DL: Steve Ray, Catholic Answers, Ergun Caner and Calls
04/22/2010 - James White
Started off with some discussion of John 6 and a caller on Catholic Answers Live, then moved to a 2006 presentation by Ergun Caner with some new and interesting claims (including his assertion that he learned about America by watching the Dukes of Hazzard while living on the border of Turkey and Iraq: only problem is, that TV series started in 1979, when even by his own story, he had already come to the US). Then we took some great calls, including one from a convert from Islam, Hussein, who had concerns about the Ergun Caner story and how I've responded to it. We went 11 minutes long, answering questions at the end on the KJV Only Controversy. Here's the program.


22:49:31 - Category: The Dividing Line - Link to this article -

A Further Comment on One of Dave Armstrong's Arguments
04/22/2010 - James White
TurretinFan is providing responses to a series of arguments put forward by Dave Armstrong. In today's installment TurretinFan was responding to this argument:

Is every Christian in the world able to find enough time, and become educated enough and familiar enough with Scripture to be his own theologian? And if he consults other ones, wise enough to always get it right when he chooses?

I was reminded of my closing statement from the debate with Mitch Pacwa where I pulled out a pile of Roman Catholic magisterial documents and asked the simple question as to whether this huge pile of material (often requiring knowledge of Latin) clarified, or muddied, the words of Romans 5:1, "Therefore having been justified by faith, we have peace with God through our Lord Jesus Christ." The answer is obvious, and it surely exposes the above arguments' error. If it is a relevant argument that no one has enough time or education to "be his own theologian," how is adding to the deposit of faith an answer? If there is not enough time in life to become an expert on Scripture, there is enough time to become an expert on the much larger, much more difficult to master body of Magisterial documents, which likewise make reference then to Scripture? The problem is compounded by the fact that the interpretation of those magisterial documents changes from decade to decade depending on the current make-up of the Magisterium itself. So the Roman Catholic offers a problem to which he posits no meaningful solution, unless you are willing to accept the time-honored position, "I believe whatever the priest tells me to believe." And that is surely something we have all seen, over and over again.


06:42:12 - Category: Roman Catholicism - Link to this article -

Sharia Law in Action: Christians Imprisoned on Charge of Touching Qur'an Without Washing Hands
04/22/2010 - James White
I saw this article posted over at Answering Muslims, and wanted to make sure our readers saw it.


Islamabad (AsiaNews) – A court in Kasur district, Punjab, convicted a Christian couple, Munir Masih and Ruqqiya Bibi, to 25 years in prison. According to the Centre for Legal Aid Assistance and Settlement (CLAAS), judge Ajmal Hussein convicted the couple for touching the Qur'an without washing their hands.
Munir Masih and Ruqqiya Bibi were released on bail last January, but were re-arrested after the judge ruled against them. The husband was locked up in Kasur's district prison; the wife was sent to the women's prison in Multan. Both have started serving 25 years behind bars.

CLAAS, an association that fights for the rights of the poor and marginalised, said that the couple was accused of "contaminating" the Qur'an when they touched it "without washing their hands".

The incident, which dates back to December 2008, unleashed the fury of Muslim extremists who put pressure on police. Unconfirmed reports suggest that extremists paid off police agents to discover "new evidence" to justify the sentence.

At the end of the police investigation, husband and wife were charged with blasphemy.

The blasphemy law is the harshest tool for religious repression available in Pakistan. It was adopted in 1986 by then dictator Zia ul-Haq to protect Islam and its prophet, Muhammad, from attacks and insults.

In fact, it is actually comprised of sections 295-B and 295-C of the Pakistan Penal Code, which respectively punish with life in prison anyone who defiles, damages or desecrates a copy of the Holy Qur'an, and imposes the death penalty on anyone who defiles the name of the Prophet Muhammad.

In the last two months, there were two more convictions against Christians in Pakistan.

On 11 January, a court in Faisalabad sentenced Imran Masih, a 26-year-old Christian man, to life imprisonment for insulting and desecrating the Koran. He was accused of deliberately burning Qur'anic verses and an Arabic book in order "foment interfaith hatred and hurt the feelings of Muslims."

On 25 February, a court in Karachi sentenced Qamar David, also a Christian, to life imprisonment for hurting the religious feelings of Muslims when he sent blasphemous SMS.

CLAAS announced that it was filing an appeal with the High Court in Lahore to have the 25-year sentence against Munir Masih and Ruqqiya Bibi overturned.

Can you imagine the uproar around the world if this was an ostensibly "Christian" nation imprisoning someone for mistreating the Bible? The Antiquated Alphabet Press would be all over it, sending reporters and calling for sanctions and boycotts. But as long as the victims of such religious persecution are Christians, and the instigators Muslims, well---you only hear about it on small specialty websites that monitor such evils.


06:16:25 - Category: Islam - Link to this article -

Calls, Calls, and More Calls on the DL Today
04/20/2010 - James White
We let the callers drive the program today, and that often takes us over a wide spectrum of topics. We discussed George Bryson and Calvary Chapel; Ergun Caner (one of his students called); 1 John 2:2 and ἱλασμός (via a Skype call!); the Apocrypha and online apologetics to Roman Catholics, and more! Something for everyone, as they say. Here's the program.


14:00:19 - Category: The Dividing Line - Link to this article -

Monday Miscellaneous
04/19/2010 - James White
This morning someone pointed out to me that the Liberty website's bio is now the same as the one on Ergun Caner's personal website, and hence all references to debating have vanished. That would be good---if it were accompanied by full disclosure of and honesty. Until that "rebuffing" is made public, and we see that it does, in fact, address all the questions that have been raised, explaining how the wrong date for Ergun Caner's coming to America had been posted for so long, etc., it is nothing but whitewashing.

Steve Hays took note of this loving blast from one Anthony Sacramone over on the First Things blog:

If Calvinism, especially in its supralapsarian form—which argues that God foreordained the eternal fates of humans not yet created in a world not yet created, never mind fallen—is true, then most of us are lost, and not just because, in the words of Dirty Harry, we don't feel particularly lucky, but because we are asked to love a monster. A deity who out Hitler's Hitler in a blood-thirsty self-preening is too repellant to contemplate, never mind adore. Especially one whose obsession with his own glory reduces every person to nothing more than an adornment. If this is true, let's please stop talking about the sanctity of human life. In this horrific scheme, there is nothing more expendable than a human being. "I need more glory—throw another baby on the barby!" (Whether non-elect infants go to hell has been a long-fought controversy within the Reformed world, admittedly, but there's nothing it its confessions or theology that seriously argues against it.)

Well there you go...if you can't defeat a position, just caricature it! It's the way to do theology today, you know. Works real well.


18:47:07 - Category: Misc - Link to this article -

"Blaspheming the Prophet"
04/19/2010 - James White
I just ran across this video, and I thought I'd post it while it is still available (it is as I post this, it might not be five minutes from now, you never know). Given how many times I have argued that Muhammad was not a prophet due to contradictions between the truth and the Qur'an, it would be very easy for some zealous jihadi to add me to the list included here. Notice the picture of the murdered Dutch man and the caption "after he was sent to hell." But listen to the argumentation provided. What do they draw from? Muhammad's own example. That is the problem for our "moderate" Muslim friends: their sources are self-contradictory.






12:56:15 - Category: Islam - Link to this article -

Greetings from Between Flights in Philadelphia
04/18/2010 - James White
My apologies for "going dark" this weekend, but I've been speaking in Rochester, NY, and when I wasn't doing that (and visiting the Palmyra LDS sites, as those who follow my Twitter account saw on Saturday afternoon/evening), I have been working on preparations for the Robert Price debate. Lord willing I'll be getting back into the "groove" this week, doing both DL's and pressing on with debate preparation. Please continue to pray for this major debate, my preparation, and please continue to support our work. I still have some resources listed on the Ministry Resource List, and your support of A&O makes it all possible. I look forward to getting back and hearing from you on the DL on Tuesday morning!


16:57:32 - Category: Misc - Link to this article -

Ergun Caner Rebuts All the Charges: But, Only in Private
04/15/2010 - James White
When you thought it couldn't get any stranger...well, of course, it does. I got here to Rochester this afternoon, got to my hotel, got on line, and immediately was directed to an internal memo from Liberty Seminary. Now, let me say immediately, I have yet to see verification that this memo is genuine. It looks like it is, and the names and positions are correct (Dave Eppling teaches at Liberty and is described as Caner's "Chief of Staff" in this Liberty publication) so it looks genuine, but till we can confirm this, take it for what it is: a genuine looking memo that may well give us more insight into what kind of thinking is taking place among the leaders of Liberty University. And if it is genuine, it only illustrates that the problem extends beyond Ergun Caner to those around him as well.

I ocr'd the memo. It claims to come from Dave Eppling, "Chief of Staff to the President, Liberty Baptist Theological Seminary."


DEAR SOR FACULTY:

I have been told that recently you received a mass email from a Muslim, attacking me, and including links to his pay YouTube site.

For those of you who have been around here a while, you have seen such things before, involving any number of people at Liberty. I think I received one the first week I came on campus. Nonetheless, I am sorry that you have been "dragged into" this. You are seeing a portion of the life I have to live, sadly.

Most of you know my younger brother, Emir. He is President of Truett-McConnell College, one of the Baptist schools in Georgia. We have faced this type of vitriol for most of our lives. Perhaps recently it has gotten worse, since some Christians (who are no fans of LU, or Dr Falwell) have now joined in the attacks. I never thought I would see the day when alleged "Christians" join with Muslims to attack converts. In fact, it has gotten so bad that they procured or hired someone to go to the courthouse in Columbus, Ohio, to get copies of our parents' separation, divorce and appeal papers. The purpose of this was to "expose" us as frauds. They wanted to prove that we were not former Muslims. They have actually posted these documents online.

What they ended up doing was proving that we were, in fact, Muslims. The court papers showed that (1) we are immigrants, (2) we were Muslims, (3) our father was so devout that he demanded that the court order that we continue to be raised Muslim, (4) they he wanted visitation on the Eids (Muslim holy days], (5) that we were Turkish citizens and would become American citizens from our Turkish papers, and (6) that our father still had property, money and furniture back in Turkey.

In fact, some of you may have known Jamal Jivanjee, who graduated from Liberty a few years ago. He was saved out of the same Islamic Center, on East Broad Street in Columbus, Ohio. Jamal is now a Christian speaker, and the executive director of Illuminate. The irony is, Jamal knew us as Muslims, because we went to the same Mosque, prayed in the same prayer room, and was taught in the same classrooms as we were. In fact, his family rented an apartment from our father!

Regardless of how this ended up backfiring on them, you can imagine the horror of having your entire life up online, for the joy and derision of others, especially those who should know better.

Again, I apologize you had to be bothered with these skirmishes.

If you have any questions whatsoever, feel free to write me back.

If you wish to see the rebuffing of this Muslim's arguments, I have answered his claims individually and placed it in a handout. We scoured all ten videos he uploaded, and prepared answers to his objections. Feel free to come by office and pick up a copy.

Blessings:

Ergun

Now, once again (though for some, it would not matter how many times I repeat this), we can only comment on this memo at the moment as an unconfirmed item that fits the current situation. However, since it raises a number of points that have already been voiced by Dr. Caner's defenders, let's examine what it says. If it is verified, then we have already provided interaction. If it is not, then take it for what it is worth.

1) Assuming this is referring to e-mails sent by Mohammad Khan, I do not understand what the text means by "pay" YouTube site. It sounds like you have to pay to watch the videos, but, of course, you do not. This is confusing.

2) It would not be possible for someone to send an e-mail documenting errors in Dr. Caner's personal claims the first week he was at Liberty. While he had begun making false claims at that point, it seems most have come after his arrival at Liberty. I am unaware of anyone else who has invested the time Mr. Khan has in collecting documentation regarding Dr. Caner's claims. The text is attempting to make it sound like the current attempts to get Dr. Caner to honestly answer important questions is just another part of some long campaign against him, once again seeking to play the martyr card, in essence. This will come up later. Let me once again emphasize: the reason Dr. Caner needs to come out publicly and explain all these issues is not because he is a convert from an Islamic background (he is), it is because he is President of Liberty Theological Seminary. He is a Christian leader, and as such, is to be held to a certain set of standards regarding truthfulness and honesty. It would not matter in the slightest if he was a life-long Southern Baptist born in Dallas, Texas. If he makes up stories and pawns them off on unsuspecting people, he is to be called to repentance, period. ...
[Click Here to Continue Reading]


20:45:34 - Category: Misc - Link to this article -

Ergun Caner's New Cleaned-Up, Without Apologies Bio
04/14/2010 - James White
Well, Mr. Burleson was right. Yesterday the bio that had included the claim that Caner came to the US in 1979 (you can still see that date in the search data found here, currently the third entry, which reads, "... homeLIFE Ergun was born in Stockholm, Sweden to turkish parents and in 1979 immigrated
to the United States with his parents, grandmother, and two brothers. ... ") disappeared from the Liberty website. It has now been replaced with this, which conspicuously lacks...well, almost anything relevant to Caner's own false claims about his past, being trained as a jihadist, living in Turkey, majority Muslim countries, etc. and etc.---his stock story he's been telling since 9/11. The claim to have debated "leaders" in major religions remains, however, despite Caner's inability to provide evidence of such debates. At the very same time the bio link became active again on Ergun Caner's personal website, here. This one is even more vanilla, lacking almost all detail. It even drops all mention of debates!


I'm sure for most of Ergun's supporters, this will be enough. I mean, didn't he sorta apologize for something back in February (though only for a few days before pulling the apology down)? And what if he were to stop claiming all the things he has claimed for all these years? What if he stopped claiming to have been born in Turkey and to have been trained as a jihadist and attending madrassa there and knowing Arabic and living in only majority Muslim countries before coming to the US via Beirut and Cairo in 1979 as an older teenager and debating known Muslim leaders and...all that stuff? Isn't that enough? Well, you tell me! When you were a child (assuming you had a good upbringing here) and you lied to your parents, would you have gotten away with, "I am not admitting I lied, nor am I apologizing for having done so...I just promise not to tell that particular lie again in the future"? If you think that is sufficient, well, you are welcome to your opinion. I just hope you don't raise your kids to think that is sufficient.


Meanwhile, the white-washing continues at Liberty University. It seems this goes all the way to the top, and the "good ol boys" mentality of "circle the wagons, them nasty folks will go away eventually" remains in full swing. Removing falsehoods from Caner's biography does not explain how they got there in the first place. Silently deleting them (well, how can you do that in this day of Internet perma-documentation?) without notice, without explanation, and without apology, does not explain to the student who enrolled at Liberty under the false impression that the leader of the seminary was an expert in things Islamic why he or she has not been misled and deceived. And in all of this, what is being said about the integrity of high-profile leaders, entrusted with the theological education of young men for ministry? I wonder, would a Liberty Seminary student be admitted who submitted an application filled with the kinds of myths Ergun Caner disseminated for so long? Would he pass a class wherein he submitted papers citing from such great Muslim leaders as Abdul Saleeb, or from interviews he never had with Shabir Ally? If not, why not?



09:13:19 - Category: Misc - Link to this article -

Argumentum ad Misericordiam and Misdirected Nausea
04/14/2010 - Tur8infan
Read this account:
Now his [Mr. Roe's] eleven year old son is receiving messages on his facebook page with links to critical articles about his "deceptive daddy" on Muslim attack sites, the very sites [Smith], [Jones], and [Doe] have milked dry in an apparent attempt to smear [Mr. Roe and his brother]. I remain nauseous in my soul over this.
Is the author suggesting that Mr. Roe and his brother are being falsely accused by Smith, Jones, and Doe? The paragraph does not state that the accusations are false. Instead, it tries to evoke emotional sympathy for the poor Roe family, who is under "attack" and "apparent attempt[ed] ... smear" by bullies who try to "milk[] dry" suspicious web sites even to the point of harassing a young child and "nause[ating]" the "soul" of the author of the paragraph. The paragraph could have been more neutrally written as follows:
Now his [Mr. Roe's] son has received links to articles criticizing his father's dishonesty. The links point to the same sites that [Smith], [Jones], and [Doe] have relied upon in criticizing [Mr. Roe and his brother].
Notice how the paragraph written in a neutral way no longer demonizes the critics and no longer evokes the same kind of emotional reaction toward the Roe family. One still may feel sorry for the son having to deal with the result of his father's dishonesty, but the emotional appeals as an argumentum ad misericordiam against the criticism are gone. Also gone from the neutral paragraph are the suggestions that the critics are lying or attacking.
The neutral paragraph would fit well within an article criticizing the father for bringing this sort of problem on his own family by being dishonest. The emotionally charged paragraph fits in an article shooting the messengers who point out the dishonesty. The neutral paragraph reports the sad effects that sin has, whereas the emotionally charged paragraph lashes out against those who call a sinner to repentance.
What's saddest is that the emotionally charged paragraph isn't hypothetical (link to actual paragraph). The author of the real paragraph is Mr. Lumpkins, whose nausea should be directed against the sin of dishonesty not against those who call sinners to repentance.
-TurretinFan

UPDATE: a kind reader brought to my attention that Facebook has a policy that one must be 13 years old to have a Facebook page. So, that bit about the 11 year old suggests that someone is not being completely honest, though it is tough to pinpoint a culprit.


07:48:45 - Category: Misc - Link to this article -

Monday Miscellaneous---a Day Late!
04/13/2010 - James White
For my friends in the New York area, I will be speaking on Islam in Rochester this weekend. Here's the info.
Anthony Flew passed away. Jamin Hubner has some comments here. I never understood how non-Reformed apologists rejoiced over someone moving from atheism to deism, as if this somehow proved something. It is the "better to be a little closer to the truth" concept---which leaves the person under the wrath of God (since you don't get salvation by getting closer to the truth, you get salvation by repenting and believing).
Finally, Michael Brown is debating Bart Ehrman on the issue of Ehrman's book, "God's Problem" Thursday evening. There will be a live webcast here.


20:12:58 - Category: Misc - Link to this article -

Dr. Robert Price's Reason for Accepting the CRI Debate Challenge
04/13/2010 - James White
I was directed to the March 5, 2010 issue of "Point of Inquiry," a program wherein Robert Price interviewed fellow Jesus Seminar participant Robert J. Miller. Toward the end of the program I encountered the following material, which explains Dr. Price's acceptance of the CRI invitation to debate in May. I think those gathered that evening should be aware of Dr. Price's views on the issue of debates. Price asked Miller what he thought of debates, and then commented himself:

Miller: I think that the net effect of these is to lend legitimacy to fundamentalist scholars because it looks like we are taking them seriously as colleagues and peers, whereas in fact their assumptions are so fundamentally different from what I would think of as true and honest critical scholarship…I mean, all of their decisions and all of their positions are pre-dictated by their conservative theology. And I am really worried that the net effect of people like you and me debating with them is to lend them a credibility that they really don't deserve. So I have a lot of reservations about these debates. What do you think, Bob?

Price: Well I believe you're correct, but on the other hand it enhances their credibility in the eyes of their own constituency anyway. They are believing the same thing they would about the legitimacy of their scholars and their viewpoint no matter what I might say. And I feel like there probably is a thin edge of questioning or unconvinced people that may hope the apologetics are true and fear they are not and if I have a chance to get in there and say, "Well, you know, your fears are well founded, these people, sadly, do not know whereof they speak," I think I might be doing a favor to those people. And the other ones, if it is just entertainment to them, well, so be it. I think you are right, it's just I'm kind of aiming at a very thin slice of the audience, and the questions I usually get when the exchange is over tends to kind of confirm my hope that a surprising number of them have genuine questions and are not just trying to put me in my place, which I thought they would all be doing. Surprisingly, a lot them really do seem to want to hear another side. So I keep it up when I'm asked to do it; I never initiate them. And you are right, though, the one bad by-product, like Dawkins says about evolution, there is the risk of making people think we are taking them more seriously than we are (the last portion being said with laughter).


Drs. Miller and Price then went on to talk about how they became "intellectually unshackled" from fundamentalism, a common theme in Dr. Price's talks, especially with atheists.

I am thankful I am not overly concerned about whether my debate opponents take me seriously or not---that is beyond my control. It speaks more to the individual debater and how he views his task and his responsibility to the audience than anything else. I have taken Bob Price quite seriously, as evidence by how many hours I have spent listening to him teach and lecture so far. But this does point out a fundamental difference between the two sides. The radical left (which Price represents) dismisses anyone who would believe the Christian message as a mere fundamentalist, one who unthinkingly accepts what he is told to believe without thought or reflection, and as such, does not believe we are worthy of any kind of "credibility" at all. This is why such liberals often exhibit incredible ignorance of the rich variety of viewpoints expressed on "our side" of the divide, because they simply do not invest their time in listening to what we have to say (Price, to his credit, has not forgotten his conservative training, and is more accurate in his representations than most in his camp). We are irrelevant. We see the exact same attitude on the part of true, down-home style "fundamentalists" who have no interest in knowing about any other viewpoints than their own. But in sound, conservative, believing seminaries, you will always find discussion of a wide spectrum of beliefs, even when there is strong disagreement. I listen to the Crossans and Ehrmans and Prices of the world not because I enjoy the exercise (I would much rather be listening to something uplifting and edifying), but because I seek to honor the truth, and the only way to do that is to do the work necessary to accurately represent your opponent in debate, for the benefit of the widest possible audience. So while Dr. Price will be seeking to "reach" only a small sliver of the audience in an attempt to push them over into agnosticism, I will be seeking to reach a much wider group: I wish to reach the unbelievers by demonstrating that the faith can stand in the presence of radical unbelief without compromise; I wish to reach the believers by modeling how they may provide an answer to those attacking their faith. And of course, another major difference between us is that Dr. Price has only the weapon of his own doubt to use. I have the Spirit of God, who raised Jesus from the dead, to make the truth to come alive in the hearts of His people.



19:01:13 - Category: Christian Worldview - Link to this article -

Romans 4, Silver Bullets, Romans 16:17, William Albrecht, and Peter Lumpkins...All on the DL!
04/13/2010 - James White
OK, so we had to go about seven minutes long to cram all of that into one program, but given that there will not be a program on Thursday (I will be spending all Thursday in airports or in the air, heading to Rochester, NY), that was alright. Started off with an exegesis of Romans 4, then reviewed this article by "Nick," a Roman Catholic, who views it as the "silver bullet" against sola fide. Then we listened to a portion of last week's debate between TurretinFan and William Albrecht on whether sola scriptura creates disunity in the body of Christ, took a call on James 2, and finished off with Katherine's fine commentary exposing Peter Lumpkins' unwillingness to confess and repent of his deceptive behavior. Here's the program!


14:32:58 - Category: The Dividing Line - Link to this article -

Sola Scriptura and Unity Debate
04/13/2010 - Tur8infan
The debate below took place April 10, 2010, between William Albrecht (Roman Catholic) and myself, TurretinFan. The resolution was: "Does Sola Scriptura foster disunity and division in the [Christian] body?" This resolution was originally proposed by Steve Ray. Albrecht took the affirmative position and I took the negative position. While the constructive speeches may be of interest, I think both sides will most appreciate the lengthy cross-examination segments, which make up 4/7 of the debate.

If the above doesn't work:

Part 1

Part 2

Part 3

Part 4

Part 5

Part 6

Part 7

Enjoy!

-TurretinFan


11:40:53 - Category: Roman Catholicism - Link to this article -

Caner Debacle Gaining National Attention
04/12/2010 - James White
Some things just don't go away by ignoring them, spinning them, or yelling louder that your critics are meanies. Ergun Caner's myth-making is becoming more widely known despite the wall of silence he, and evidently, the leadership at Liberty, are hastily attempting to erect. I'm seeing other sites picking up on the story, and today ran across a very interesting comment made by someone with deep connections in the SBC, Wade Burleson. In the comments on this blog entry Burleson writes:

Though I have never written on this subject, I have read yours, Debbie Kaufman's and James Whites articles with interest. I do not know Ergun Caner, but I hope he comes clean-quickly. What is available in published form is enough to indict his truthfulness, without ever going to motive. An "apology" for "mistakes" of "unintentional misleading statements" is like a CPA apologizing for "unintentionally" ignoring GAAP accounting principles and the law of the land - he may be sorry but there are consequences when the issue goes to the heart of one's calling.

The new bio of Dr. Caner will go up this week on his website. It has been approved by the Chancellor himself, Jerry Falwell, Jr. When I say, "approved," I mean the Chancellor sat at his desk, read it, and said, "Post it."

As of this morning, Caner's "Bio" link on his website still 404's. It has been that way for over a month now, if I recall correctly. The "apology" from February 25th remains MIA as well. Since that time documentation has been posted blowing holes in his "I came here at 15 trained to be a jihadist" story. He grew up from age 4 in Ohio---heartland of the good ol' USA. So much for "I had always lived in majority Muslim countries" and "I came here via Beirut and Cairo" and claiming his first language was Arabic and training in a madrassa in Turkey---all of it, simple hype meant to sell his story to undiscerning listeners. Ergun Caner has been creating a myth about himself for years now, aided, it seems, though probably unknowingly, by the "superstar" mentality that pervades certain portions of the Southern Baptist Convention. Got a great testimony? Come on up here and tell us about it! Maybe those first few times in the spotlight after 9/11 sealed it for him, I do not know. But I do know that this is a simple matter of truth vs. falsehood, honesty versus deception, and for Christians who follow Him who is the Truth, there is no wiggle room here, no place for neutrality. If you let the President of Liberty Theological Seminary make up his entire history just to "impress" the audience, upon what ground can you ever stand to 1) claim the Gospel message is REALLY true, or 2) demand integrity from anyone in what they claim or teach?


Here is what I expect will happen: as long as Ergun Caner provides Liberty with a + sign on the "paying customers" side of the ledger (enrollment), the wall of silence will remain up, the massive holes blown through Caner's story being patched quickly by the diligent servants on the other side. As soon as the + sign becomes an = or a - sign, the wall comes down, "Oh, we had no idea, we must do the right thing" will become the mantra, and Ergun's defenders will all of a sudden find themselves needing to, shall we say, attend to other issues. What began as primarily an amazing insight into the psyche of one individual leader is now beginning to reflect upon the structures that have not only allowed him to live in a self-made world of mythology for so many years now, but seem intent upon assisting him to perpetuate that myth even in the face of a clear demonstration of the truth.



11:04:04 - Category: Misc - Link to this article -

Two Very Different Calls on Last Thursday's Dividing Line
04/11/2010 - James White
06:55:24 - Category: The Dividing Line - Link to this article -

Heresy Never Dies
04/09/2010 - Jeff Downs
This week, men from around the world gathered in Mississippi for the Twin Lakes Fellowship.

Martin Downes (no relation to me) had the opportunity to address the issue of heresy in his lecture "Heresy Never Dies." You can listen to this lecture by clicking here.

Downes is the author of Risking the Truth: Handling Error in the Church.

You can check out other presentations made at this years Twin Lakes Fellowship by clicking here


13:24:22 - Category: General Apologetics - Link to this article -

Warren/Piper, Peter Lumpkins, Corey the Anti-Christian Apologist, and More, on Today's DL!
04/08/2010 - James White
Wow, we covered the gamut today. Started off playing Phil Johnson's comments on the Warren/Piper controversy that erupted last week, then added a few of my own thoughts, then moved on to Peter Lumpkins being awarded the "lamest attempt to malign" award for his "James White thinks it is dangerous to preach the love of God" silliness. Then we took a call from Corey, who threw just about everything but the kitchen sink my direction in a vain attempt to disprove the Christian faith. Took some more calls, including one very encouraging call, and a question on Psalm 110. Fast moving program! Here it is.

And while we are on the subject, I just realized I forgot to blog Tuesday's DL, on which I played some of Ehrman's comments in the debate with Craig Evans, and took calls. You can get that one here.


19:11:02 - Category: The Dividing Line - Link to this article -

Note to Peter Lumpkins: It is Hard to Lie Openly When the Videos are Posted On Line (With Update)
04/07/2010 - James White
I just saw someone responding to Malcom Yarnell (@myarnell) repeating some more slander from Peter Lumpkins (@SBC_Tomorrow), a man who has proven himself recently to have no interest in truthfulness or honesty (a shame, since he claims to be a Christian leader). What was once somewhat amusing (his constant repetition of the "hyper-Calvinist" label, etc.) has become somewhat pitiful when you see how low he has to stoop to create attack pieces. Lumpkins has been one of Ergun Caner's primary defenders---well, ok, he hasn't defended Caner on anything at all, but he has done all he can to blow smoke so as to distract folks from realizing that Caner has yet to answer the mountain of documentation that has been posted regarding his numerous false statements. In any case, Lumpkins has just posted this attack upon me using a clip from a video I posted on August 29, 2008. Here is the video Lumpkins produced, editing my original video (which is nearly 20 minutes in length) down to 92 seconds:



James White on Jerry Vines from peter lumpkins on Vimeo.


Now, notice how Lumpkins attempts to distract you by adding text, text which does not match what I am actually saying. He wants to distort my words. What I said was that discussing the love of God is a dangerous topic for me to address due to the traditions people have about the subject. But that is not enough for Lumpkins. He changes the entire meaning of my words by changing "address" to "preach." Here is the original video, check it out for yourself:



Now, notice how Mr. Lumpkins, without editing the audio, has lied about what I said. I never said it is dangerous to preach the love of God, hence, his entire post is a gross caricature, beneath any serious Christian leader. I said this was a dangerous subject to address, and I then explained why: people have strong emotional attachments to their own traditions on that matter. I expanded upon this for almost 20 minutes. You will notice Lumpkins links to Vines' sermon, but he does not link to the original video he has edited and misrepresented. He seems to be hoping, I imagine, that people would not take the time to look for themselves. Anyone who does knows Lumpkins has twisted my words.

I can only suggest that Mr. Lumpkins' withdrawal of his article and the posting of a notice of repentance and apology would be sufficient to rescue what little credibility the man has left. Otherwise, he needs to be marked out as the troubler of the brethren, in accordance with Romans 16:17-18. Meanwhile, I invite Malcolm Yarnell to view the actual video and withdraw his support of Lumpkins' deceptive assertions. Simple Christian integrity is, once again, a rare item in some circles these days.

With that, I am....thankful it is easy to document blatant and deceptive dishonesty.

Update Mr. Lumpkins refuses to repent of his dishonesty, like others we have documented of late. He admits what he put on the screen is not what I said, but attempts to obscure this little ray of honesty by saying I misquoted myself(!) and that it was the "approximate" meaning. The inanity of the deceiver caught by documentation is sad to observe, but it is there nonetheless. Here is his comment. I can only conclude that he is unwilling to receive correction or to be truthful, and hence needs to be marked out as one of those troublers of the brethren noted in Romans 16:17. Of course, that would require his church to accomplish, and I am doubtful that is going to happen, but for me, and anyone with the slightest ability to discern facts and motivations, Mr. Lumpkins has shown himself unworthy of further notice.


13:52:33 - Category: Personal - Link to this article -

A Quick and Frustrated Review
04/07/2010 - James White
Yesterday on the DL I played a portion of Bart Ehrman's comments in a "debate" that took place at Midwestern Baptist Theological Seminary on April 1, 2010. He was debating NT scholar Craig Evans. From the introductions, folks came from all over to hear this encounter, even from the UK. As I rode along one of my familiar routes in the gorgeous Arizona Spring weather (heavy headwind on the way out, almost fell asleep at 22 mph on the way back), my mood soured considerably, for numerous reasons.

Jim Elliff was right, Bart Ehrman dominated this encounter. But it wasn't because of the depth of his arguments. Not by a long shot. His arguments remain just as surface-level as they have ever been, fully refutable if his opponents would simply have the temerity, or the time, to do so. But that's the problem. This "debate" was doomed from the moment Craig Evans agreed to the single worst format I have ever seen for a debate in an academic setting.

When I downloaded the audio file I was more than a little surprised to see that it was less than ninety minutes long. Ninety minutes? Why fly anywhere, let alone across the Atlantic (as some evidently did) for a ninety minute encounter? What can meaningfully be accomplished in a time frame like that? So the brevity of the encounter robbed it of any chance of usefulness right at that start.

But, it was far worse than that. This wasn't a debate. There was no interaction, no cross-examination, no rebuttal. I have no idea who came up with this format, but please, please, never, ever, ever suggest it again. Whoever came up with it could not possibly be a debater himself. Seven questions, each asked to Ehrman and Evans, with a short time span to respond (I didn't time it, but it seemed like 5 to 7 minutes or so---I could be wrong, as I was listening to it at increased speed). That's it. No interaction, hence, no debate.

You could not have designed a better format for Ehrman, or a worse one for Evans. I have never heard Bart more riled up. I thought he was pretty excited in our debate, but that was nothing compared to this. He was on rapid-fire preaching mode to an extent I have never heard before. Sure, it's the same old stuff, and it is getting quite exasperating to hear Ehrman repeat it over and over again, never once even acknowledging the devastating rebuttals that have been offered to each of his points (even claiming he has never heard a good response to some of them). He even repeated the slander of Dan Wallace and the folks at CSNTM that he enunciated in our debate in Florida, saying that it is a "waste" of hundreds of thousands of dollars to photograph and catalog manuscripts if we don't believe the variants matter. (Ehrman has been corrected on this repeatedly: it is simple dishonesty on his part to keep repeating it). But it truly seemed to me that Ehrman has become louder and louder, more and more shrill, as he has moved deeper and deeper into his role as "leading anti-Christian apostate author." He was not nearly as careful with his language as he was with me, which leads me to think he is becoming ever more bold in his anti-Christian denunciations (a trend reflected in his published books as well).

Both men had been provided the questions ahead of time, clearly. Evans read his responses. Ehrman did not. Ehrman flew through his standard repertoire knowing full well that any meaningful rebuttal of even 1/4 of his texts would exhaust Evans' time. But he didn't even have to worry about that, since Evans wasn't given any time to rebut anyway! The absurdity of the format boggles the mind. It gave Ehrman exactly what he wanted, and left Evans sounding hesitant and uncertain. Part of this was due to the nature of the speakers, but part of it was also due to Ehrman being right about an important point: Evans was, in fact, using very careful language, and the two were speaking past each other at that point. Ehrman was directing his blasts directly to the believing Christian in the pew; Evans was using "scholar speak." Ehrman was making the wild accusation that if there is any question at all about anything in the Bible, either as to the original writings themselves (whether the Gospels contain expansions, traditions, anything beyond strict Western style journalism) or the transmission of the text (his wildly untenable theory that if God inspired it, God would make everyone who ever copied it infallible, hence, no textual variations), then you cannot trust any of the Bible at all. Evans was talking about "general reliability" and the "core of Jesus' teachings." Ehrman directly challenged him to speak plainly: does he believe in a perfect Bible, or a generally reliable Bible (as the two are not the same, especially in the mind of the audience Ehrman was aiming at). Evans failed to give a compelling reply, and Ehrman took advantage of it.

So having heard the encounter for myself, I can see why Jim Elliff found it so problematic. Possibly, had it been formatted in some meaningful fashion, with a limitation of scope (seven questions, each on a topic wide enough for a full debate, made it hopelessly surface level, again playing into the hands of the critic and making the job of the apologist impossible), the results could have been somewhat different. But Evans was put in an absolutely impossible position by the utterly untenable format (to which he must have agreed, so I am not completely exonerating him in the matter), a format designed for the scatter-gun approach of a critic like Bart Ehrman. While I am sure many of Ehrman's points were addressed in the conference that followed, the real question is, how many people will hear only this debate, but never hear any of the conference that came afterward?

Lessons to be learned? For goodness sake, think about format and topic! If you do not allow for meaningful cross-examination, why bother with the pretense of a "debate" to begin with? Do not ham-string your own defender with a short format that lends itself completely to the authoritarian argumentation of a Bart Ehrman (who truly believes his own press when it comes to these topics). And keep in mind that many modern evangelical scholars do not hold to as high a view of Scripture as the folks in the pews, and hence will seem to be "dodging" if they are not open about this from the start. Better yet, have folks debate Bart Ehrman who can go toe-to-toe with him on these points and give them the chance to interact and rebut! Of course, those folks are few and far between, mainly because of the implied belief amongst scholastics that they should be above getting "down and dirty" in the details. Ehrman has completely abandoned that concept, obviously, and hence it takes someone willing to step outside of the genteel "box" of the academy to respond to him. If these basic guidelines are not followed, you are paying good money to drop an anti-Christian weapon of mass deception right in the center of your own campus!


12:36:39 - Category: General Apologetics - Link to this article -

Lou Ruggiero on His New Book
04/06/2010 - James White
Some of you remember the "debate" with "Lou Rugg" of PalTalk fame:





Lou is very big on self-promotion. Sometime last year he was talking about how his new book would "crush" me, etc. I have yet to see this book, but he promises us that, eventually, Calvinism will be vanished from the face of the earth through his personal brilliance and insight. So today Lou IM'd one of our channel regulars with these messages:

LouRugg_777: White gets humiliated with his Pharaoh position

LouRugg_777: I expose him so badly he should dig himself a hole and hide

LouRugg_777: The Potter's Freedom will have no credibility after this whole thing is over

Well there you go. If you are looking for a humility-based book destroying Reformed theology, I'm sure Lou Rugg's work will be just what the doctor ordered. :-)


19:35:58 - Category: Reformed Apologetics - Link to this article -

A Brotherly Response: Updated! See Below
04/05/2010 - James White
(Please see the end of the article for an update from Jim Elliff.)

I was directed to an article posted by Jim Elliff relating to…well, what I do, and I am compelled to provide what is hopefully a brotherly rebuttal and response.

On Thursday April 1 Craig Evans debated Bart Ehrman at Midwestern Baptist Theological Seminary on the topic, "The Biblical Accounts of the Resurrection: Are They Reliable?" I am looking forward to hearing the recordings of this encounter. Evidently this encounter prompted Jim Elliff to write an article titled, "Public Debate with Bart Ehrman: A Bad Decision."

Pastor Elliff presents a general denunciation of (seemingly) all public debates with atheists, apostates, religious leaders from other faiths---in general, all "false teachers." Evidently, then, all teaching about apologetics should be one-sided, never involving interaction with false teachers of any kind. Pastor Elliff insists this is a biblical injunction. He writes,


First, because Ehrman is a false teacher and we are forbidden to give such men a forum to express their views.


I would agree that we are not to give false teachers a "forum to express their views" within the context of the worship of the church. That is what church discipline is all about. But that is a different thing from expanding this out to a general denunciation of any direct interaction with false teachers "on your turf" (whatever that might mean). I see no evidence that the apostles invited false teachers into the church to "dialogue" or debate, but surely Paul dialogued (debated) regularly with those who opposed his message (primarily Jewish opponents, but there is no reason to assume he did not respond to all false teachers, no matter what their views) in the public square. Neither text Elliff cites (2 John 10, Romans 16:17-18) speak to public disputations or encounters in an educational institution or in any context outside of the worship of the church. Pastor Elliff writes,


Inviting a false teacher to present his errant views in order to persuade students and the public is like allowing a gunman to shoot randomly out into an audience of military personnel because it is assumed the troops have body armor. For one thing, body armor cannot shield against all shots, and for another, there are many people attending who have no armor at all. At last week's debate, for instance, there were many people from the public who were not even believers. Some young people also attended, and some seminary students who are not yet prepared for the effects of doubt-producing verbiage.


I appreciate the pastoral concern, however, I don't find this thinking realistic at all. The Bart Ehrmans of the world already "own" the "turf" of the educational system. Our society is soaked with their arguments and their "doubt-producing verbiage." They are the darlings of the media. Their books are the texts our children read in the university. They are on CNN and Fox, YouTube and Vimeo. We are the ones who can hardly ever get our views expressed in the public square, and even then, we almost never get to do so in a fair, moderated way so as to expose their errors. I have learned the value of cross-examination, of being able to ask the tough questions that no one else will, and about the only time that happens is in a scholarly, moderated debate. So, I really wonder if Pastor Elliff is unaware of how pervasive is the "doubt-producing verbiage" today, and, does he really believe the answer is to hide behind walls raised by ecclesiastical silence? Surely the church should be addressing these issues head-on in our teaching (as we surely do in my fellowship), but I would suggest that the proverbial horse is already well clear of the proverbial barn door. Our members will be encountering this "doubt-producing verbiage" day in and day out. How valuable it is to be able to provide them with direct refutations that demonstrate that we can stand face-to-face with the most probing critics of the faith! Pastor Elliff continued,


The assumption was that they would see Ehrman lose the debate and the Christian view would triumph. It didn't happen. Now the work in evangelism by the friends who naively brought them is that much harder.


This is surely a naive and foolish assumption to bring into a debate with the leading critic of the Christian faith! But again, it could be said that unbelievers coming into that debate had the exact same assumptions, only in reverse. But I am again left wondering how Pastor Elliff's solution solves anything: how is the Christian believer aided by only getting to hear refutations of Ehrman that avoid engaging Ehrman himself? Again, they are going to hear his views on NPR and CNN and everywhere else, so, how is it better to get a response to Ehrman only in an ecclesiastical context, far from Ehrman himself? In fact, does it not follow that there are gifted men in the church who are called to "refute those who contradict" (Titus 1:9) and that they would be the best ones to be dealing with Ehrman? How many local pastors can engage Ehrman's claims regarding the text of the New Testament? Is it not wiser to engage him in a formal debate context, and then make that specialized kind of refutation available for those who do not have the calling, or the training, to engage such issues?

Next, Pastor Elliff tells us that "the minority position almost always gains some followers regardless who wins the debate." But again, I find this thinking confusing. Preaching the truth will always have a result, and sometimes, it is a negative one. The lost are always looking for new ways to express their rebellion, are they not? I well know that when I debate, false professors amongst the flock may well find this to be a good reason to "jump ship." But, is that a bad thing? Unregenerate men move from religion to religion, unbelief to unbelief. Does Pastor Elliff believe God's elect will be taken in? I would hope not, hence, I do not see how this is a relevant argument. ...
[Click Here to Continue Reading]


22:05:39 - Category: General Apologetics - Link to this article -

You Can Tell I Have a Debate Coming Up
04/05/2010 - James White
I know, I know, I'm a geek. On many levels. Fractals and gadgets and cycling and all that, I know. So some of you know that I've gotten into creating special ties for major debates. I designed a tie for the Ehrman debate featuring P52. Another for my debate with Shabir Ally on the prophecies of Jesus in the Old Testament. One for my debate with Dan Barker in Illinois, etc. So, I was thinking last week, what would I do for the upcoming debate with Robert Price? And the idea came rather easily.

Robert Price does not believe Paul wrote anything attributed to him. Nothing. But even beyond that radical position, he denies that 1 Corinthians 15:3-11 was an original part of 1 Corinthians, no matter when it was written. So, I thought it would be a great idea to take the uncial text of that vital portion of Scripture (this from Codex Sinaiticus) and create a tie. This time I inverted the colors, did some tweaking, used my 1990s vintage graphics program for Windows (PhotoSuite III---still my favorite!) and voila! One radically cool looking tie: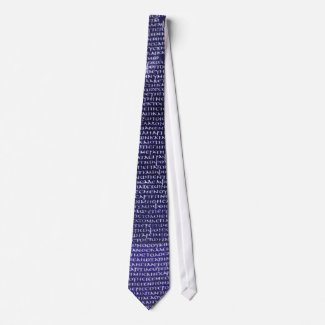 1 Corinthians 15:1ff from Codex Sinaiticus

by

DrOakley

Design a

custom tie

with zazzle



Yes, of course I posted it for sale, too, however, I only request that you don't show up to the CRI National Conference wearing it. That would be...well, you know...weird.

I get regular requests when I travel for information on how to get my wild and wacky ties: either the biblical manuscript ties, or the fractal ones. I keep telling folks, "Just search for Zazzle on the blog." And that would work, especially since I just used the word Zazzle. Here's the flash panel with all my ties:


Look for a personalized gift at Zazzle.



14:37:57 - Category: Misc - Link to this article -

Dave Hunt on Romans 9: Tradition-Driven Eisegesis Once Again
04/05/2010 - James White
The Berean Call put out their monthly newsletter a few days ago, and I could not help but noticing the following paragraph. If you are not intimately familiar with the argument of Romans 9, and especially its insistence that the choice of Jacob and the rejection of Esau was not in any way, shape, or form, based upon the actions of Jacob or Esau, foreseen or otherwise, but was instead based solely upon God's "purpose in election," you might wish to review the text before reading this tradition-laden means of getting around the text:

Regarding Romans 9:19, we know that it is not wise to single out one verse apart from full context. The issue of Jacob and Esau and their being loved or hated by God before their birth has occupied more than one discussion throughout history. If one confines the argument to portions of Romans 9, it does sound like God arbitrarily selects some for salvation and others for damnation, but Romans 9 does not occur in a vacuum, and the rest of Scripture furnishes the balance. God's foreknowledge enters into the equation at this point. Some theologians have stated that it would be accurate to translate the passage, "Jacob have I chosen, but Esau have I rejected." Specifically, in the case of Esau, the implication of "rejected" is a judgment based upon knowledge of his actions. God, who declares "the end from the beginning," (Isaiah 46:10) knew, before they were born, the course each child would take.

1) How many times people have rebelled against this truth over the course of church history is, of course, irrelevant to the biblical teaching itself.
2) Whenever you find someone (and Dave Hunt has made a living off of this) going to the "rest of Scripture" argument before exegeting the text in context, you know you have found someone's tradition.
3) Notice that in essence this paragraph admits that, contextually speaking, if you just let Romans 9 speak for Romans 9, it teaches God's sovereignty (misidentified as "arbitrary" when, in fact, it is based upon the good pleasure of God's will, His eternal purpose, which is anything but arbitrary).
4) Whenever you find anyone from the Berean Call citing un-named "scholars," beware. Remember, these are the same folks who drew from a Yahwist cult to try to get around Acts 13:48, suggesting that the first fifteen chapters of Acts were written in Hebrew!
5) There is no doubt that "chosen/rejected" is part of the meaning of the text, but there are plain, easily chosen words that have those meanings, and Paul did not use them. Loved and hated are words with meanings. People may not like what they mean, but that does not change their meaning.
So compare, then, the words of Scripture with the words of the Berean Call and remember, once again, the grave error enunciated by Dave Hunt nearly a decade ago now, "James, I have no traditions."

Scripture states: though they were not yet born and had done nothing either good or bad---in order that God's purpose of election might continue, not because of works but because of him who calls---(Romans 9:11)

But the Berean Call says,
Specifically, in the case of Esau, the implication of "rejected" is a judgment based upon knowledge of his actions. God, who declares "the end from the beginning," (Isaiah 46:10) knew, before they were born, the course each child would take.

The result? Paul's entire argument is turned on its head. How much more plainly can the Apostle state "and had not yet done anything good or bad"? But, when wedded to a tradition that you refuse to see, even the plain words on the page cannot dissuade you from pursuing your goals. Another great example provided by the folks up at the Berean Call.


07:19:26 - Category: Reformed Apologetics - Link to this article -

Two Evenings at the LDS Easter Pageant: Mormonism Has Changed
04/04/2010 - James White
Twenty seven years ago yesterday my wife and I, newlyweds, hopped on my Kawasaki 440 and drove out to the Mesa Temple in Mesa, Arizona. We stood in amazement at the large crowds attending the LDS Easter Pageant. We stood next to the now long-gone Arby's and pondered the ministry possibilities. The next year we were back, this time with the late Wally Tope, passing out tracts and witnessing to folks. Then in 1985 we started the full-bore work, all six nights of the event, continuing that until the advent of the KJV Only Street Screechers just a few years ago.
We could have done the entirety of this year's event, if we had looked closely at the calendar. The Street Screechers did not show up this year, and once we got out there on Friday night, we realized why: they were all up in Salt Lake City (where they get a lot more press coverage, which they crave). I should have seen the conjunction between General Conference and the Easter Pageant, but I had a few other things on my mind (like the Michael Brown debate), so it never crossed my mind.
In any case, I was struck once again by how much Mormonism has changed since those first encounters in the mid 1980s. The vast majority of Mormons simply do not have the slightest interest in defending their faith any longer, if they even know its particular points of uniqueness. When we would talk to Mormons in the 1980s, they knew their faith, and cared about proclaiming it to others, and defending it as well. In other words, they tended to actually believe it is true. But things have changed over the past decades. Mormonism has been so deeply infiltrated by post-modern thinking that, combined with its predisposition to subjectivism, has led to a tremendous decline in its apologetic ferver. A general apathy in the face of challenge now marks the large majority of Mormons.
In the first years we engaged in that work in Mesa I would come home hoarse from speaking all night long. Hours of fruitful conversations, especially with young people. Where have all the young people gone? I honestly wonder if we are also seeing the result of the "electronic" generation. Kids used to get bored (they had seen the Pageant many times before), and would come and talk to us. Now they sit there and play video games on their iPhones. I suppose if we made it possible to text with us they would talk to us, but the idea of actually looking someone in the eye and talking to them is becoming a oddity of the past. Who saw that coming?
I do not know what the future will hold, but one thing is for sure: I sensed a real "hardness" on the part of most we encountered, not a hardness marked by a zeal for falsehood, but a hardness marked by apathy engendered by spiritual deception joined with cultural decay. It was truly sobering.


22:09:41 - Category: Mormonism - Link to this article -

So Now There are Fractal....Shoes
04/01/2010 - James White
Last month Carla, who does a lot of A&O related graphics, t-shirts, etc. (see here), mentioned that she has been designing shoes. I guess Keds allows you to design...almost anything and put it on a pair of their classic Keds. I don't remember who came up with the idea, but I provided her with the wildest, brightest fractal in my collection, this one:




It is one of my older ones, so old I don't remember if this was a tweak of a pre-existing formula or just what. I just know it has orange and blue, and for me, that's all it needs (my favorite colors, and my favorite color combination, as you can tell my looking at my Bible covers, my Mac case, my phone case, etc.). Now, I even made a tie of this one, which you can see here. So Carla designed the shoes, and yes, here they are:




You can see 'em up close here. Now, I prefer white instead of the black (all those things can be customized), but I'm pretty proud. Just think of it! In one month I've been linked with Sproul, Piper, and Edwards in the infamous Southern Baptist "How to Recognize a Calvinist" paper, warned about by George Bryson in an e-mail sent to all Calvary Chapel Pastors, and had one of my fractals put on a pair of Classic Keds! I do believe I've arrived!


18:00:34 - Category: Misc - Link to this article -

Monergism vs. Synergism Debate Part II
04/01/2010 - James White
We took the gloves off today a bit, but remained within bounds for brothers in the Lord, as Michael and I debated again on the DL. Accusations of a "schizophrenic God" and "robots" came up, which surprised me a little, but that's OK, at least we got down to some brass tacks, so to speak, in examining the foundations upon which we stand in examining the Scriptures. I got the distinct feeling that some of my more famous internet stalkers, including some who call themselves Reformed (but spend most of their time opposing divine election and the perfection of Christ's atonement) had gotten in touch with Dr. Brown. In any case, here is the second half of the debate. We will combine the two into a single file for download later.


12:56:24 - Category: The Dividing Line - Link to this article -