Alpha & Omega Ministries Apologetics Blog

Calvinists Are not Christians?
12/31/2008 - James White
Well, some Dave Hunt fans think so!









00:01:00 - Category: Reformed Apologetics - Link to this article -

More Regarding King James, Bart Ehrman, etc.
12/30/2008 - James White
We did take one call on the meaning of arsenokoites, but other than that we focused back on The Covenanter's Call radio program and its "review" of The King James Only Controversy. Here's the program.


22:34:40 - Category: The Dividing Line - Link to this article -

Van Til's Trinitarian Theology
12/30/2008 - Jeff Downs
It can be a dangerous thing to recommend audio that one has not listened to (yet), but with this, I have no doubt it is safe. I have been waiting for this interview for quite sometime and the guys at Christ the Center have finally put it together.

On December 26th Nick Batzig, Jeff Waddington, Jim Cassidy, Camden Bucey interviewed Dr. Lane G. Tipton from Westminster Theological Seminary (PA) on Van Til's Trinitarian Theology. Tipton's doctoral dissertation is titled "The Triune Personal God: Trinitarian Theology in the Thought of Cornelius Van Til", which will hopefully turn into a book in the near future.

Tipton has done other work worthy of your time. I'll simple mention one article titled "Christology in Colossians 1:15-20 and Hebrews 1:1-4: An Exercise in Biblico-Systematic Theology" found in Resurrection and Eschatology: Theology in the Service of the Church (Essays in Honor of Richard B. Gaffin, Jr.) published in 2008 by P&R.

From my perspective, this is one you will want to listen to. Click here to check it out.



09:24:56 - Category: Resources - Link to this article -

Yes, There is Still Time!
12/29/2008 - James White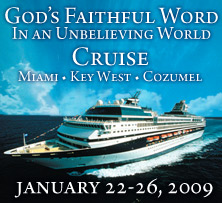 Yes, the economy has nosed over into recession, and everyone is tightening their belts, so to speak. But as a result, the travel industry is hurting big-time, too. So, what does that mean for you? How about an incredible opportunity to come with us on the four day cruise in January? How does $150 a person sound? I'm being perfectly serious. Four days worth of awesome food, teaching times and fellowship, for less than $40 a day! Unbelievable is the word, but, check it out for yourself. We'd love to have you come! I have no idea when we will be able to do a cruise again in the future, so this is your best shot! Come on along!


17:40:19 - Category: Misc - Link to this article -

Does Mark Contradict Luke and John?
12/29/2008 - James White
Bart Ehrman teaches his students that Mark presents a very different portrayal of Jesus' arrest and crucifixion than Luke, or John. John Dominic Crossan says the same thing. As common as the claim is, does the text back it up? In no way.
Here is the Sunday morning sermon at PRBC from December 28, 2008 from Mark 14 and 15.









00:01:00 - Category: General Apologetics - Link to this article -

More Great Encouragement from a Brother in the Lord
12/28/2008 - James White
Your debates and teaching on the sovereignty of God helped me over the years to come to the confident conclusion of the Reformed position on election. I enjoy the Dividing Line and the podcast. My son, now an adult, also listens to your debates and gets your books. I don't see how you keep up with all the work. I enjoyed reading about Summer's encounter with her professor. As a former high school teacher I was happy to see that she stood up to him. Bravo! At the age of 61 God called me into the pastorate and role models like you and John MacArthur encourage me to fight the good fight for the integrity of the Word and expository preaching. Thank you very much. May the Lord continue to bless.
--JW
21:55:17 - Category: Testimonies - Link to this article -

Encouraging Believers
12/27/2008 - James White
Dear aomin team,

Congratulations on your 25th anniversary!

I got to know about your website a year or more ago, and its been such a blessing to me.
I work as an IT Analyst and love to defend my faith with people of various ethnicities and varying levels of intellectual interest.
And being a 5 year old Christian, there are times when I've struggled with tough questions in the Bible myself.

Throughout these tough times, I've found support, information, help and encouragement on your website and your chat.
Earlier, I followed a more evidential approach to Apologetics, but all along, I knew there was something missing.
After my acquaintance with your ministry, I've begin to ground all my thinking down to Scripture.
Ever since I was touched by the Lord, I have been really fascinated by the account of God's sovereignty in Romans 9 and I didn't know that there
are people who believed just what Paul was saying - God controls salvation, period. Now I've found you guys and its been so good!

I've enjoyed your books, your mp3s and everything I can get my hands on.
I pray that the Lord will make you guys more fruitful and use you to reach people in the Middle East!

I want to learn Greek and Hebrew and Latin and just about anything that will make me a skilled handler of God's Holy word.
So, do pray for me.

p.s: Mutato! Love to you dude!

---OF
Dear Dr. White,

Thank you, first of all, for providing this opportunity to us so that we may express our thoughts. Should these ever be made public, I can't wait to read the ones from all those who have faithfully called the Dividing Line at your invitation. You know, Tim Staples, Jimmy Akin, Steve Ray, Art Sippo, Patrick Madrid etc. I also look forward to reading the words of love from Dan Barker, Gail Ripplinger and Peter Ruckman. All these have come to greatly appreciate you and your ministry. I have no doubt that George Bryson, Dave Hunt and D.A. Waite will voice their appreciation also. In fact, Ergun Caner MUST have been just as eager to respond as he was to engage in that memorable Calvinism debate.

I'm certain there are many I've neglected to mention but no doubt I will be rejoicing as they make themselves known.

As for myself, in order to never miss a thing, over the last four years I use AOMin.org as my homepage. Yes, sir, each and every day I am greeted by you as I embark upon my online experience. Why have I done this? In all seriousness, it is because I have grown to love and respect you. Like others, I could write several paragraphs on the impact you have upon my individual Christian life. But it is because of the breadth of your work that I hold you in as great esteem as those who are considered the historical giants and pillars of our Christian Church. I have learned much from those men of years gone by but as we are privileged by God to have the same caliber of men in our own day, please know your contributions have brought clarity and understanding. I am convinced if there were to be a true modern day Reformation, once the history of this day were written in the ages to come, your name would be spoken of in the same breath as any of the greatest of our Reformation/Puritan forefathers. And I have heard you say this is your desire; to leave behind a body of work that will benefit and enhance future generations of Chist's own church. As God has already granted this to you, may He also grant you length of days.

I am saddened as I hear those who will slander and deride in order to enhance their own supposed stature and audience. Yet you handle such things with grace and temperance. I know the difference when men selfishly and egotistically promote their own views and agendas and when they simply wish to honor truth with proper humility. I have at times purposely tried to hear you as these accusers describe and I must say you are continually above reproach.

Lastly, your sense of humor in the face of much provocation while never being dismissive concerning the serious nature of your task is most winsome. See, folks...Christianity CAN be entertaining while being educational! Just listen to Dr. James White and you'll see!

May God continue to grace you with soundness of mind and may we as the Church be ever thankful to Him for AOMin.
--DG
00:01:00 - Category: Testimonies - Link to this article -

A Really Encouraging Note
12/26/2008 - James White
Dr. White and Rich,

I'm about to graduate from seminary and its all because of you Dr. White. Because I admired you and your ministry so much, the moment I heard you say [several years ago] that learning Greek and Church history have proven to be the most valuable "tools" of you apologetic ministry, it inspired me to learn Greek as well. Now some 4 years later [after taking the Greek and Church history courses I decided to pursue a degree] iI will graduate this academic year. Thank you for your courage, your diligence, your hard work, and faithfulness in proclaiming, defending the truthfulness of God's word; and in fulfilling His call on your life. You are truly a blessing to all of us who wish to grow in the grace and knowledge of our Lord and Savior Jesus Christ. Also, thank you Rich for your "behind the scenes" work and technical support you have given Dr. White over the years. May God bless you both.

PS: God has a remnant of black people [small as it may be] who want, desire, and appreciate sound teaching when they hear it.
--JM
11:56:53 - Category: Testimonies - Link to this article -

Ruckmanism Abounds
12/26/2008 - James White
I will be continuing my response to, and rebuttal of, Bryan and Jason on "The Covenanter's Call" radio program on the DL on Tuesday. They did another program on Tuesday evening where they said they would take calls. I listened to the program, and when they attempted to respond to Revelation 16:5, they indicated that they did not understand the point of the text. I called, but they refused to allow me to even explain the issue, let alone interact with them. They do not want dialogue, only monologue. I have made it clear they can call the DL if they wish, but I do not expect them to do so. When we chatted in our chat channel they really had no meaningful answers to the questions put to them, just, "Well, we take it by faith." There is no reasoning with that kind of thinking.
One of the accusations Bryan Miller made against me, however, had to do with dealing with Riplinger and Ruckman (though he conveniently forgot to mention that I likewise dealt with D.A. Waite and many others). They said it was a "straw man" that was easily refuted to say that there are those who begin with the equation, "The King James Bible Alone = the Word of God Alone." They even said they had never met anyone who thought that way. A few days ago I posted a YouTube e-mail from a King James Only missionary in Japan, Matt Thomas. He is as true-blue a Ruckmanite as I have met, even to the point of using endless CAPS LOCK ASSERTIONS (why that is a mark of KJV Onlyists I will never know). He has written back, and has sent me a caps-lock filled missive that demonstrates for all to see that Bryan Miller needs to get out more. He repeats the endless errors of Ruckman and company ad-nauseum! Here is his missive, just as he wrote it. Those who have read The King James Only Controversy will recognize that at least 80% of this letter was fully refuted in the book (the other 20% is so silly it is hard to even know how to begin to respond to it). I hope Mr. Miller will join me on the DL sometime, as I think the correction of his errors would not only be very useful for him, but educational for others as well.


Hey James are you BORN AGAIN?
Do you HAVE ETERNAL LIFE?
Have you passed from death unto life?
Are you SAVED?
Most of my Calvinist friends can't answer YES. Can you?
The TULIP is a FALSE system. Calvin was deceived, James.

I can SEE that the TULIP is false because I am a KJV ONLYer!

'When I look at the verses and compare in the KING JAMES BIBLE then I can see that this following statement is incorrect:
'We believe that God, in His sovereign grace and mercy, regenerates sinful men by the power of the Holy Spirit, not by any action of their own, bringing them to new life. God grants to them the gifts of faith and repentance, which they then exercise by believing in Christ and turning from their sins in love for God.'

James, if you come to BELIEVE THE KING JAMES BIBLE TO BE THE INFALLABLE
WORD OF GOD then you will be able to be set FREE from the TULIP. I recommend that you become a BIBLE BELIEVER immediately!!

...
[Click Here to Continue Reading]


00:01:00 - Category: King James Onlyism - Link to this article -

Christ the Center
12/24/2008 - Jeff Downs
Not sure how I missed this one since I try to stay on top of this Podcast, but James was recently (Nov. 21, 2008) interviewed on Christ the Center discussing Apologetics and Islam. Click here to listen.

While the panel of Christ the Center are Presbyterians (PCA and OPC), I think the Baptist (and others) who read this blog would greatly benefit from this podcast. For example, their most recent interview (posted today) was with Stephen J. Nichols. The discussion was on Nichols' recent book Jesus: Made in America (IVP, 2008).


21:45:33 - Category: Resources - Link to this article -

An Honest Statement
12/24/2008 - James White
I noticed some of the websites/blogs I read regularly were complaining about this banner that has been hung in Nazareth:








I have not the slightest complaint about Muslims hanging this banner. This is Surah 112, Al-Ikhlaas, "the Purity." It is as close as you can get to a creedal statement in the Qur'an. I have referenced it often on this blog and in my YouTube videos. As such, if I were a Muslim, I would want Christians to know what the Qur'an says about Isa (Jesus), and hanging a sign with that text on it would be just as valid as my hanging a sign outside an Islamic event with a text such as the Carmen Christi (Phil. 2:5-11) or John 1:1 and 18, or something like this.
I would, however, like to point out a few rather obvious things. First, the hanging of the banner once again reminds us of the fundamental nature of Islamic theology: at its core it is defined by its opposition to the central assertions of Christianity. Though Islam has promoted its own mythology about how all the prophets were Muslims and Jesus and the apostles were Muslims, etc., the fact is Islam comes six hundred years after Christianity, and as such, had to fight to define itself as the "newcomer." Its scriptures give witness to this battle. Notice, for example, Surah 5:116-117:

And behold! Allah will say: "O Jesus the son of Mary! Didst thou say unto men, worship me and my mother as gods in derogation of Allah'?" He will say: "Glory to Thee! never could I say what I had no right (to say). Had I said such a thing, thou wo uldst indeed have known it. Thou knowest what is in my heart, though I know not what is in Thine. For Thou knowest in full all that is hidden. Never said I to them aught except what Thou didst command me to say, to wit, 'worship Allah, my Lord and your Lord'; and I was a witness over them whilst I dwelt amongst them; when Thou didst take me up Thou wast the Watcher over them, and Thou art a witness to all things.
The essence of Islam as a denial of Christian belief cannot be ignored. Which leads us to my second observation.
In the large portion of the world's nations Christians would not be granted the freedom to hang a sign similar to this one. Surely in no Muslim nation would they be allowed to, and in many Western nations today, a riot could quite possibly break out if it happened. Some places in France, or in England, would be very inhospitable places were a Christian to engage in such an act. Yet, if a Muslim chose to show up, say, outside one of our events with a sign bearing Al-Ikhlaas, how would we respond? We'd go witness to him! We would want him to know the Gospel, and we would make sure he realized that the sign he was carrying shows that his prophet contradicted himself! We would proclaim the biblical truth of the relationship of the Father and the Son, and make sure he realized what we really believed. But no true Christian would ever threaten the man, would never wish ill upon the man. We would pray for him and for his salvation.
So at this Christmas season, pray that the Gospel would go forth with great power into the hearts and minds of the Muslim people. Oh Lord of the harvest, save these precious people! Reveal the glory of Christ to them, and bring them to yourself!



17:32:15 - Category: Islam - Link to this article -

A Milestone
12/24/2008 - James White
09:13:20 - Category: Misc - Link to this article -

Christmas Thoughts from Matthew 1:21
12/24/2008 - James White
00:01:00 - Category: Exegesis - Link to this article -

Audio/Video Needs
12/23/2008 - James White
On Monday I am going to be re-recording my opening statement in the resurrection debate that took place in 2005 between myself and Dr. Jim Renihan of the Institute for Reformed Baptist Studies (representing historical Christianity) and John Dominic Crossan and Marcus Borg on the topic of the resurrection. Then we are going to try to sync that up with the video (the audio was badly distorted during my opening statement, which is the main reason we have never gotten the debate into mp3 or video format).

Unfortunately, the older computer unit we have used to generate audio and video materials gasped its last, flipped over, twitched a few times, and gave up the ghost. Right as we are doing our best to get more and more of our material into digital video format for download (perhaps BECAUSE we have been doing so, of course).
In any case, given the encouraging support that we have seen from our faithful supporters in reference to ministry resources I need for debate preparation and writing (found on my Amazon wish list), we want to make you aware of this need. We have put a description of the system we would like to put together here. Obviously, very few of our supporters can purchase the entire unit, but we have made it possible to donate toward the total cost. We try to keep our materials very reasonably priced, but there just isn't any substitute for having the proper computer facilities needed to edit video, render it, create DVDs, mp3s, etc. This unit would allow us to continue to make progress also in getting all of our older video materials available in digital format. We've been defending the faith for 25 years, and over that time we have produced a good bit of material! We want to get all of it out there! This unit would allow us to press forward.


23:36:00 - Category: Resources - Link to this article -

Homosexuality, Rick Warren, and the Pope!
12/23/2008 - James White
I love when I come up with a title that requires you to listen to figure it out! (Here's the program.


22:01:57 - Category: The Dividing Line - Link to this article -

Hilarity for Geeks
12/23/2008 - James White
OK, when they got to the part about Dan Wallace, I cracked up. Only Greek geeks will find this funny. But hey, that's me.










21:59:24 - Category: Simply Silly - Link to this article -

Church Discipline, Holiness, and Fox News
12/22/2008 - James White
13:01:00 - Category: Godly Disciplines - Link to this article -

Year in Review
12/21/2008 - Tur8infan
Dr. White and Alpha and Omega Ministries did a lot of things this year. I'd like to focus on one of the most tangible things: debates. By my count, Dr. White engaged in thirteen public, moderated debates so far this year (no more are planned, that I know of):

(Format is: Opponent, Topic, Date, and Location)

1. Nadir Ahmed, "Can We Trust What the New Testament Says about Jesus and the Gospel?" – March 21, 2008 – Norfolk, VA

2. Jalal Abualrub, "Does the Bible Teach Jesus is God?" April 12, 2008 – Fullerton, CA

3. Steve Gregg, "The Freedom of God in Salvation" April 3-9, 2008 – Radio

4. Dr. Michael K. Schutz, "Gay Marriage Debate" April 22, 2008 – Hayward, CA

5. Farhan Qureshi, "Did Jesus Claim to Be God?" September 21, 2008 – Bellflower, CA

6. Osama Abdullah, "Was Jesus Crucified or Substituted?" September 20, 2008 – Bellflower, CA

7. Osama Abdullah, "Can We Trust the New Testament?" September 20, 2008 – Bellflower, CA

8. Adnan Rashid, "Does Belief in the Trinity Necessitate Shirk?" November 11, 2008 – London, England

9. Abdullah al-Andalusi, "Does Belief in the Trinity Necessitate Polytheism?" November 13, 2008 – Radio

10. Sami Zaatari, "Jesus: Divine Son of God or Prophet of Allah?" November 13, 2008 – London, England

11. Shabir Ally, "Is Jesus Prophesied in the OT?" November 17, 2008 – London, England

12. Shabir Ally, "Is Muhammad Prophesied in the Bible?" November 17, 2008 – London England

13. Dr. Zulfiqar Ali Shah, "The Bible and the Qur'an: a Comparison" November 20, 2008 – Durham, NC

I, for one, greatly appreciate Dr. White's service in defense of the faith through the medium of debate. I hope you do as well.

-TurretinFan


06:00:00 - Category: General Apologetics - Link to this article -

Two DVDs from Dan Wallace
12/19/2008 - James White
I can't help it. I really like Dan Wallace. One of my favorite memories of ETS in Orlando in 1998 was standing at the NET Bible booth for a long period of time debating the interpretation of the Carmen Christi with Dan. Neither of us had a text with us, but we both knew it well enough to do without. It was a great time. Now, Dan and I disagree on various things, but he always makes you think, and I appreciate that.
Dan has put out two DVDs containing recent presentations on the text of the New Testament. We are not carrying them, but I wanted to let folks know about them, since they would be of special interest to my readers. If you have not picked up Dan's debate with Bart Ehrman, you really need to track it down. Great material. Here is the announcement that CSNTM has sent out:

Two DVD videos on the reliability of the New Testament manuscripts

Several have asked about getting a hold of Dr. Daniel B. Wallace's plenary address, delivered at the Evangelical Theological Society's annual meeting in November 2008; others have wanted to get his lecture at apologetics conferences and in churches on whether our Bible today essentially reflects the wording of the original text. Both of these lectures are now available as video DVDs. They would make great Christmas presents and the price is nominal. The ordering information is available below.

Is What We Have Now What They Wrote Then?
A lecture at an apologetics conference in Providence, Rhode Island, 2008, about whether our printed New Testaments today accurately represent the original text.

Challenges in New Testament Textual Criticism for the 21st Century
A plenary lecture at the annual Evangelical Theological Society meeting in Providence, Rhode Island, 2008, on current issues in NT textual criticism.

The price of each video DVD is $10 plus $3 S&H. The price of both video DVDs together is $15 plus $3 S&H. Texas residents also will pay 8.25% sales tax. Allow two to four weeks for delivery.

To order, go to http://www.nttextualcriticism.com/tcct/DVDPaypal.htm.


19:00:00 - Category: Textual Issues - Link to this article -

James White vs. Gary Miller?
12/19/2008 - James White
00:01:00 - Category: Islam - Link to this article -

More on the King James Issue on the DL
12/18/2008 - James White
Pressed forward with our review and response to the King James Only presentation we began on Tuesday, this time getting into the background of the Textus Receptus and the basic circularity of the arguments used in this particular radio program. Also took two useful calls as well. Here's the program.
19:18:33 - Category: The Dividing Line - Link to this article -

The Trials and Tribulations of Kittenhood
12/18/2008 - James White
I realize I am risking my baby-eating Calvinist image by mentioning this, but we have a new kitten in the White household. A feral kitten--at least in the sense that mother and father cat are wild (won't let us get anywhere NEAR them). But, this kitten (ominously named Darth) is---well, utterly unique. Not only is she the cutest ball of fur I've ever seen, but she is utterly fascinated by people, and loves to be with us. (She is also fascinated by computers---she even managed to change the screen resolution on my daughter's laptop. She will sit and follow the pointer on the screen, or the cursor while you are typing). She has no fear of humans at all. And that's the problem. If you are laying down, she loves to curl up in a ball under your chin, purring madly, and...fall fast asleep. The problem is, she's a furry fuzzball, and you can't sleep with that fur tickling your face. Therefore, I found the following video very appropriate at this time in my family's life:









15:50:07 - Category: Personal - Link to this article -

Why We Need to Consistently Expose False Concepts: King James Onlyism
12/18/2008 - James White
The Snare Of The Devil
You asked about 2 Timothy 2:26 in one of your debates. 'And that they may recover themselves out of the snare of the devil, who are taken captive by him at his will'.
I am not sure exactly what you asked but this scripture stands out as I pray for you. You are a modern day Philetus, James. You have erred concerning the TRUTH (King James Bible) and you overthrow the faith of some. That is the devils work and you are in the SNARE OF THE DEVIL, held CAPTIVE BY HIM. You are actually doing the WILL OF THE DEVIL, James. The way to escape from the snare of the devil is to ACKNOWLEGE THE TRUTH. That is the WORD OF TRUTH (2 Tim 2:15)
God's written word which GLORIFIES CHRIST in 1 Tim 3:16, Col 1:14, Rom 14:10, Dan 3:25, Luke 2:33. Your attitude toward the WRITTEN WORD OF GOD determines your attitude to the LIVING WORD OF GOD.
I saw in your correspondence with Dr Ruckman that you signed off using the NAME OF THE LORD JESUS CHRIST as though you are a minister of Christ? Do you really believe that you are?
I can see that you are in the SNARE OF THE DEVIL, James. You had a lot of responses to your 'ministry' (attacking the WRITTEN WORD OF GOD) right?
My response is out of concern for you, not to BEAT YOU UP but to help you get DELIVERENCE from the devils that possess you. There is deliverence in the name of Jesus and you can be set free from the Alexandrian Cult. Yes, you are in a cult. Just like Mormons and JWs, your mind is like theirs. Satan has your mind.

If you want to hook up by web cam, I can pray for you and ask the Lord and Saviour of the King James Bible to deliver you.

YOU need to get a REVELATION of WHAT the WRITTEN WORD OF GOD IS.

If I can be of any help to you, please email me.

Yours in the true and ONLY Lord Jesus Christ.

Matt Thomas


Hello Mr. Thomas:

I find your assertion that a particular version of a particular translation (in your case, either the Cambridge or Oxford editions of the 1769 Blayney Revision of the King James Version of the Bible) is to be equated, fully and without condition, with THE TRUTH to be not only grossly unbiblical (since the Bible was not written in English, and continues to exist to this day in God's providence in the languages in which it was, in fact, originally written), but to be a-historical (the Reformation, for example, took place without the KJV, and many lived godly lives long before the KJV ever appeared) and utterly irrational. But when you make belief in the KJV a part of the gospel, sir, you leap from the realm of mistaken mythology to the area of simple heresy. To make a person's relationship with Christ dependent upon a 17th century Anglican translation of the Bible is not only absurd, it is heretical.

If you would like to discuss the texts you cited (such as Colossians 1:14 or 1 Timothy 3:16), as well as some I'd like to ask you about (like Revelation 16:5), you are invited to call The Dividing Line toll free at 877-753-3341. I am doing a series on KJV Onlyism right now, so your call would fit in perfectly. The next program is this afternoon, 4pm MST, 6pm EST. I look forward to hearing from you!

James White


13:58:04 - Category: King James Onlyism - Link to this article -

Joshua Evans, Former "Youth Minister," Speaks Against the Deity of Christ
12/18/2008 - James White
00:01:00 - Category: Islam - Link to this article -

Help Me Make a Million Video Views!
12/17/2008 - James White
First, once again, my sincerest thanks to all of you who have gifted me research resources through my Amazon wishlist. I am truly grateful.
If you'd like to help me reach another goal, it's pretty easy. I began using YouTube as a major outreach vehicle early last January. As of this very moment, my videos have 980,793 views, just under 20,000 short of a million! If you haven't taken the time to drop by my channel, take some time to do so and watch a few videos! You might find some you hadn't seen before (there are over 330 of them now!).
23:37:20 - Category: Misc - Link to this article -

Bassam Zawadi and the Death of Christ
12/17/2008 - James White
00:01:00 - Category: Islam - Link to this article -

Ummm....Thank You!
12/16/2008 - James White
About four hours ago I posted this link to a "wishlist" of resources, noting that given the economic circumstances of today, some folks who are "project oriented" might find the list useful in supporting our work, and others would just find it humorous to look at a list of what I find to be useful reading. I really did not know what to expect, but I surely did not expect what happened.
I had not counted, but I think there were about ten items on the list when I posted it. In fifteen minutes, there were four. Some of the items, due to their nature (rare books on Islamic history, Qur'anic studies, lexicons, etc.), were over a hundred dollars, one was just under five hundred dollars. Within four hours, all the items originally posted to the list were gone, all ordered.
Now, you will find some items on the list at the moment (I would like to look into at least a video series on the "Parallelomania" that is so common in anti-Christian rhetoric today, hence, I have added works on Mithraism, etc., to bolster my resources in that area), but they were all added later. The original list was gifted within four hours. As of right now, *eighteen* items have been gifted.
May I express my deepest thanks to all those who jumped on that list and purchased those resources? May I say that not only did I never expect that, but that I am deeply humbled that the people of God would be so supportive, so kind toward me? I cannot tell you how encouraging this is (and not just because tomorrow is my birthday, either!). I am reminded yet again that the folks who support our work are self-giving, generous people, and it is a true privilege to be trusted by them in the task of defending the faith once for all delivered to the saints. Once again, my deepest thanks.


20:33:40 - Category: Personal - Link to this article -

Today on The Dividing Line: King James Onlyism
12/16/2008 - James White
Today I began responding to some proponents of King James Onlyism who did a review/rebuttal of my book on the radio last week. As I had noted, I invited them to participate, but so far, I haven't gotten a lot of response to my invitations. In any case, it has been a while since addressing some of these issues, so I get the feeling for some of our newer listeners this might be "new material." In any case, we only got about 12 minutes into their presentation before taking a phone call on Codex Sinaiticus that took up the rest of our time. We will continue the review/response on Thursday. Here's the program.


17:29:57 - Category: The Dividing Line - Link to this article -

For the Project Minded
12/16/2008 - James White
Over the years Rich has mentioned to me that some of our small cadre of supporters are "project oriented." That is, they will mention to Rich, "If you have a special project coming up, let me know." Being the lousy marketers we generally are, that hasn't been too easy for us to follow up on.
Most of you know that I am engaged in studying Islam. It is a huge field, obviously, and resources on the subject are generally very, very pricey. Some great folks have stepped forward and helped get me a good foundational library to work from, but I still run across resources that would be very beneficial in my studies and in preparation for upcoming debates. With the economy the way it is, those resources won't be coming out of the general (and small) budget in the future.
So for those who like the idea of my ploughing through obscure resources and mining the gems for your use, I've put together a "wish list" at Amazon. It contains resources that I would like to add to my library for debate preparation and study. Some are relatively inexpensive---others not so much. So for the two or three folks out there who are "project oriented," there you go. Others might just find the list...interesting. "He reads that kind of stuff? He's odder than I thought." Any and all assistance is most appreciated!
14:42:45 - Category: Personal - Link to this article -

Adnan Rashid and the New Testament
12/16/2008 - James White
In a recent debate with David Wood in London Islamic apologist Adnan Rashid made some pretty outlandish claims regarding the New Testament. Here is my analysis and rebuttal.
00:01:00 - Category: Islam - Link to this article -

More 25th Anniversary E-Mails
12/15/2008 - James White



"I have been a Christian for almost seven years now and next to my parents and early Sunday School experiences, Dr. White has had the largest influence on me and my Faith; I was introduced to the Doctrines of Grace through "The Sovereign Grace of God" and "The Potters Freedom" when I was only a year old in the Faith and that has made all the difference in my growth. It was these books that were instrumental in the growth of my roommates faith my sophmore year of college and the small reformation that was touched off later that year in a school were the "Emergent" style of Christianity dominated.





Both in school (I am a theology major at Dordt College and pursuing seminary.) and outside of it, Dr. White's work has been of great use to me. I have referenced him in my papers and speeches and have given his books and audio recordings away to friends seeking answers on the tough issues of the day. The Lord has done a mighty work through this brother in the Lord. I can honestly say that I would not be the man I am today without the proclamation and defense of the Gospel from Dr. White and Alpha and Omega Ministries.





Thank you so much and May God continue to bless you and Rich, your families, and Alpha and Omega Ministries!


--SS



Twenty five years of ministry is quite an accomplishment, Dr. White, but more than that, it is a testimony of God's grace and mercy, and that is a wonderful thing to behold!

Although I have only been aware of Alpha & Omega Ministries for a short time, I could discern from the beginning your love for God and His Word. Your God-given passion, with which you use to defend the truth, is awe inspiring!

I praise God for this ministry, and the way the Lord has used you, Doc. I have listened to you explain seminary level information in a way that a 15 yr old can understand, or in my case, a homemaker & college drop-out. :-)





--TM



00:01:00 - Category: Testimonies - Link to this article -

Another 25th Anniversary E-Mail from Overseas
12/14/2008 - James White
Three years ago I was a happy-go-lucky agnostic, caring for her family, loving her job, never giving one thought to the matters of existential significance. Well - I was reading thick philosophy books and loving psychology - being a teacher in the most secularized country on Earth, Sweden, kind of compells you to do it - but basically God had no place in my life.
Then something happened. A long process of looking for answers in a completely different sphere led me to Christ, and in June 2006 I confessed Him my Lord and Savior, to the dismay of my entire family and horror of my husband, who had abandoned the faith many years before.
I was 45, and very hungry for Word. I discovered some good web sites teaching sound Reformed theology, and one of them featured "Cornerstone" - a song by Steve Camp. The word 'Calvinism' did ring a bell to me, but in a very negative sense, bringing some distant memories from the time of my university studies of English history and literature, where the ideology (that is what they called it) was connected to WASP's and material prosperity as a sign of being chosen by God.
I listened to the songs, read Campi's blog and web site, followed the links from it, and experienced the shock of finding out that all of that was within the frames of Calvinism. Only this time I saw nothing wrong with it. It was sound teaching of the Bible...
One of those links led to aomin.org. And to the blog. And - to the podcast. I started listening to the podcast early last spring, and never stopped since then. Of course, it took a lot of patience to listen to the lectures on Textual Criticism fairly early on, but I survived that pretty well :)
Thank you, Dr. White, for your relentless stand on the Truth of God's Word, for your courage in using the Sword of God to fight the heresies, for your zeal in pointing Muslims to the true God of the Scriptures. Thank you for equipping me with sound and first class apologetical arguments for my talks with atheists and people from other religions.
---AB, Sweden
00:01:00 - Category: Testimonies - Link to this article -

Still Planning on Dealing with the KJV Only Accusations on the DL Next Week
12/13/2008 - James White
I am still trying to arrange to get the men from the KJV Only radio program I heard last week to join me on the DL, but so far...I'm getting about as far as I have with D.A. Waite and Gail Riplinger and the like. So, I will still play the program and respond to the arguments, and if the gentlemen would like to call in, that would be great. But, I don't get the feeling that the phone will be ringing off the hook.


21:09:27 - Category: King James Onlyism - Link to this article -

More 25th Anniversary E-mails
12/13/2008 - James White
Greetings Dr. White and fellow AOMIN laborers.
I have a wonderful testimony to share about how the Lord used your ministry to open my partially blinded eyes. It would take multiple pages to relate. So, I'll heavily abridge it and try to just hit the major points. For some years I was deeply involved in KJV Onlyism. I was an Independent Baptist fundamentalist who immersed myself in KJVO material, thought Reformed theology was satanically influenced, believed women shouldn't wear pants, and went as far as to refuse celebrating Easter and Christmas because I thought they were pagan holidays, etc. I knew of your name, as it was mentioned disparagingly by a few of my favorite KJVO authors. They had me thinking you were nothing more than a horribly arrogant KJV hater. One day, about six years ago, I decided to visit your website to see what you were all about. I read your correspondence with Tex Marrs and was immediately impressed with your calm, cool, and logical explanations in contrast to his irrational ranting. Then I read your exchanges with (my former hero) Peter Ruckman and was equally very impressed. I started really questioning, for the first time, if I was in fact in the truth with my beliefs. Realize that what I just related and what I'm going to elaborate further about was taking place over a period of weeks. I purchased The King James Only Controversy and read it. I was blown away. By the time I finished the book, I was determined to jettison my KJVO position.
Meanwhile, I was drawn to your website more and more. I thought, "If he was right about the KJV issue, then let me see what he has to say in defense of Reformed theology." On your website, for the first time, I actually read what the "other side" had to say in defense of Calvinism instead of negative criticism about it. Over a period of a few more weeks, I found myself saying, "Wow. This material makes total sense. I think I'm becoming Reformed!" It wasn't long after that until I was on board. I left my KJV Independent Baptist church and began attending an Orthodox Presbyterian Church. Talk about a gigantic shift in my Christian walk all within the period of a couple of months! I couldn't ever grasp the Covenantal theological position, though. Well, I am now completely Reformed Baptist in my beliefs and I also love reading my NASB and ESV bibles! I've since moved and currently attend a great Southern Baptist church where the pastor and all the elders are Reformed. I'm now six years into my journey and have learned so much from you and men like Piper, Sproul, the Puritans, Spurgeon, etc. I read your blog almost daily and download the Dividing Line every week. I also have several of your books, many of your debates on MP3, and pray for you when you do your debates. I can't wait to listen to the Ehrman debate when it becomes available.
--JD
First of all, congratulations on your ministry being around this long. I think a recent quote from your own lips sums up the miracle of your ministry. The paraphrase was that if you want a small ministry, just be Reformed, speak against Catholicism and Islam. How true is that!
It's quotes like that that have encouraged me these last couple years in my walk in Christ. I grew up in the Catholic church, but have left that community. It's really a blessing to know if I run into a problem understanding issues with Rome and the reformers, your ministry has great resources to help. May God bless and keep you guys going until the rapture if need be. :)
--JD
It's hard to try and be brief when it comes to sharing what I've gotten from Aomin...it would be better to say that I don't know how I could have possibly have grown as much as I have WITHOUT their ministry!
From the moment God saved me (Oct 15 2005) I've had a love for His word above all else...and Aomin is a resource that I realized is an abberation in apologetics cyberspace. There are only a handful of sites that consistently provide trustworthy, accurate information, and Aomin is at the top of that very short list.
BUT...If I had to single out one thing that Dr. White and crew have done for me it would be this: they have taught me to look critically at my own beliefs, see where my faulty reasoning is, and not be afraid of changing my beliefs based on God's word because it's truth.
--RP
20:57:49 - Category: Testimonies - Link to this article -

Today on the Dividing Line: TurretinFan
12/11/2008 - James White
Today I was joined by one of our Team Apologian bloggers, TurretinFan, to discuss the issue of the atonement and those who attempt to expand the ranks of those who deny the intentionality of the Trinity in accomplishing a perfect atonement (aka, "limited atonement"). Here's the program.
22:46:07 - Category: The Dividing Line - Link to this article -

A Biblical Text that is Just Hard to Believe!
12/11/2008 - James White
This is the Wednesday evening devotional from the Phoenix Reformed Baptist Church, 12/10/2008.
12:30:00 - Category: Exegesis - Link to this article -

It's Still Our 25th Anniversary!
12/10/2008 - James White
The London trip interrupted my posting of the testimonies that have been sent in in celebration of our 25th anniversary. I have had a bunch of folks tell me that they wanted to write in, "but never got around to it." Well, you still have a chance! testimonies@aomin.org is still operational, but the spam bots are finding it, so don't hold off forever! Send us your stories!

Your ministry led me to discovering Reformed theology and deepened of my faith and understanding of the Word more than I'd ever experienced.

The Dividing Line broadcast, your debates, articles and the blog have meant so much to my family and I over the past few years.

Thank you a thousand times for what you do - I pray for God to provide you with strength and blessings to continue for years to come.

Nathan
I have been listening and learning for about four years now, and I have learned much about how to answer the claims of so many false religions either when they show up on my doorstep, I show up on theirs, or when I go to my in-laws. You have also been instrumental in my spiritual growth as I was saved not long after I had been listening to the DL and reading the blog. I have become solidly grounded in my reformed (Baptist, that is) faith, and I have developed a real appreciation for the giants of the faith that the Lord has raised up before us throughout the history of the church. I could go on, and I'm not just saying that. But the most recently exciting news, though, is that my wife came to Christ from Roman Catholicism a few weeks ago; and the Lord used many of the things that I've learned from you and shared with her (probably more than I realize) to bring her in.

Dr. White, I pray that the Lord gives you strength for years to continue doing what you're doing enough that you could debate a Muslim, a Mormon, and a Roman Catholic all in the same day after having hip surgery when you're eighty! Thank you all. Alpha and Omega Ministries is truly a gift to the church.---MG
In the spring of 1998 I was given a little book on John 6, written by a man I'd never heard of before. Having just come out of a heavily charismatic/free will background with more questions about doctrine than I had answers for, the timing was perfectly orchestrated that this book would make it's way into my hands. I'd never read anything like what I was about to read in this little book called Drawn by the Father. Suddenly, I understood, and understood in a way that wasn't written in language that was hard to read, but simple and yet thorough. Finally, questions were answered and I had a brand new desire to study the Scriptures to learn even more.

That was my introduction to the work and the ministry of Dr. James White. Alpha and Omega Ministries has continued to bless me in tremendous ways over the years. The twice weekly webcasts, the books, the blog, the chat channel and just in the last year, the video channel. My husband and I have had the pleasure of meeting Dr. White at two different conferences, and were blessed as well by the fellowship with him, and the tireless dedication he has for encouraging the saints to know the word and defend it. I have and do recommend this ministry and it's resources, to anyone.

Happy 25th Anniversary Alpha and Omega Ministries, and may the Lord be pleased to continue to bless this much needed ministry, for many more years to come. ---CR
17:34:47 - Category: Testimonies - Link to this article -

Confessing the Faith and Guarding the Flock
12/10/2008 - Jeff Downs
Below is a paper I recently finished for an Ancient Church History course at GPTS. A PDF file (perhaps a bit more readable) can be downloaded by clicking here.
====
The Apostles Creed is one of old the earliest1 confessions of the Christian Church. The
doctrines avowed in this creed were clarified and expanded upon during the early centuries of the
Church, in subsequent creeds. For example, the Nicene Creed produced in A.D. 325, addresses
whether Jesus is God in the same way as the Father. In A.D. 381, the Council of Constantinople
attended to the issue of the divinity of the Holy Spirit. Decades after these and other councils
assembled, in the mid-1600's the Westminster Assembly gathered and produced the Westminster
Confession and Catechisms. As it is with the earlier creeds, the Westminster Standards are (for
the most part) affirmations of various biblical teachings. Week after week, churches around the
world use one or more of these documents to affirm, not only the faith of individual members,
but are vocalized in unison to affirm the unity of the Church.

Creeds were not unique to the early church nor the 17th century. In fact we find creedal
statements throughout both the Old and New Testaments.2 The most well known creed in the
Old Testament is found in Deuteronomy 6:4 "Hear O Israel!, the Lord is our God, the Lord is
one!..." Moses, with reference to this creed, addressing the people states that they "shall be on
your heart; and you shall teach them diligently to your sons and shall talk of them when you sit
in your house and when you walk by the way and when you lie down and when you rise up. And
you shall bind them as a sign on your hand and they shall be as frontals on your forehead. And
you shall write them on the doorposts of your house and on your gates" (6:6-9). A New Testament example,
which made its way into the Apostle's Creed, is Paul's statement in 1Cor. 15:3 "for I delivered to you as of first
importance what I also receive, that Christ died for our sins according to the scriptures, and that he was buried,
and that He was raised on the third day according to the scriptures (emphasis mine)." ...
[Click Here to Continue Reading]


13:58:08 - Category: Pastoral Theology - Link to this article -

1 Timothy 2:4 - An Exegesis
12/10/2008 - Alan Kurschner
"First of all, then, I urge that supplications, prayers, intercessions, and thanksgivings be made for all people, (2) for kings and all who are in high positions, that we may lead a peaceful and quiet life, godly and dignified in every way. (3) This is good, and it is pleasing in the sight of God our Savior, (4) who desires all people to be saved and to come to the knowledge of the truth. (5) For there is one God, and there is one mediator between God and men, the man Christ Jesus, (6) who gave himself as a ransom for all, which is the testimony given at the proper time. (7) For this I was appointed a preacher and an apostle ( I am telling the truth, I am not lying), a teacher of the Gentiles in faith and truth. " - 1Tim 2:1-7

Preface
I need to say a few words about how Arminians approach this text before I provide an exegesis. Next to 2 Peter 3:9, 1 Timothy 2:4 is by far the most cited verse that Arminians use against Calvinists. The intention behind quoting, "who desires all people to be saved," is to throw water on any idea that God has elected individuals to be saved, and to deny a particular intention in the atonement, as well as deny any notion that God has a special salvific love for his children.

Arminians start with the human-centered assumption that if God does not love all people undifferentiated, then he would be unjust to love some more than others. The Calvinist begins with the Biblical principle that because man is unworthy of grace and deserving only of death, God in his holiness, wisdom, and freedom chooses to love and elect any creature he desires. I often ask Arminians whether God is just to destroy all the people in the world. The answer is usually "yes." Then I ask, if so, can God be merciful and choose to elect some to be saved? Here is where they balk.

Why do they commit this inconsistency? Arminians believe that "grace" is only grace if it's given to all people. Yes, I know what you are thinking, "But that defeats the very meaning of grace." Exactly, grace is undeserved. If God in his freedom chooses to give one person electing grace, he is not required to give someone else this same grace. "But that's not fair!" someone may object. That's right, it's not fair—it's called grace. We don't want God to be fair. We want him to be merciful. If God were fair with us, we would all get our just due: to perish eternally in our sins.

Two Wills of God? (Piper)
I also need to note how some Reformed theologians have attempted to reconcile this verse. One thinker, John Piper, whom I respect, has made an appeal to a theological principle that God has two basic wills: "what God would like to see happen and what he actually does will to happen." [The Pleasure of God, Revised and Expanded, Appendix: "Are There Two Wills in God? Divine Election and God's Desire for All to Be Saved" p. 317].

This concept of "two wills" is nothing new of course in Reformed thinking, which Piper notes. And I do agree that it is essential to distinguish between different aspects of God's will in his decrees, laws, character, etc. But there are important disagreements in how God's will is understood in particular texts. It is paramount that we first allow the immediate context to have priority before we choose to interact with the theological principle of God's "two wills."

Concerning 1 Timothy 2:4, Piper says,

It is possible that careful exegesis of 1 Timothy 2:4 would lead us to believe that God's willing "all men to be saved" does not refer to every individual person in the world, but rather to all sorts of persons, since the "all men" in verse 1 may well mean groups like "kings and all who are in authority" (v. 2). [p. 314, emphasis his. He notes John Gill affirming this interpretation.]
This is my understanding of the text as well, and the exegesis in which I will defend below. However, he continues by saying something uncharacteristic,

Nevertheless, the case for this limitation on God's universal saving will has never been convincing to Arminians and likely will not become convincing, especially since Ezekiel 18:23, 18:32, and 33:11 are even less tolerant of restriction. Therefore, as a hearty believer in unconditional, individual election, I rejoice to affirm that God does not delight in the perishing of the impenitent and that he has compassion on all people. My aim is to show that this is not double talk [p. 315].
A couple of comments are necessary. The impression that I am given is that though Piper has first admitted that for him 1 Timothy 2:4 has the possible meaning that God desires "all sorts of persons" and not every individual in the world to be saved, he says that this exegetical argument will not be "convincing to Arminians," therefore he feels the need to appeal to another argument (i.e. "two wills").

He then says, "Nevertheless, I will try to make a credible case that while the Arminian pillar texts [1 Timothy 2:4, 2 Peter 3:9, and Ezekiel 18:23] may indeed be pillars for universal love, they are not weapons against unconditional election" (p. 315). But I have to disagree that these particular texts teach God's universal love. Often it is Arminians who lump these three verses together to mean this; yet, each of these verses are addressing different subjects. 1 Timothy 2:4 concerns God's desire that those in authority are not excluded from his saving grace; 2 Peter 3:9 notes that God is not willing that his people perish; Ezekiel 18:23 informs us that God is not diabolical in that he takes pleasure in the death of the wicked in itself. None of these three texts are intended to teach a universal love or desire to save every single individual.

I agree with Piper that in many Biblical instances, "what God would like to see happen and what he actually does will to happen," but this conclusion should be justified by the priority of the context in question. And in the 1 Timothy 2:4 passage there is no basis to apply such a principle because the context and exegesis is sufficient to learn Paul's meaning. Further, whether or not an argument is convincing to an Arminian is irrelevant. God is glorified when his truth is upheld, regardless of anyone being convinced of the truth, which I am sure Piper would agree. If Arminians cannot accept the exegesis of Scripture, there is no reason to concede to their interpretation and then try to appeal to something outside of the text in the hopes that they will affirm our theology. It is also important to note that the refusal to agree with Calvinistic interpretation is not so much an intellectual issue, as it is a matter of the heart.

Exegesis of 1 Timothy 2:4
The context has already been touched on above, but let me give it flesh. Arminians are fond of citing only part of verse 4, "who desires all people to be saved." The default meaning for them is "every single individual on this planet." I often hear them say, "all means all." Well of course it does, but the question is "all of what?" This is where context must determine what "all" is referring to. So let us examine it by looking at the couple of verses that precede verse 4,

(1) First of all, then, I urge that supplications, prayers, intercessions, and thanksgivings be made for all people, (2) for kings and all who are in high positions, that we may lead a peaceful and quiet life, godly and dignified in every way. (3) This is good, and it is pleasing in the sight of God our Savior, (4) who desires all people to be saved and to come to the knowledge of the truth.
We could work backwards from verse 4 to 1, or forward from verse 1 to 4; either way, it is all connected. But let us work backwards to see the flow of Paul's thinking. Notice verse 4 begins with "who"; the antecedent is obviously "God" in verse 3, which begins by saying that there is something good and pleasing to our God. What is "This" that Paul is referring to? Here we need to view verses 1 and 2 together as a unit. Paul is urging Timothy the importance of prayers and other spiritual disciplines to be made for all kinds of classes of people.

Paul gives the key statement by noting that the regal class of kings and the higher social class of those in authority should be included in prayer and other disciplines. Why does Paul urge this command? So we may, "lead a peaceful and quiet life, godly and dignified in every way." Is Paul simply urging them to pray that the authority ruling powers will be mollified? No! Paul has something more eternally hoped for than temporal appeasement from the oppression of rulers; he would like to see them be saved. Hence, Paul immediately follows up by saying, " (3) This is good, and it is pleasing in the sight of God our Savior, (4) who desires all people to be saved and to come to the knowledge of the truth." Paul has in mind that God does not intend to save only one particular social class of people, but all social classes, including kings and those in authority. To read "all people" as "every single person in the world" is not warranted by the context and reveals a reading of one's tradition and false notions into Paul's important message to Timothy.

Arminians have wrongly interpreted this verse from a horizontal perspective. That is, they have read into this text the idea that all individuals in the world are in view. But Paul is giving us a vertical point of view of particular social classes. Therefore it is correct to say that Paul is speaking of all "kinds" or "sorts" of people, i.e., it is God's desire that the social class of those in higher authority are not excluded from his saving grace.

In addition, if we are to grasp the full force of the meaning behind Paul's statement "all people" in verse 4, it is necessary to briefly look at the historical context behind 1Timothy. Paul is writing Timothy who is in Ephesus and urging him to stay and fulfill teaching and ministerial duties (1 Tim. 1:2). Try to imagine yourself as a Jewish convert being commanded to pray for, not just kings and those in authority, but Gentile kings and those in authority. This command obviously affects Gentile and Jewish listeners differently, but for the latter it would have been much more shocking to be exhorted to pray for not just heathens, but heathen authorities! God wants "all people" to be saved, those of the social class of kings and those in authority, which included Gentile authorities.

Another point that requires attention are the couple of verses that follow verse 4. It reads, "(5) For there is one God, and there is one mediator between God and men, the man Christ Jesus, (6) who gave himself as a ransom for all, which is the testimony given at the proper time."

In verse 5, Paul uses the important connecting word "For" to give us the causal reason for what came before it. Paul is introducing sacrificial language in which he ties together the mediation of Christ with his atonement. And in verse 6, once again, we find the word "all" in which Christ gave himself as a ransom. It would be absurd to state that Christ gave himself as a ransom for every single person on this planet, for if he did, every individual would be saved, not to mention that God would have no basis to judge any man for his sins (Cf. Matt. 20:28).

Incidentally, it would be silly to read the following verses that contain the phrase "all people" or "all" with it meaning "every single individual on the planet" (Col. 3:11, Gal. 3:28, Mark 13:13, Acts 21:28, Acts 22:15). Others could be cited, but this sampling demonstrates clearly that it is an exegetical fallacy to use the default meaning "every single individual on the planet" when approaching these texts. Context is king.

Finally, it is key that we recognize that Paul in verse 7 connects his Gentile mission to the second use of "all" found in verse 6. This is often overlooked in many treatments of this text. Paul says in verse 7, "For this I was appointed a preacher and an apostle ( I am telling the truth, I am not lying), a teacher of the Gentiles in faith and truth." In the clearest of terms, Paul is affirming that God has included the Gentiles in his plan of salvation by Christ giving himself as a ransom for "all" not just for the Jews; hence, the reason he immediately follows by saying, "For this I was appointed a preacher and an apostle...of the Gentiles." Given this context, we can begin to appreciate the ethnic dynamics of the Pauline gospel message.

In summary, Paul uses "all people" in verse 4 to refer to all social classes (in this case, inclusion of kings and those in authority); then in his second use of "all" in verse 6 he refers to all ethnic classes (in this case, inclusion of Gentiles). With these contextual and historical dimensions of the text, we can value why it is essential that we are careful not to import our 21st century modern American cultural assumptions back into a 2,000-year-old Jewish letter. It is imperative that we listen to the historical context, as well as the immediate context to learn its intended meaning, rather than force our preconceived ideas of what we think the text should mean.

My friends, I ask you. Have you prayed for your authorities today? Or do you keep your prayers limited to only your social group? Have you prayed for other ethnic groups, or only your own? Heed the command of the apostle Paul and pray for them, for he says that this is good, and it is pleasing in the sight of God our Savior.


00:01:00 - Category: Reformed Apologetics - Link to this article -

Lest You Missed It....
12/09/2008 - James White
I have suggested some items for your holiday season in various posts over the past few weeks, but I thought I'd concentrate them in one spot. First, I am tremendously pleased at the response to our beginning to carry new books in our bookstore. I really think these books will be of tremendous benefit to anyone who obtains them. Four in particular have been added of late:
Bill Webster's fine work, Behold Your King: Prophetic Proofs that Jesus is the Messiah. The study of biblical prophecies that focus the attention upon Jesus Christ is a true blessing. I sure found it encouraging and edifying. Bill has put a lot of time and effort into providing a huge number of resources relevant to the Jewish interpretation of the key texts as well. It may be "trite" to say "a great gift idea," but everything we are adding to the bookstore would, in fact, be a great gift idea for elders and teachers and evangelists and apologists. Get it here.

We actually ran out of this title for a few days, so good has been the response! But we have it in stock now. I passed this around at the conference in St. Louis and a number of folks commented, "Man, I have always wanted a book like this, but didn't think anyone had written one!" This isn't a stocking stuffer (899 pages!), but it sure will be appreciated by whoever you give it to (including yourself!). Get yours here.

Of course, my own work, Is the Mormon My Brother? is back in print. This work focuses upon the key issues at stake in answering that question, and once again flies in the face of our post-modern age in answering the question clearly and directly. Get yours here.

Of course, don't forget "the apologists' best friend," the NA27/NET diglot edition, available both in black leather as well as tan hardback.
This is what I carried through all six debates in London and Durham. In fact, here is a picture from the radio studio on the Unbelievable Radio program. You can see the diglot open in front of me. A true treasure trove of information in a single gorgeous volume. This one comes with my highest recommendation for "most useful information packed into a small space."

If you have been listening to the pre-show on the DL recently (yes, those who log in early can hear the "pre-show," which is normally just music, but at times is a bit more interesting), you have heard the tremendous talent of Clyde Bauman, my friend from up in the frozen tundra, a great brother in the Lord. The great Mylo Hatzenbuhler (Clyde's alter-ego!) has produced a Christmas album, "A Very Mylo Christmas." The comic genius displayed in "Winter in Nordakota" (to the tune of Ricky Martin's Livin La Vida Loca) is worth the purchase price! Of course, "Checkout Gals" will have you rolling on the floor, too. You will truly enjoy this one, and it will obtain an honored place in your Christmas music library! Visit Mylo's website here. Once you are addicted to his music, you can get his fan gear here, from the same kind lady who provides A&O gear as well!
You gotta stop by Carla's place since who else would get me to pose for a picture like this? (Yes, I do, in fact, ride a motorcycle, and have, for...let me do the calculations here...27 years now---but that bike finally gave up the ghost about six months ago, so I'm on another cruiser now). Carla has designed all sorts of things that folks who like the DL will find enjoyable!
Now, this is hardly a holiday-oriented item, but I wanted to make mention of the fact that we have expanded the mp4 listings in our bookstore by adding my debate with Dee Bradshaw on the oxymoron of "homosexual marriage." It is now available in mp4 format for your iPod or computer (digital video), as well as in mp3 for audio alone. Don't forget the mp3 of the debate with John Shelby Spong on homosexuality, as well as the debate with Barry Lynn.

18:11:43 - Category: Misc - Link to this article -

A Caller-Driven Dividing Line!
12/09/2008 - James White
A very enjoyable program today. I started out talking about the upcoming Newsweek hit-piece, and then we took calls the rest of the hour. The first caller and I had a great discussion about the doctrines of grace, proving that it can be done without the rancor some always bring to the discussion! I include the video of that call below. Here's the program.






18:09:57 - Category: The Dividing Line - Link to this article -

Newsweek's Anti-Christian Cover Story
12/08/2008 - James White
19:35:15 - Category: Christian Worldview - Link to this article -

The Thursday 12/04/08 Dividing Line
12/08/2008 - Micah Burke
For those who missed the Dividing Line from last (12/4/08) Thursday, Dr. White continued his review of the recent SBC John:316 conference and examined Dr. Steven Lemke's remarks specifically.


Dr. White then took a call from Rich in Las Vegas regarding the problems with the John 3:16 conference and Macintosh ownership.


Here is the program.


19:31:54 - Category: Misc - Link to this article -

Being A Calvinist Does Not Make You Think Logically
12/05/2008 - James White
I am in St. Louis, rushing to finish a lengthy presentation on Bart Ehrman's main arguments against New Testament reliability, but I wanted to VERY quickly link to this article. Here someone (I do not know who, and to be honest, I do not care who--just somebody named "Steve") demonstrates that rational and fair thinking is not necessarily a part of being Reformed. The writer admits he has not really read my work, yet he has the audacity to attribute to me a "new" position regarding the issue related to the false accusation of hyper-Calvinism! Instead of, "Oh, I'm sorry, I really messed up" or "I apologize," it's, "Well, White seems to have gotten the message and joined up with the rest of us!" Then I am berated for being the cause of all of this in the first place! My new "utter hubris" meter on my Mac exploded in a cloud of smoke halfway through the article.
I remember speaking at a church a few years ago. Curt Daniel and some of his folks attended. I remember sitting at a table after one of the talks for quite some time explaining the concept of God's love, His beneficence, mercy, and kindness, to the non-elect to a woman who just couldn't see it. Evidently she had heard what I had said and was willing to ask how all of that worked.
If I did not have a life, I would waste my time going back over years of presentations and the like, dig out the e-text of my book with Dave Hunt, etc., and demonstrate that these myopic "Reformed" young men really need to get out of their studies and breath some fresh air so as to get the proverbial clue. But such would be a true waste of time. Note to "Steve" and others like him: before putting fingers to keyboard, do some homework.
17:04:30 - Category: Reformed Apologetics - Link to this article -

Calvin Conference
12/04/2008 - Jeff Downs
As a student at Greenville Presbyterian Theological Seminary, I am pleased to announce the 2009 Spring Theology Conference, sponsored by GPTS.

The theme for the conference is John Calvin 500 Years in Retrospect: A 21st Century Assessement. "Loved, hated, misrepresented, misunderstood, blindly-followed by some, rejected out-of-hand by others, but nevertheless relevant even in the modern world, John Calvin is in a singular class of men."

There is a great line-up of speakers and the schedule is simply outstanding.

For further information check out the conference website. Printed brochures are available as of today. For further information on GPTS, you can watch an introductory video here.


14:15:59 - Category: Resources - Link to this article -

Adnan Rashid Debate (Sorta) Posted
12/03/2008 - James White
The Muslims have posted a single-camera version (sorta like my little camera, only...slightly better) of my debate with Adnan Rashid in London. It is sad to see the comments of "1MoreMuslim," a YouTube contributor, who simply refuses to even hear what we are saying. One is reminded of the statement of Scripture, "A veil lies over their heart," for surely, unless the Spirit opens closed eyes and ears, they will never hear. Note some of the comments:



I just want to remind you, the subject of the debate is: does the Trinity necessitate Shirk.





The debate should not have taken place at all, because if J White knew what Shirk is, he will not even bothers make a debate on the subject. Because Trinity is shirk by definition.





Show me where Quran gives a false definition of the Trinity, and will show you that you don't understand the basic of Arabic. You are doing with the Quran what you do with the Bible; wishful interpretations, and filling in the blanks.




Those who watch the debate will realize that if this man did, he didn't hear a word I said. Notice how he turns the challenge on its head: he has to show us where the Qur'an accurately defines the Trinity, not the other way around! But he cannot, for, obviously, it does not. In any case, the debate went very well, despite the lack of cross-examination. We will post the professional edition when it becomes available.
22:08:17 - Category: Islam - Link to this article -

A Timeline on the J316C Discussion
12/03/2008 - James White
When I invest time and energy in a particular topic, I truly try to do so for reasons as non-political as possible. And my engagement of TJ316C (The John 3:16 Conference) has been for the very same reasons that motivated me to write The Potter's Freedom. As a result, I really have not been looking to see what else is going on in the blogosphere concerning this. The few things I've noted were pointed out to me by participants in my chat channel. But this morning my RSS feed picked up Timmy Brister's timeline of events. My name appears most often, but I followed some of the other links and found some fascinating material. I was unaware that the chart that had been used at the Conference was actually produced by Tony Byrne, the chief source of the false accusation against me of hyper-Calvinism. In a comment Mr. Byrne left on Brister's blog he wrote the following:



Also, consider this: Where are the Calvinistic bloggers who are even slightly supportive or glad that my chart was distributed to all those attending the conference (about 800)? I did it to help them all (even the speakers) to accurately understand the theological and historical differences among the varieties of Calvinism and Arminianism. Think of it: If the non-Calvinists read it carefully, they will not be so prone to straw man orthodox Calvinism (whether moderate or high) as hyper-Calvinism. They will have no grounds for portraying Calvinists as if they do not believe 1) God loves all mankind, that 2) God desires the salvation of all mankind in his revealed will, that 3) God is gracious to all mankind, that 4) the Gospel should be offered to all mankind, that 5) some Calvinists actually believe that Christ suffered for the sins of mankind, that 6) most Calvinists affirm some sense of ability (natural) in the unregenerate, that 7) all orthodox Calvinists believe that men are evangelically responsible to believe.



Let's look at the points Tony posted. 1) Yes, God does, but God's love is not monolithic, right, Tony? Can Tony Byrne affirm that the love of God for the elect, i.e., redemptive love, is particular? Can God, like man, have different kinds of love? And would those at the Conference recognize the difference? Would Tony affirm, with me, that God will not be standing on the parapets of hell for eternity mourning the loss of the object of His eternal, redeeming love? Would those at the Conference?
2) Please note Tony's own addition/modification in this, the key issue in the false accusation made by David Allen regarding me: "in his revealed will." Is that not what I have said from day one, indeed, for years, even in my arguments against hyper-Calvinists? "God commands men everywhere to repent." It is part and parcel of God's revealed will that all men are to repent and believe. Every single one, man, woman, and child. All are held accountable to this command. So as far as "God's law reveals God's will" can take us (and it can take us only so far, as I have explained over and over again), then "God wills the salvation of all men." Tony knows this, and Tony knows that I believe it. So, why is my further concern not to attribute to God the irrationality of decreeing Himself into eternal depression such a problem for him? Why is my refusal to attribute to the heart of the Triune God an eternal contradiction the sign of "hyper-Calvinism"? The very portion of my Dividing Line broadcast which Tony transcribed and provided to David Allen to function as his defense for the false accusation of hyper-Calvinism makes it painfully clear that I am addressing the idea of making unfulfilled desires and hence eternal disappointment for God the context of my comments! I can see why David Allen would misunderstand what I was saying, but why would Tony Byrne? What is more, would the attendees at the Conference agree with Byrne's distinction regarding the revealed will of God and the decree of God? Would they not accuse Byrne of the very same error they accuse me of? I think they would. But for the last time (since you can only say the same thing so many times), I agree with what Tony says here. Enough of the silly controversy over that!
3) He surely is, for unless I am misreading my entire world news RSS feed this morning, He could wipe this planet clean in justice at any moment, to be sure!
4) The Gospel should be and must be not just "offered" to all mankind! The Gospel contains offer, and pleading, yes, but all in the context of command! God commands men everywhere to repent!
5) Yes, some Calvinists do. I do not believe God the Father would pour out His wrath in perfection upon His Son with no end or intention in sight. I see this as a violation of the biblical teaching concerning the work of the High Priest, the perfection of His offering, and the work of His as mediator. And I would ask Tony Byrne: does Jesus mediate for the non-elect? Does He stand in the presence of the Father pleading the blood He shed for them, knowing full well that in the eternal decree of the Triune God it had been decided that those individuals would never be saved?
6) I am uncertain what this specifically means outside of the obvious fact that all Calvinists I know of ascribe tremendous ability/capacity to the will of the unregenerate man: such a man will always resist God's truth and will suppress that truth in rebellion. The will of man in sin will always oppose God and delight in error. The synergists' assertion that "dead in sin" means "inactive" has been refuted over and over again.
7) Which is why I proclaimed Christ and the necessity of faith to him to all the Muslims in London just a few weeks ago, and have done the same with Mormons in Salt Lake City and Roman Catholics and Jehovah's Witnesses, etc. and etc., in all sorts of places and contexts.
So, according to Tony Bryne, I'm just a plain ol' Calvinist. Maybe Tony will call up David Allen now and we can get back to the key issue: the utter lack of meaningful biblical exegesis presented by the speakers at TJ316C?
Finally, I read David Miller's letter to Jerry Vines (which Lumpkin very unfairly spun against Tom Ascol). Since I was not at the conference it was interesting to read someone's take who was, in fact, there. I was uncomfortable with some of the language used (as I'm sure some have been with some of the analogies I've used on the DL), but it did show me some of my own blind spots. For example, as I have been listening I have, somewhere in the back of my mind, been making mental notes about the quality of the presentations. As I listened to Steve Lemke's presentation I had noted that it was not very well done. Lots of pauses, disjointed, and just a bit more than muddled. But I really don't focus on that very much, as my concern was the substance more than the presentation. But I did find this comment from Miller describing what I cannot hear (or even see on the DVDs) interesting:



This did however, provide a high level of entertainment as I watched Richard Land fall asleep on at least 3 occasions during Dr. Lemke's sermon in which he departed from his assigned subject and drudged on and on as the congregation got quieter and quieter.






I did at this point feel some compassion for yourself as I saw your rear-end at least 3 inches off the pew giving Lemke physical signs of your discontent. I know it, you know it, and the Lord knows it! You were sitting there wishing that he would sit down and hush.



I had to chuckle just a bit at that, especially since I have tried, over the years, to be the one speaker who gets the whole thing back on track time wise when someone else just can't manage the clock. And now as I think back over Lemke's presentation, I can see things in a little different light.
I will be going over Lemke's attempts to promote the freedom of man in resisting God's salvific grace on tomorrow's Dividing Line.
10:41:33 - Category: Reformed Apologetics - Link to this article -

Hebrew 1 from London
12/03/2008 - James White
00:01:00 - Category: Pastoral Theology - Link to this article -

Videos I Forgot to Blog!
12/02/2008 - James White
I was looking at my YouTube page tonight and realized that there were a few videos I posted while I was in London that I then forgot to put on the blog! The first one, in particular, should be useful to folks.
22:54:44 - Category: Islam - Link to this article -

Listen Carefully to the Theology of this Muslim Jihadist
12/02/2008 - James White
19:47:04 - Category: Islam - Link to this article -

Today on the Dividing Line: More on the John 3:16 Conference
12/02/2008 - James White
I continued my review of The John 3:16 Conference on the program today, playing clips from Paige Patterson, David Allen, etc. I play a clip from Paige Patterson where he says that you cannot prove from Scripture that all men are born guilty. I note the following comments from Dr. Boyce:

It follows from the facts in these last two statements, that a corrupt nature makes a condition as truly sinful, and guilty, and liable to punishment, as actual transgressions. Consequently, at the very moment of birth, the presence and possession of such a nature shows that even the infant sons of Adam are born under all the penalties which befell their ancestor in the day of his sin. Actual transgression subsequently adds new guilt to guilt already existing, but does not substitute a state of guilt for one of innocence. (James Boyce, Abstract of Systematic Theology, p. 250.
I addressed the new article posted by David Allen on Peter Lumpkin's blog at the end of the program. Here's that portion:



Here's the program.


17:23:13 - Category: The Dividing Line - Link to this article -

OK, This is Just Insane
12/02/2008 - James White
Yep, the infallible Church alright. (I know, I know, "Oh, those are just local bishops!").
13:17:06 - Category: Misc - Link to this article -

I Love Gail Kipplinger!
12/01/2008 - James White
I got a note from "Jeff," the fellow in the bald cap in this video from Salt Lake City a number of years ago. He writes,


I sir,am the man in the bald cap mocking you with lonnie and ruben at the mormon conference. I just thought i would tell you that, you are blasphemous heathen. You put down God's holy word; the King James Bible. You smile about it. This tells me that you are disconnected from truth. I'm not saying you are not saved, i'm simply implying that you are mocking the word of god. Now if streetpreachers go out on the streets to share the gospel, you put them down. That tells me one thing, you are against God's word. Jesus said if you are not with him you are against him. Just some words of wisdom for you James. Jeff
Well, isn't that special? And may I say, Jeff, that you, sir, are one of the best friends the Mormons ever had?






15:43:17 - Category: Simply Silly - Link to this article -

Jan Term at MCTS
12/01/2008 - James White
The Midwest Center for Theological Studies is hosting a special J-term modular event January 5-10, 2009. Dr. Sam Waldron (author of MacArthur's Millennial Manifesto) will be delivering a series of lectures entitled: Then Comes the End: A Biblical Course on Eschatology. In addition to Dr. Waldron's excellent instruction, we will be privileged to have Drs. Richard Gaffin, Vern Poythress and Kim Riddlebarger join us during a portion of the course for a virtual "round-table" discussion moderated by Dr. Richard Barcellos. MCTS would love for you to join us onsite in Owensboro, KY and registration openings are still available. MCTS will also offer this course via live internet streaming from our lecture hall. Visit our website under the MCTS News section for more details or call the registrar at (270) 302-4859. Here's a preview!










14:06:14 - Category: Reformed Baptist Issues - Link to this article -

Pas Ho Pisteuwn = "Everyone Believing," Not "Every Single Person Can Believe"
12/01/2008 - James White
Dr. Jerry Vines preached on John 3:16 at his own conference on the same topic. At one point it seems he attempted to respond to the common objection to his views by asserting that pas ho pisteuwn (πᾶς ὁ πιστεύων) means more than "everyone believing." Here is an examination and response.










07:56:53 - Category: Reformed Apologetics - Link to this article -

Back to Emmaus
12/01/2008 - James White
My morning sermon from the Trinity Road Chapel in London on the tremendous words of Jesus after His resurrection.
00:01:00 - Category: Pastoral Theology - Link to this article -