Alpha & Omega Ministries Apologetics Blog

Revelation and Reason
03/30/2007 - Jeff Downs
Calling all Christian apologists! Here is a book you are going to want to digest:


Revelation and Reason New Essays in Reformed Apologetics, Ed. K. Scott Oliphint & Lane G. Tipton (P&R, May 2007; ISBN#: 9-78087-55259-69), 360 pages.

Book Description:
The purpose of this collection of essays is to set in the foreground the necessity of exegetical and theological foundations for any Reformed, Christian apologetic. A Reformed apologetic is only Reformed to the extent that its tenets, principles, methodology, etc. are formed and re-formed by Scripture. It is our hope that this book will demonstrate the necessity of the truth of Scripture, and the implications of that truth, for apologetics. These essays are meant to spell out more clearly the need for, and the beauty of, an apologetic surrounded by the rich truths of the Reformed faith.

Here are the Table of Contents

Introduction. K. Scott Oliphint and Lane G. Tipton

(1) Reformed Apologetics: Exegetical Considerations
(a) Some Epistemological Reflections on I Cor. 2:6-13. Richard B. Gaffin
(b) Resurrection, Proof, and Presuppositionalism: Acts 17:30-31. Lane G. Tipton
(c) The Irrationality of Unbelief: An Exegetical Study. K. Scott Oliphint
(d) The Case for Calvinistic Hermeneutics. Moises Silva
(e) Paulís Christological Interpretation of Creation and Presuppositional Apologetics. Lane G. Tipton

(2) Reformed Apologetics: Theological Foundations
(a) Divine Aseity and Apologetics. John M. Frame
(b) Consistently Reformed: The Inheritance and Legacy of Van Tilís Apologetic. Michael S. Horton
(c) A Confessional Apologetic. Thom Notaro
(d) Theologia Naturalis: A Reformed Tradition. Jeffrey K. Jue
(e) The Eschatological Implications of Genesis 2:15 for Apologetics. Bill Dennison

(3) Reformed Apologetics: Methodological Implications
(a) The Old New Reformed Epistemology. K. Scott Oliphint
(b) The Fate of Apologetics in an Age of Normal Nihilism. Michael Payne
(c) Turn! Turn! Turn! Reformed Apologetics and the Cultural Dimension. William Edgar
(d) Van Til and Transcendental Argument. Don Collett

APPENDIX
Cornelius Van Til and the Reformation of Christian Apologetics. K. Scott Oliphint.


20:00:36 - Category: Reformed Apologetics - Link to this article -

Apologetics Roman Style
03/30/2007 - James White
Enough of demonstrating that you can find sophistry alive and well even in Texas. But I did notice this wonderful comment from Prejean that brings us full circle:

Regarding Catholic responses to the Jesus Tomb story, that's another example of laughable scholarship, so the most common Catholic response has been to laugh it off.

If you follow the link it is to Mark Shea. In the first paragraph Shea demonstrates that he really has no idea what the argument is from Jacobovici (he seems to think Cameron is the brain child of the film and book, which is untrue), and even misrepresents it.
This is a very common means of responding to the Talpiot Theory. I call it the Ostrich Defense. Just stick your head in the sand and laugh about how "silly" the argument is. I mean, isn't that what Barbour and Madrid and Prejean have done with the criticisms of Roman Catholic positions offered by myself, Eric Svendsen, Bill Webster, etc.? Of course. Mockery is a great defense when you are only concerned about keeping your core constituency happy. But it is not an actual apologetic. It does not fit with the command in 1 Peter 3:15, does it? Most assuredly not. It surely does not help those who are confused by such attacks, and it does not help the saints to grow in grace and knowledge. You do not become deeply rooted in truth with your head stuck in the sand.
Let's say the scholarship in The Lost Tomb of Jesus is laughable. So what? Do you respond to laughable scholarship with...laughter? Or do you respond with sober, sound examination that demonstrates the inconsistencies of the argumentation? The Ostrich Defense has led to the situation we face in education today. We raise our children in the church, send them off to the local college or university, and there they find themselves unarmed and ill prepared to deal with the gun-slinging professor of philosophy and world religions who has The Lost Tomb of Jesus on constant reruns in his classroom and whose bookshelf is filled with the works of John Shelby Spong and The Jesus Seminar. Many find Mormonism as a religion laughable, too. That does not mean you do not prepare yourself to give a reasoned response to their claims.
It does not surprise me that this is the popular view from Rome, for in reality, she has no foundation upon which to do apologetics anyway, given the mythical character of her own definitional, self-defined dogmas. When you have to play so fast and loose with history as Rome's defenders do, you are crippled when it comes to meaningful apologetics. But there is no reason for those outside of Rome's sphere of power to behave in such a fashion. The Talpiot Theory gives us a chance to proclaim the truth about the very central affirmation of the faith. It is hard to do that with your head in the sand.



15:08:44 - Category: Tomb Issues - Link to this article -

Bill Webster Responds to Gary Michuta, Part II
03/30/2007 - James White
Augustine and the North African Councils
Since the Bible used by the North African Church was the Old Latin, a translation of the Septuagint which included a number of the books of the Apocrypha, Hippo/Carthage were confirming the traditional canon for the North African Church based on the Septuagint. Philip Schaff confirms the fact that the North African Church followed the Septuagint:

Augustine...firmly followed the Alexandrian canon of the Septuagint, and the preponderant tradition in reference to the disputed Catholic Epistles and the Revelation... (Philip Schaff, History of the Christian Church (Grand Rapids: Eerdmans, 1910), Volume III,§118 Sources of Theology. Scripture and Tradition, p. 609).

The veneration which this Church held for the Septuagint, based on implicit belief in its inspiration, is well represented by Augustine. He believed the myth of the seventy-two Jewish translators who, under Ptolmey, were individually placed in isolation and rendered the same translation of the Hebrew Old Testament.2 The adherence by Augustine and the North African Church to the Septuagint has some significant implications for the whole question of the establishment of the canon. Again, Roman Catholic apologists argue that the canon was authoritatively settled for the universal Church at the Councils of Hippo and Carthage. However, the canon decreed by the North African Councils differed from that decreed by the Council of Trent in the sixteenth century on this one important point of the book of I Esdras. Hippo and Carthage stated that 1 Esdras and 2 Esdras were canonical, referring to the Septuagint version of 1 and 2 Esdras, the Bible their Latin version was based upon. In that version, 1 Esdras was the apocryphal additions to Ezra and Nehemiah not found in the Hebrew Bible, while 2 Esdras was the canonical Jewish version of Ezra/Nehemiah. The Jews only acknowledged Ezra and Nehemiah which they combined into one book. This was 2 Esdras in the Septuagint version. It was Jerome, who, out of a desire to adhere to the Hebrew canon, separated Ezra and Nehemiah into two books, calling them 1 Esdras and 2 Esdras respectively, thereby replacing the Septuagint I Esdras with the Hebrew Ezra and calling it I Esdras. This became standard for the Vulgate and the basis upon which Trent declared the Septuagint I Esdras to be noncanonical. 1 Esdras in the Septuagint then became 3 Esdras in the Vulgate and the other Apocryphal apocalyptic work of 3 Esdras became 4 Esdras in the Vulgate. In the earliest Septuagint manuscripts, Codex Vaticanus (early 4th century) and Codex Alexandrinus (early 5th century), I Esdras is listed as one book and Ezra/Nehemiah is listed separately as a second book. The New Catholic Encyclopedia confirms these facts:

Four books are attributed to Esdras (Ezra in the Hebrew spelling). The distinction between these books is confusing because of the manuscript and denominational differences:


| | | | |
| --- | --- | --- | --- |
| Vulgate (Catholic) | Septuagint | Hebrew Text | Protestant/Jewish |
| 1 Esdras (Ezra)* | | Ezra* | Ezra* |
| 2 Esdras (Nehemiah)* | 2 Esdras (Ezra/Nehemiah)* | Nehemiah* | Nehemiah* |
| 3 Esdras | 1 Esdras | Missing | 1 Esdras |
| 4 Esdras | 3 Esdras | Missing | 2 Esdras |


*Canonical Books
III Esdras (I Esdras in the Septuagint) was certainly compiled before A.D. 90, for the Jewish historian Josephus quoted from it (Ant. 11); but its exclusive concern with Jewish interests puts its composition before the Christian era, closer to 100 B.C. Until the 5th century, Christians very frequently ranked 3 Esdras with the Canonical books; it is found in many LXX MSS (Septuagint manuscripts) and in the Latin Vulgate (Vulg) of St. Jerome. Protestants therefore include 3 Esdras with other apocrypha (deuterocanonical) books such as Tobit or Judith. The Council of Trent definitively removed it from the canon (New Catholic Encyclopedia (New York: McGraw Hill, 1967), Volume II, Bible, III, pp. 396-397).

...
[Click Here to Continue Reading]


00:01:00 - Category: Roman Catholicism - Link to this article -

James White: Laid to Rest
03/29/2007 - James White
Ah, it is a great weight off my shoulders. I am now irrelevant. I can now sit on my porch (if I had one) and rock the rest of my brief life away. At least, that's what a Texas attorney who, to my knowledge anyway, has never taught a seminary class, never been published in book form, in a scholarly article, etc., never been chosen to an academic position of any type in the theological realm, and has never, to my knowledge, engaged in a public debate in defense of his position, has concluded. Yes, the same man who struggled to answer if the Incarnation is a unique event has provided the epitaph to my entire apologetic career! Here are his ever insightful words:

In fact, that's the point in a larger sense. White has made several attempts to revive long-dead confrontations in order to establish some sort of relevance as an anti-Catholic apologist, and it seems appropriate to point out that White is now basically a dried-up old fossil, much like his debate partners John Dominic Crossan and Marcus Borg. He's strictly senior tour material now; he peaked long ago, and his decline has been steady since then. Drying up and blowing away is a pretty good description of what has happened to White's reputation. You kinda have to pity his situation; he's having to bring in guest bloggers (including the equally past-his-prime James Swan) just to keep up with slicker blogs like TeamPyro and Triablogue. It's like watching someone who used to be "famous" hoping to be recognized.
I just wanted to point out that this flurry of activity, rather than re-establishing White as a force in anti-Catholic apologetics, pretty much just bears out the opposite conclusion. He's done; has been for years.

Like I said, I feel so much better now. Of course, I have never wanted to be a force in whatever "anti-Catholic apologetics" is anyway. I'm a Reformed Baptist elder, professor, and apologist, and I'm quite fine staying busy, and active, in that realm.
And in pursuit of that, I notice that Prejean, always the one to be humble and self-effacing, has written an article on his blog, "James White paws at my sleeve for more attention." Yes, it's all about the attorney in Texas. But while he is big on repeating how much of a dullard I am, I found it ironic that he would make the following statement:

Third, White actually called Athanasius a "true Protestant," following (if I recall correctly) a characterization by one of his students, and so White must surely at least argue that Athanasius must have believed what is essential to being a Protestant.

Now, how good a reader is Prejean? How careful is he? Let's find out. Here is the context from the original article. Note what it is actually saying: ...
[Click Here to Continue Reading]


22:57:53 - Category: Roman Catholicism - Link to this article -

The "All Rome" Expanded Edition of the Dividing Line
03/29/2007 - James White
Despite having a new phone system installed, we managed to put together a really educational and useful program today without any major problems at all. I replied to an e-mail from a convert to Catholicism over the course of the first half hour, and started reviewing a recent Catholic Answers Live program where, once again, no effort was extended to accurately represent the non-Catholic position and the same surface-level, tired, worn-out, and oft-refuted arguments were presented. In responding to the e-mail I had read a post on the Envoy web board, and the author called in. We spoke for a full half an hour. This is the kind of conversation that drives certain folks nuts. It was focused, friendly, without rancor. But, it was not fluffy. Nobody was playing fast and loose with the truth. We just discussed important issues honestly. Since that took us past our normal time, we went long to get a chance to speak with a brother from Georgia about Matthew 16:18 thereafter. Definitely a program to listen to if you are interested in the Roman Catholic field of study and apologetics. Here's the program (free/high quality).


17:50:10 - Category: The Dividing Line - Link to this article -

For the Serious Minded
03/29/2007 - James White
When I checked on the link I have used a number of times recently for my Nicea article in the CRI Journal of July/August, 1997, I discovered it had gone dead. So I contacted CRI, and they contacted their webfolks who are busy migrating their website to a new format. They jumped my article to the head of the line and it is now available again, here. The text is there, but if you want to appreciate how well the Journal originally presented the article (art work and the like), you'll have to get the back issue.
I would like to invite Jonathan Prejean, Patrick Madrid, Dave Armstrong, and the rest of that group of RC apologists, to post links to the paper as well. Why? Well, they are all claiming the paper is a glowing example of how unscholarly I am, how ignorant I am, and why no Roman Catholic should ever listen to anything I have to say. So, how about posting this link along with the Envoy article, and my brief response (which was limited, by the way, by publication word limits)? That way, you can let your audience find out if Hugh Barbour was actually dealing with what I wrote, or was doing as I have said, writing nothing but a shameless hit piece that mocks the very nature of sound scholarship? And would it not be a great benefit for Madrid and Prejean and Armstrong to post my article as an example of just how dull I am? I mean, each of them should be able to provide a far superior summary of the main issues at Nicea, Constantine's role, the primary personalities involved, and make it all understandable to the interested layman, and do it all in 4500 words, right? I mean, since I failed so miserably at it, they should be able to pull it off, right? So I look forward to their demonstrating their integrity and honesty by posting the link along with their far superior articles.
In passing, I'm wondering if someone can help me find the in-depth, full refutation of the Talpiot Tomb claims by these Roman Catholic apologists? I mean, I would think the fact that they are so far beyond me in scholarship (especially Mr. Prejean), that they would have been providing information on the Acts of Philip and mitochondrial DNA and the like far faster than I have. So could someone direct me to their rebuttals?
Oh, and I would invite all of them to help us test out our new phone system this afternoon/evening on The Dividing Line? The toll free number is 877-753-3341. I'd love to give you the opportunity of continuing the demonstration of "ethics in defense of Rome," i.e., "As long as you are slandering critics of Mother Church, it's all fair game."


08:34:11 - Category: Roman Catholicism - Link to this article -

Porvaznik Perfidy and Matatics Mendacity Documented #2
03/29/2007 - James White
A few days ago I began presenting clips from the cross-examination section of the sola scriptura debate from 1997 on Long Island. I did so because Phil Porvaznik, a Roman Catholic apologist of sorts, has posted, on the site I believe is maintained by Apolonio Latar, an 18 second clip which he calls my "concession of defeat." That anyone would think a serious minded person would be influenced by an 18 second clip is hard to believe, but, that's the kind of apologetics that exists in defense of the "infallible church" on the net.
This next section is a bit shorter, but I found it interesting. Gerry Matatics was claiming, based upon his assertions regarding 2 Thessalonians 2:15, that I, and the Protestants in the audience, were not obeying the command to hold to the traditions. Obviously, the only way that could be the case is if what is contained in the "oral" component is not, in fact, found in the written, which is the heart of his entire use of that text. Therefore, it would be incumbent upon the defender of the Roman position, in light of his assertions about this text, to be able to demonstrate that the "traditions" he claims are apostolic were, in fact, delivered to the Thessalonians, as per his own claims. But notice especially what he says at the end. He says that this is a debate on sola scriptura, and that I should not ask him, at the drop of a hat, to defend indulgences. First, I did not ask him to defend indulgences. I asked him to defend his own assertion, made in his opening statements, concerning the exegesis of 2 Thess. 2:15, and I gave him a single example, indulgences, of a doctrine based upon the tradition he claims I am ignoring.
But most importantly, keep this in mind. In every debate I have ever been in (unless my recollection is incorrect, it will even happen in a later portion of the cross-examination) on the subject of sola scriptura with the possible exception of the Pacwa debate on that topic, I have been asked, in cross-examination, to define and defend the specifics of the entire doctrine of the canon of Scripture, and that in less than sixty seconds! Matatics had already done so in two preceding debates on this topic, Madrid had pulled the same stunt as well. It is part of their template. "So, how do you know Matthew wrote Matthew?!" So on the one hand Matatics says it is unfair to ask him, at the "drop of a hat," to address indulgences (which I wasn't asking him to do anyway), but he will turn around and ask me to make an entire presentation on the issue of the canon "at the drop of a hat"! The double-standard is, again, striking.



00:01:00 - Category: Roman Catholicism - Link to this article -

Jonathan Prejean On Anonymous Hit Pieces
03/28/2007 - James White
"Crimson Catholic," Jonathan Prejean, has actually attempted to offer an excuse for Hugh Barbour's refusal in the Envoy article to either name me directly, or even provide meaningful bibliographical references (i.e., so that his readers can do something more than just "trust him" and check things out for themselves). Now, let's remember that Barbour wrote his article in response to a footnote of an article that was on the topic of the Council of Nicea, an article fully referenced to standard works in the field. Barbour did not even touch upon the actual article itself. He created a straw man and beat it senseless without giving his readers any opportunity of checking him out. I have yet to find a single Roman Catholic who has accurately addressed the situation and in a truthful, honest fashion admitted that Barbour's actions were reprehensible, nor have I found one who has taken issue with the substance of the article (they can't, since they would have to reject every major scholarly work on Nicea to do so). And keep in mind as well the fact that in my response, I noted numerous problems with Barbour's own scholarship, including gross misrepresentation of the article he is pretending to review (easy to do when you don't provide any references anyone can follow up on), the presentation of highly questionable theories regarding the role of Sylvester at Nicea, even noting that Barbour used sources that the Westminster Dictionary of Church History describe as "hardly trustworthy." But despite all of this, Prejean writes,

Seems people elsewhere aren't quite getting the point of the article. The whole point was that the author's article was so laughably bad in the first place that it is effectively beneath contempt. It is, to use Wolfgang Pauli's apt phrase, "not even wrong." That's the whole point of not mentioning the author's name in the first place; it is to cast shame on him for having put out such a pathetic effort in the guise of scholarship (akin to the statement "Some have claimed..." without a footnote in a scholarly article, an implicit rebuke of the critic's scholarship). Anybody with access to Google can identify who the target is and locate his "responses" (which are no better), but the purpose of the rebuke is to point out that the quality of the article was so abysmal that the author doesn't even deserve to be mentioned by name. The message sent is one of condemnation for those who can't even rise to the level of reasonable discourse. And it is indeed a perfectly legitimate course of action for the scholar who respects his discipline enough to chastise those who merely pretend to practice it. People with a proper sense of shame and a reasonable estimation of their own competence would ordinarily want to let the issue lie. It is a rare breed indeed who would deliberately keep bringing attention to his having been publicly rebuked for incompetence.
Edit -- By the way, it takes no small degree of nerve for the same author to complain about no one calling in to the Dividing Line after he hung up on me. Evidently, it is a faux pas for anyone to call the author in question out for saying something laughable, as both Fr. Barbour and I did. I suggest that the author actually learn the subject with a sufficient degree of competence not to be considered laughable.

Evidently, for this apologist, it is perfectly alright to avoid providing meaningful bibliographical material as long as you are truly mocking your target in the service of mother Church. So, if your response is completely over the top, filled with invective and straw-men, then it is perfectly acceptable to behave in this manner! Now, if Barbour had actually tried to provide a fair response that was directed to the actual topic of the article, and did not seek to simply mock me, I guess then he would have to have followed standard canons of scholarly exchange and review. But, for those in Rome, as long as you say the article was that bad, then, it was, ipse dixit.
Prejean says my replies "are no better," which means he could easily explain the issues in regards to Sylvester, etc. All of this rhetoric is very hopeful: that is, it is written in the hope that no one will track down the original article and realize just how guilty of gross misrepresentation and a cavalier handling of the truth Hugh Barbour, Patrick Madrid, and the Envoy Magazine staff, really are.
Finally, I did hang up on Prejean. He tries to make this sound nefarious. Only problem is, he was on the air for almost fifteen minutes, and as I noted when he got on the air he had already been far less than charitable to me in his public comments. I wonder if I could get almost fifteen minutes on Catholic Answers Live if I called in? Surely not if I acted the way he did! Here is how I described his call:

First was our sophist, Jonathan Prejean, who actually managed to get me to hang up on him. That's pretty hard to do, but if you want to know how, here's how you do it: when asked simple, basic questions like, "Was the Incarnation a unique event," respond with a lengthy pause, "uuuuhhhh," and then rattle off a non-responsive answer; avoid answering all biblical questions with any biblical material, but always refer to your own (infallible) interpretation of later patristic writings; accuse me of heresy (Nestorianism) simply for not following you down the primrose path of "since the unity of divine and human in Christ does not mean we worship two Christs, but one Christ, that means everything the Bible says about worship can be thrown out, because the created has been joined to the divine," even to the point of claiming that we as the redeemed in some sense "participate" in the hypostatic union; and then, when it is pointed out that you are going backwards (defining the text by your theology rather than your theology by the text), start laughing---that will earn you the instant dialtone every time. A tremendous example of the sophistry of Prejean's form of Romanism.

Now, unlike the folks at Envoy who don't want their readers hearing (or reading) the other side, here's Prejean's call from the DL of 8/22/06.


20:48:00 - Category: Roman Catholicism - Link to this article -

An Incredible Turn Around!
03/28/2007 - James White
Thanks to the diligent work of Mike Gaydosh of Solid Ground Christian Books, his staff, and my volunteers (Marie Peterson, Carrie Gambill, the rest of the #prosapologian crew), the period of time between my decision to publish a response to The Lost Tomb of Jesus film and the accompanying book, The Jesus Family Tomb, which I believe I made on March 1st, and the time when it will be in my hand (I believe Monday, April 2), is simply astounding. One month! I did not actually start writing until the 5th, so it was less than a month from the start of the project until the book was produced and shipped and in my possession. Truly an amazing testament to what you can do if you just work hard at it!
So now comes your turn. This book needs to get to believers so that they can be prepared. But it also needs to get in the hands of unbelievers who find this kind of argumentation compelling. We are going to put together a special offer as soon as we can including the book, the "Empty Tomb of Jesus" t-shirt, and a tract I am writing especially for use with the book. That's my current project. So keep watching the blog for details, and join us in using this error-filled attack upon the faith as a starting point to proclaim the truth to a world intent upon disbelief and rebellion.


12:21:55 - Category: Misc - Link to this article -

Go Ahead, Speak Your Mind on Envoy, Just Don't Link to aomin.org (Amazing Update!)
03/28/2007 - James Swan
Yesterday on the Envoy forums, Catholic apologist Patrick Madrid posted a link to an old article, "Ancient Baptists" and Other Myths. This article appeared in the July/August 1998 issue of Envoy magazine. The article was a hit piece against Dr. White, and he proved it so here.
I am still registered on the Envoy forums, even though I haven't made any comments since my discussion with Art Sippo on Luther biographies some months back. In my only brief encounter with Madrid, he was actually respectful to my work on Luther, and even came to my defense against the constant vitriol from Art Sippo. I decided now would be good opportunity to share Dr. White's article with Madrid.
So I attempted to post Dr. White's link:


http://aomin.org/index.php?itemid=1507&catid=7


But when the post was added to the Envoy discussion, the link was broken. It posted as:



http://0/index.php?blogid=1&archive=2006-08&catid=7


Can you spot what's missing? That's right: aomin.org. It seems Madrid has a link block that stops links to aomin.org. So, I cut and pasted Dr. White's article to my own blog, and posted the link. When I checked the discussion today, my link had been edited out.
Madrid's Envoy forums have the banner, "Speak Your Mind." But it seems they have a problem with certain opinions and information. That is, they fear what they can't refute.
Update: I now appear to be banned on the Envoy forums.

Quick comment from JRW:
Fascinating! Another incredible commentary on the state of Roman Catholic apologetics! I just went by the Envoy site and verified TQ's observations. Despite the fact that Barbour's article is simply false, it is a lie, Madrid not only continues to promote it, but who do we find calling it an "oldie but a goodie" but Phil Porvaznik. Any actual interaction with my rebuttal? No, of course not. Even recognizing the existence of documented rebuttal and refutation would go against the purposes of RC apologetics.
Evidently, the mindset that produced the first article, which refused to name me, refused to give bibliographical information, was filled with sub-standard scholarship, etc., remains alive and well at Envoy. The original hit-piece was embarrassingly bad. The refutation I published in the CRI Journal documented this. So why does Madrid keep promoting the piece? Probably for the same reason he so prominently promotes the only two debates we have done. It is the same reason Porvaznik posts 18 second clips of contextless cross-examination. These "apologists" are seeking merely to maintain faith, not expand it. In other words, they well know that they cannot truly engage the issues at any meaningful level, so, they are content to keep the "home troops happy," stir them up once in a while with some propaganda about how evil and stupid the enemy is, and move on from there. Another amazing example of how authority systems like Rome's maintain themselves in a context where their historical foundations have been washed away. ...
[Click Here to Continue Reading]


07:36:56 - Category: Roman Catholicism - Link to this article -

Bill Webster Responds to Gary Michuta Part I
03/28/2007 - James White
A few days ago I played a clip of my cross-examination of Gary Michuta on the issue of the canon of Scripture. I had noted that Gary had commented elsewhere that he felt "embarrassed" for me at this point in our debate. I personally think the cross-examination went very well, and exposed some very weak replies. In any case, Michuta is putting out a book, Why Catholic Bibles are Bigger: The Untold Story of the Lost Books of the Protestant Bible from Grotto Press. I'm sure it will be most interesting. I am hoping it will have the citations from Trent about "passing over in silence" the question of the difference between the LXX and the Vulgate and Esdras.
But, while silence may be golden, we aren't really into silence around here. So I am very pleased to introduce our "guest blogger," Bill Webster. You are encouraged to visit Bill's website, here. Despite many other duties, Bill has taken the time to write a full, lengthy discussion in response to Michuta's comments But given how full it is, I will need to break it up. So here is part one, but let's remind ourselves of the context once again:

This DVD available here (#516)


The Historical Discrepancy between the Councils of Trent and Hippo/Carthage on the Canon
A Response to Gary Michuta
William Webster


In his debate with Gary Michuta on the canon and the Apocrypha James White brought up an important issue that reveals a discrepancy between the decrees of the North African Councils of Hippo/Carthage (AD 393/397) and the Council of Trent (AD 1546). This issue is important because Roman Catholic apologists have long asserted that the canon of Scripture was authoritatively and definitively defined for the Church by Hippo/Carthage in the 4th century AD. And yet the historical facts reveal that Trent rejected abook received by Hippo/Carthage thus manifesting a contradiction between the North African councils and Trent. ...
[Click Here to Continue Reading]


00:01:00 - Category: Roman Catholicism - Link to this article -

To All Statue-Worshiping Catholics! Beware!
03/27/2007 - James White
This clip from the veneration of saints and angels debate with Patrick Madrid starts out with a humorous incident. I am answering a question from Madrid when the moderator, Bill Shishko, who is sitting behind Patrick, bangs his gavel to mark the end of the time. Patrick almost jumped out of his skin. It got a good chuckle out of everyone. But then we got back to business.
I thought Patrick's "they had a problem with worshiping statues back then that we don't have today" response was especially weak and problematic, and could be used to overthrow the majority of biblical ethics and the use of the law as a foundation for ethics and morality. And, of course, it begs the issue: asking Catholics if they are worshiping a statue is the whole point of the debate: given the latria/dulia distinction does not pass the biblical test, whether they wish to admit it or not, that is what is taking place (even granting the distinction between the physical object and the spiritual "reality"). Saying "God's law relating to images is no longer relevant because we don't have the same temptation to that problem that they had back then" is begging the question, not answering it. Could not a homosexual make the same argument today? In fact, is that not what they do? That the law against homosexual behavior was conditioned by its ancient context, and is hence irrelevant today? Something tells me that if you read Madrid's position on that topic, he will not be consistent with the enunciations he makes here.



16:05:58 - Category: Roman Catholicism - Link to this article -

Today on the Dividing Line
03/27/2007 - James White
This morning while making one of my patented-to-be-yummy breakfast burritos I happened to catch Matt Lauer of NBC's Today show interviewing Frank Moloney and Jeffrey Archer about their new work of fiction, The Gospel According to Judas. It was another incredible example of the state of affairs in Western society and in Roman academia as well. Then we took some great calls on topics like Stafford's debate with Morey on God's knowledge, and even a quick call at the end on Romans 11:22. Here's the program (free/high quality).


13:14:30 - Category: The Dividing Line - Link to this article -

And They All Lived Happily Ever After?
03/26/2007 - James Swan
It wasn't that long ago my Roman Catholic friends directed me to the books of Robert Sungenis as the definitive works refuting sola scriptura and sola fide. He was the apologist extraordinaire, a seminary trained ex-protestant; yet another wonder-convert who swam the Tiber. There was such an amazing gathering of ex-Protestants, all living in harmony, zealously defending Rome.
I'm not really sure what's going with Robert Sungenis these days. Consider the rift between Sungenis and Ben Douglass. They are currently engaged in a web-page war. It's not just Douglas, Sungenis is engaged in battle with many others in the Catholic apologetic community. Consider the following from his current 41 page document:

"It is my personal opinion that it has gotten so bad that I think it would be safe to say that much of Catholicism and Catholic apologetics today has been taken over, to a very large extent, by Jewish influence, and I believe it is going to get worse."
"Bill Cork often portrays me as a Nazi sympathizer and claimed in his first essay (2002) that I would have put his kids in a gas chamber!"
"Yes, my interpretation of Leo was incorrect, and I have since corrected it long before Mr. Douglass pointed it out. All he had to do was read my latest essays on the subject. But the point still remains: there is no consensus of the Fathers on the conversion of the Jews, and there wasn't any consensus in the Middle Ages as well, that is, if we define consensus as Church teaching tells us. Moreover, if he believes that the consensus of the Fathers requires us to believe what they taught, then his colleagues (Palm, Forrest, Michael, Shea, et al.) are required to believe in Geocentrism without question, since, as even St. Robert Bellarmine said to Galileo, the Fathers were in consensus that the earth was immobile."
"I've been through Mr. Michael's so-called consensus. There is no consensus, but he is too biased to see it. A consensus is when ALL of the Fathers of a large number of Fathers who wrote on a certain point of doctrine agree on that doctrine, not when, perhaps, a half-dozen or so have similar ideas."

These are only a few quotes from Sungenis who begins, "I'm mad, and I'm not going to take it anymore." Recall Sungenis wrote the books, Not By Faith alone and Not By Scripture Alone. Perhaps the next title will be Sungenis: All Alone.


20:37:10 - Category: Roman Catholicism - Link to this article -

Counterfeit Christianity: The Basics
03/26/2007 - Jeff Downs
Two weeks ago I began teaching on the topic "A Biblical Approach to Christian Counterfeits." This is an introductory course that will end up being 12 weeks total. Since the issue of methodology is currently a hot topic, this week and the following two weeks is devoted to this issue. I am presuppositional in my apologetic methodology and therefore trying to apply this to Christian counterfeits. Frankly, there isn't much theoretical material from our camp dealing with cults and world religions.
Here are Word docs for the first and second weeks, which include an outline and a bibliography. If you'd like to offer some feedback go here.
While most of you who read this blog probably will not get much out of what I'm doing (i.e. you been there, done that), I still hope it is beneficial to the body of Christ.
BTW: I am putting together another edition of the Countercult Apologetics Journal which I hope to go live with by July (if not earlier). I already have some great articles either in hand or lined up on Jehovah's Witnesses, Mormonism, the Trinity, Islam, and more.
I am looking for additional articles and book reviews, so if you are interested contact me.


17:26:51 - Category: Misc - Link to this article -

An Inquiry
03/26/2007 - James White
Dear Mr White I am a young pastor. I was raised by a Calvinist father until he fell away from the faith. As a late teen I turned to Christ after years of hedonistic living and repented of my sins and sin wile trusting in Christ. I have continued to this day for 12 years and have seen God move in my life, answer when I call and discipline me as well. I also abhor myself in regards to my complete wickedness apart from God's mercy now more than ever. However, I do not currently hold to Reformed Theology. My concern is this. As I continue to study and read material I find no end to this subject. Logically from all the argumentation that I read on this site and elsewhere, it seems to follow that anyone who does not believe in Reformed theology is not truly saved. Is this truly what you believe?

Dear Pastor KC:
I would honestly like to ask you where you derived, from anything on aomin.org, this idea? Where have I even once said "the non-Calvinist is not saved?" I know where I have in fact attacked perfectionists and hyper-Calvinists (such as here), but I would be very interested in seeing which articles you think promote such an idea.
I suppose it is possible that you believe that since I have firmly stated that non-Reformed views, no matter what their character and history, are sub-biblical, and hence tend toward diminishing God's glory and exalting man, and likewise introduce inconsistency into one's theology and therefore one's apologetics, that this means I think anyone holding such views is not a Christian, but such would surely be a major error of reading and thought. You can believe someone sub-biblical and inconsistent and not banish them from the kingdom because, obviously, unless we are going to claim perfection in our theology, each of us is functionally sub-biblical in this lifetime.

Could I be lost after years of a changed life and seeing more of Jesus and falling in love with Him while He works in my life all because I do not know Greek and can't come to a perfect exegetical understanding of several key passages. Do I have to trust someone like yourself as my "high priest of Greek."
Of course you could be lost, since I do not have the slightest idea who you are, and in this life we do not yet see as we shall see someday. But such is hardly the point. I must admit, it is hard not to see some intended offense in the phrase "high priest of Greek." Do you not wish to be fully equipped to respect God's Word by handling it aright? It almost sounds like you are indicating there is something wrong with investing your life in becoming equipped to study the Scriptures and to do in-depth exegesis. But what is more, if you are as in love with Jesus as you say, and I am not questioning that you are, the logical outcome of that love would include a deep and abiding respect for His Word, and a desire to know Him better. It would seem that loving Jesus is not antithetical to exegesis, but instead, it provides the ground for making the sacrifices necessary to be able to handle the Word aright so as to show it the respect due to Christ. Don't you think?
You say you haven't come to a perfect exegetical knowledge of certain passages. What does that mean? If it means "I still do not understand key texts but am open to continued study" that's one thing. If by that you mean "I can't refute what you say about John 6:37 but I will keep looking for a way around such texts," that's a completely different matter.

Doesn't that take away one of the goals of the Reformation in the first place which as to put the scriptures in the hands of every man.
Not at all. None of the Reformers dismissed the need for in-depth study of the Word of God. But they likewise recognized that the pastor, the bishop, the leader of God's people, needs a large "tool box" than the layman at the plow. It takes scholars to provide accurate translations in the language of the people, for example. And when traditions of men hide behind falsehoods ("All means all and that all all means!") reference to the original languages is often quite useful. When Hebrews tells us Jesus Christ died "once for all," in English that could be taken temporally (once for all time) or in an expansive sense, once for all men (individually or generically). But their is no ambiguity in the original (it is temporal).

I am sincerely asking as a fellow believer because of the confusion that this argument has created in my own mind and heart, and those around me, for years. Is it possible at all that this can fall into the category of "seeing through a glass dimly", (1 Cor. 13), and "things to profound for me" (psalm 131). I hope so, because I truly believe the Lord has rescued and redeemed me, but can't seem to even make myself believe what you believe in regards to Reformed thelogy. If you have a pastor's heart as well as a theologian's please respond.... IN Christ KC
Well, KC, I confess, I am less than fully confident that you truly understand the issues here, especially in light of how you started.
I would recommend to your reading one of the finest books on the topic, the one that turned me from a reluctant Calvinist into a passionate one, RC Sproul's, Chosen by God. Sproul's conversational style would surely not cause you to refer to him as a "high priest of Greek" (though his passion for Latin might conjure up a few other terms). It, along with The Holiness of God, provides a wonderfully balanced introduction to this vitally important topic. We make the book available through our book ministry now, here. I have a somewhat similar work, also in our book ministry, titled God's Sovereign Grace.

This work is likewise fairly conversational, and is meant to provide a biblical and theological introduction to the doctrines of grace, but with a little extra element of apologetic response included.
Now, Norman Geisler decided to respond to Sproul's work without directly indicating he was doing so in his book, Chosen But Free. CBF is a tremendous example of how tradition can blind the brightest of minds to basic biblical truths, leading to basic, fundamental errors. I replied to CBF with The Potter's Freedom. If you find give and take, argument and counter-argument, useful in illustrating truth, then TPF would be for you. If you do not, you might wish to stick with Chosen by God. In any case, I hope these few thoughts are useful to you.


16:42:02 - Category: Mail Bag - Link to this article -

Porvaznik Perfidy and Matatics Mendacity Documented
03/26/2007 - James White
The responses we have been receiving from posting video clips have been truly amazing. Most folks really enjoy them. Those on "the other side" do not.
Recently I noted the words of Gary Michuta over at the Catholic Answers Forums. I did a little search yesterday, and ran across a fascinating thread here. I do find it intriguing to see how folks filter what they see. The bias and prejudice is deep, but then again, they are discussing the Stravinskas clip, and it was at that same debate that a group of young RC apologists had been standing around afterward saying, "Oh, when Father Stravinskas was speaking, you could just feel the truth flowing from his words, but when White got up, you could see the demons dancing around his head." Not much you can do about bias that is that deep, prejudice that is that strong. Thankfully, even that is no match for the Holy Spirit of God, as the number of former Roman Catholics can testify.
In any case, as you read through that thread, you will note a number of interesting items. First is the ever-present, but never able to actually stand up for himself, Phil Porvaznik. Porvaznik's role in life is to assure folks that even when the Roman Catholic loses a debate with me, it really does not mean anything, because all you have to do is go read these five hundred pages of Internet postings on irrelevant topics and you'll see why you should remain a Roman Catholic and forget what you just saw happen when a Catholic priest with two Ph.D.'s could not answer the most basic, pointed exegetical questions about the key text on purgatory. "Oh, Sungenis did better, just go listen to him." Porvaznik knows he could never defend himself in debate, so he doesn't bother. If he thought he could, he knows our toll free number, but alas, we never hear from ol' Phil.

For a while I considered Phil a mainly harmless young fellow who would eventually grow up, get a job, and move on. But that hasn't happened. Instead, we are constantly having to remind Phil about things like copyright laws, pirating video and audio that doesn't belong to him, etc. And then we have this clip, which, of course, he posted as soon as possible in the thread to which I referred above. It is a tiny portion of the cross-examination from the 5/22/1997 sola scriptura debate with Gerry Matatics on Long Island. Phil knows he is being dishonest here, and he simply does not care. He even has the temerity to assert that in this clip "White concedes defeat." Taking twenty seconds out of a 2+ hour debate, isolating it even from the immediate context before and after, and presenting it like this only shows the bankruptcy of the Porvaznik style of "apologetics" which really only exists to do one thing: confirm people in their error. Porvaznik knows that kind of behavior will not impact anyone who is seriously studying the issue. He does not care about those folks anyway. His target audience is the Roman Catholic who is in danger of actually, for the first time, listening to the other side, and hearing the criticisms of Rome's authority claims that he well knows he cannot defend. His task is to shut down the critical thinking process before it begins. Salve the mind, calm the conscience, assure the follower of Rome that all is well, and oh, isn't the Pope a wonderful guy, and oh, look over here, isn't St. Peter's just gorgeous? Distract and derail. ...
[Click Here to Continue Reading]


00:01:00 - Category: Roman Catholicism - Link to this article -

Predestination in Islam: A Reformed Critique
03/25/2007 - Colin Smith
Over the last couple of blog entries, I have briefly examined the doctrine of Qadar, or Predestination, in Islam. In the first article, I defined the doctrine as taught in the Qur'an and the Hadith. Then, in the second, I presented Dr. Norman Geisler's critique of the doctrine from his Arminian viewpoint, and also offered an analysis of this approach, pointing out the problems I have with it. In this final installment, I will offer a critique of the doctrine of Qadar from a Reformed perspective, and demonstrate that it is not the idea of God having exhaustive sovereignty that is the problem with the Islamic view.



The Problem with Qadar
As I indicated last time, the idea of God's sovereignty over all creation, even to the final destination of one's eternal soul, is a Biblical concept, and I presented some passages that demonstrate this. To these could be added passages such as Romans 9, Acts 13:48, and Psalm 139, which further show that all things in life are under God's eternal decree, including salvation.
When someone such as Norman Geisler addresses this subject, given his predisposition to reject any notion of God's sovereignty that would appear to rob man of his free will, he tends to ignore a lot of the Biblical evidence for Predestination, and simply rejects the concept, using many of his well-worn Arminian counter-arguments. As we saw last time, however, many of these arguments fall flat because he is ignoring important passages that the astute Muslim could easily throw back at him, leaving him in a position of having to refute both Islamic and Biblical ideas of the sovereignty of God while trying to defend his Arminian position upon very shaky theological ground. In other words, Dr. Geisler's Arminianism blinds him to the fundamental problem with the Islamic doctrine of Qadar. It is not the fact that God is able to decree a man's path and predetermine his final destiny that is the major theological problem with the Islamic view; rather it is the fact that God appears to do this without any reason or motive for so doing. Why does God choose to send one man to Paradise and another to Hell? According to the Muslim, because He wants to. How can the Muslim be assured that God has not decreed that he will suffer in Hell at the end of his life? Ultimately, he can't. He can hope that any good he has done is as a result of God's intention to give him eternal Bliss, but he cannot know for sure that God might snatch that from him at the end. If there is no rhyme or reason to why a man goes to Heaven, why should there be one for sending a man to Hell?
There is a concept in Islam of man's "natural inclination," which is called fitrah. At birth, each person's fitrah is pure, free from erroneous ideas, and ready to take in sound teaching. However, soon after birth, this fitrah is corrupted by jinn (spirits that tend to lead a man to sin) and devils. God will intervene and protect and guide those He wishes to lead ultimately to Heaven, and simply leave the rest to be led astray by the jinn and the devils (though he guides the path of these people too, to make sure they don't suddenly decide to resist these temptations and seek out paths of righteousness contrary to His decree for their lives).
This idea of fitrah is clearly far removed from the Biblical idea of Original Sin. The Bible teaches that as a result of Adam's transgression in the Garden of Eden, sin entered the world and caused Adam and his progeny to experience spiritual death (Romans 5:12). As a result of this, every person is born with a natural inclination to sin (Romans 3:9-18). It is this natural inclination towards sin that results in every person being under God's just wrath, and subject to final and eternal punishment in Hell (Romans 1:18-32). So, rather than man being born in a neutral state that God either preserves or corrupts according to what final end He has decreed for that man, Biblically speaking, man is born in a corrupt state, subject to the full wrath of God against his sin, and dependent upon God's mercy in Christ to save him. ...
[Click Here to Continue Reading]


00:01:00 - Category: Islam - Link to this article -

The Infallibility Shuffle
03/24/2007 - James White
Sometimes you are tempted to feel sorry for those stuck trying to defend the concept of the infallibility of the Church of Rome. You have to slay your mind upon the Altar of a Thousand Qualifications on a regular basis. We saw this with Gary Michuta telling us that when it comes to whether certain Scriptures are inspired and canonical, he will remain "silent," as the church is "silent"---infallible silence! There's an interesting concept.
The 2005 debate with Bill Rutland likewise produced tornadic Roman Catholic apologetic activity. Spin. Fast spin. And that of necessity, since what Rome has taught about Islam, infallibly, has changed so radically of late. Since I make reference to them in this period of cross-examination, here are sections 841 and 1260 of the CCC:

841 The Church's relationship with the Muslims. "The plan of salvation also includes those who acknowledge the Creator, in the first place amongst whom are the Muslims; these profess to hold the faith of Abraham, and together with us they adore the one, merciful God, mankind's judge on the last day." [330] [330 = LG 16; cf. NA 3.]
1260 "Since Christ died for all, and since all men are in fact called to one and the same destiny, which is divine, we must hold that the Holy Spirit offers to all the possibility of being made partakers, in a way known to God, of the Paschal mystery." [62] Every man who is ignorant of the Gospel of Christ and of his Church, but seeks the truth and does the will of God in accordance with his understanding of it, can be saved. It may be supposed that such persons would have desired Baptism explicitly if they had known of its necessity.
[62 = GS 22 # 5; cf. LG 16; AG 7]
It would be good to note Nostra aetate 3 as well:

3. The Church regards with esteem also the Moslems. They adore the one God, living and subsisting in Himself; merciful and all- powerful, the Creator of heaven and earth,(5) who has spoken to men; they take pains to submit wholeheartedly to even His inscrutable decrees, just as Abraham, with whom the faith of Islam takes pleasure inlinking itself, submitted to God. Though they do not acknowledge Jesus as God, they revere Him as a prophet. They also honor Mary, His virgin Mother; at times they even call on her with devotion. In addition, they await the day of judgment when God will render their deserts to all those who have been raised up from the dead. Finally, they value the moral life and worship God especially through prayer, almsgiving and fasting.
All of this should be read in light of the Council of Florence from 1442 (Denzinger 714):

It firmly believes, professes, and proclaims that those not living within the Catholic Church, not only pagans, but also Jews and heretics and schismatics cannot become participants in eternal life, but will depart "into everlasting fire which was prepared for the devil and his angels" [Matt. 25:41], unless before the end of life the same have been added to the flock; and that the unity of the ecclesiastical body is so strong that only to those remaining in it are the sacraments of the Church of benefit for salvation, and do fastings, almsgiving, and other functions of piety and exercises of Christian service produce eternal reward, and that no one, whatever almsgiving he has practiced, even if he has shed blood for the name of Christ, can be saved, unless he has remained in the bosom and unity of the Catholic Church.
Yes, yes, I know...I have seen very long papers written to attempt to make all of this hang together, and that is my point. When you have to depend upon all sorts of very fallible, contorted, twisted reasoning to hold the "infallible" stuff together, what good is it?



00:01:00 - Category: Roman Catholicism - Link to this article -

Witnessing to Muslims--an Important Point to Remember
03/23/2007 - Colin Smith
On Thursday's Dividing Line, Dr. White made an important point that I would like to briefly underscore. He mentioned the fact that there are those who might fear witnessing to Muslims because they seem so set in their religion, and often appear to be very militant about their views. Islam is often portrayed as a "hard" religion to evangelize, and there is truth to the fact that since most Muslims are raised in their faith, there are family and societal pressures upon them to remain in the faith. However, we need to remember that before God there is no difference between a Muslim, a Mormon, a Buddhist, a Jehovah's Witness, a Roman Catholic, a Scientologist, an Atheist, or any other non-Christian religious group: they are all sinners in need of a Saviour. The devotees to each of them are trapped within a religious or philosophical system through which they cannot deal with their sinful condition, and they all, therefore, stand condemned before God on that basis.
It is true that conversion to Christianity is a much more life-threatening prospect for the Muslim than for most other groups, however, especially in the West that is not necessarily the case. We are blessed by God that (at least at the moment) our countries are not governed by Islamic Law, and so the dire consequences Muslim converts might face in Pakistan or Saudi Arabia would not necessarily apply. Yes, even in the West Muslims may still try to impose the penalties of Islamic Law against those who commit crimes against Islam (witness the recent ruckus over the cartoons of Muhammad, for example), but these attempts run contrary to Western laws, not in accordance with them.
Also remember that God is sovereign, and there is no heart too stoney that He cannot turn it to flesh. Salvation belongs to Him, and if He intends to bring the gift of repentance to someone, His work will not fail. He will use whatever means He sees fit (including your evangelistic efforts) to bring His people to a knowledge of Him, and these people come from "every tribe and language and people and nation" (Revelation 5:9), which includes the Middle East.


19:48:58 - Category: Islam - Link to this article -

On Pots Demanding Evidence of the Potter
03/23/2007 - James White
A number of years ago I wrote a little tract on atheism. I included it in the new tomb book given the prevalence of naturalistic materialism in the worldviews of those involved with the Tomb theory. I addressed the issue of "evidence" in the following manner:

Take the issue of evidence as an example. You claim you find no evidence for the existence of God. I claim there is a great deal. If what I have said is true, then you have basically set yourself up as judge, jury, and prosecuting attorney in the case of Me vs. God. Though you certainly have no right to act as judge of God, being His creation, you do so anyway. Since this is obviously an act of rebellion, then you must commit a good deal of energy into making the whole thing work. So, you demand of God (or of those who would speak to you of Him), "Show me the evidence! I shall judge!" Though it is not your position to judge anyway, you demand the evidence all the same. Now, if you were to allow into evidence anything that would demonstrate the existence of God, you would, by default, be letting go of the thing you hold most dear: your autonomy, your independence from God. You would have to step down from the judgment seat and take your proper position as the created being rather than the independent judge. So, to avoid this plight, you simply dismiss any and all evidence that could in any way cause you to have to recognize the existence of God. Despite my providing you a lengthy list of evidences for God, my efforts would be in vain. "Case dismissed for lack of evidence" would be your verdict.
Almost as if it was meant to be a confirmation of what I said, I received the following e-mail today from, obviously, a fundamentalist atheist:

If you claim without proof that God exists, you're a liar. I offer $100,000 for proof God exists. If you lack the courage to seek proof, you're a coward. If you teach children that God exists, you're a child abuser. You abuse the education of children with lies. You're a child molester. You molest the minds of children with fraud. You induce children to become victims of criminal fraud for life. If you force children to pray to "one nation under God," you are a criminal violator of children, not a patriot. If you take money based on claims about God, you are a thief committing criminal fraud. If you build power based on claims about God, you are a fraudulent political criminal. To learn more about this challenge, see www.GodsReward.com.

When you go to the website and look under "evidence," you will find the perfect fulfillment of the mindset I referred to above: "As payer of the reward, I reserve final judgment for acceptability of the proof." Yes, something tells me that $100,000.00 is quite safe, very safe indeed.


12:00:00 - Category: Christian Worldview - Link to this article -

On How Time Heals All Wounds
03/23/2007 - James White
As most of you know, I have recently gained the knowledge and ability to capture and post video. With very few exceptions, folks have really enjoyed the clips. They do take a while to record, upload, etc., but they seem to be worth the effort.
As a result, I have been seeing some debates on tape or DVD for the first time. I do not sit around reviewing old debates. I suppose I probably should review a debate as soon as the video is available, but I have never gotten into that habit. I figure the debate should stand on its own, and unless there is some very compelling reason to go back and comment on one, I figure those who listen to them, and view them, get to make the final decisions. I don't need to try to prejudice the audience.
Of course, I have my critics who are always spinning things about the debates. One young guy set up a camera in his bedroom recently to record replies to the Sungenis/Mass debate clips I played. Patrick Madrid continues to spin an almost fourteen year old debate on sola scriptura on his website. I saw a comment from someone who had listened to the debate, read Madrid's horrific post-debate article, "The White Man's Burden," and then frankly admitted he could not bring himself to read my reply.
A few days ago TQuid directed me to a comment by Gary Michuta posted on the Catholic Answers Forums. I debated Mr. Michuta on the subject of the Apocrypha back in 2004. To be honest, I have not thought much about that debate since then. I have written next to nothing about it here on the blog. We made the DVD's available, the mp3's, etc., and I have been more than content to just let the debate speak for itself. I do recall Michuta writing something fairly shortly after the debate, but I have no recollection of even responding to it.
In any case, Michuta was commenting on an issue that came up in cross-examination. I had forgotten that Michuta had raised the novel idea that there really is no contradiction between the canon lists promoted by Augustine at Hippo and Carthage and that of Trent. Yes, they differ, but you see, that was because Trent was just being "silent" about the differences. I found no merit in that argument when he presented it, and have no reason to change my conclusion today, either. The idea that Trent was just passing the differences over in silence assumes they even knew the differences in the first place. But the idea that Trent was acting in some restrained manner while not even addressing the topic would require a massive leap of faith that only a...Roman Catholic apologist could make. I would like to see the discussions at Trent over this topic. I would need to see the council members discussing the difference, specifically referring to the differences between the LXX and the Vulgate text, and saying, "We will leave this matter undecided." I am more than open to seeing that documentation, if he would like to provide it. Of course, all that would prove is that Rome has a long history of claiming infallibility without knowing what to do with it, but that's another issue. First things first.
Now, while it is interesting, and useful, to note these things, I found the accompanying commentary by Michuta most interesting. In the clip I am posting below, three issues were addressed. One, the Trent/Hippo topic, next, Leo X's approval of the Complutensian Polyglot (with its comments rejecting the Apocryphal books), and then the issue of the glaring historical errors in Judith. I believe that the majority of folks would find Michuta's replies on all three issues significantly less than compelling. In fact, I can detect laughter at one point. I mean, saying you will not respond to my question in the fashion he did does not comprise a weighty form of argumentation. The facts are the facts, Nebuchadnezzar did not reign in Ninevah, and it is hardly worthwhile to appeal to some kind of presuppositional argument about the inspired nature of a book when you are debating whether the book is inspired or not, and, a good deal of evidence was on the table opposing its inspiration, including the testimony of men from the earliest days of Christian history to the time of the Reformation. Now, I do not need to opine that I was "embarrassed" for Mr. Michuta at this point. That kind of rhetoric I find useless, and besides, it distracts from the real issues. But Michuta has now stated, "I was a little embarassed (sic) for James because it appeared that he didn't really look into the question very closely." Thankfully, there were video cameras and audio recording equipment present at the time. How useful they are in helping us deal with how time warps our memories! I don't know about you, but Gary doesn't look like he's feeling overly embarrassed for me during this exchange. Let the viewer decide:

This DVD available here (#516)


09:30:30 - Category: Roman Catholicism - Link to this article -

Predestination in Islam: Dr. Norman Geisler's Critique
03/23/2007 - Colin Smith
In the previous blog, we looked at what the Qur'an and the Hadith teach with regard to the doctrine of Predestination (Qadar), and we saw that the notion of God's absolute sovereignty is, indeed, supported there. Further, we saw that Islam teaches that God's decree extends to all creation and all that happens, even down to the final destination of each human soul; and God will so direct the paths of each man's life so that he will earn the destiny to which he has been ordained.
In his book Answering Islam: The Crescent in the Light of the Cross, co-written with Abdul Saleeb, Dr. Norman Geisler provides a critique of this teaching (pp. 140-145 of the first edition). Norman Geisler is well-known to listeners of The Dividing Line and those who have followed this website over the years, since it was his criticism of Sproul's book Chosen by God, entitled Chosen But Free, that provoked Dr. White to write The Potter's Freedom. Geisler is solidly Arminian in his theology, and has attacked Reformed doctrine, particularly Calvin's Five Points, in various fora, always with the same misunderstandings and misrepresentations as detailed in Dr. White's book. As with most Arminians, Geisler holds to the idea that God has chosen an undefined group of people that will be saved, but, even though He loves all men equally and desires each one to be saved, He has given each man the ability to choose whether or not he will belong to that number. God provides His Church, His Word, and many evidences of His existence to all creation, and extends the offer of salvation to all of fallen mankind through the shed blood of His final and greatest gift: His Son, who sacrificed Himself on the cross for every person who has and ever will live. However, it is up to each sinful man to accept God's offer in order to be saved. If man does not accept, then he will have consigned himself to eternal punishment, despite God's loving efforts to save him. If he does accept, that man is welcomed into Heaven when he dies.
After seeing what Islam teaches with regard to Predestination, it comes as no surprise to learn that Dr. Geisler takes issue with the Muslim view. In this blog, I want to take a few moments to see how Geisler goes about critiquing the doctrine of Qadar, and to provide a counter-critique. My counter-critique is by no means in defense of the Muslim position, but to illustrate how Geisler's own theological position has weakened his apologetic response.



Critiquing Qadar: The Geisler Approach
Dr. Geisler breaks his critique of the doctrine of Qadar into four categories: the logical problem, the moral problem, the theological problem, and the metaphysical problem. The logical problem he sees with Qadar is the fact that the Qur'an depicts God acting in contradictory ways, and describing Him in contradictory terms. "For example, God is 'the One Who leads astray,' as well as 'the One Who guides.' He is 'the One Who brings damage,' as also does Satan" (p. 141). He finds the Muslim response that these contradictions are not part of God's essence but expressions of His will to be "inadequate." As Geisler points out, one's actions flow from one's essence. In other words, a rational person acts in a way that is in character with who he is. That being the case, the God of Islam would be a God of contradictory essence.
The moral problem, according to Dr. Geisler, is simply that Islam's "extreme determinism" robs man of moral responsibility for his actions. Since God ordains a man's path, and causes him to act in ways that lead to either Heaven or Hell, God is unjust to condemn man for sin over which man has no power. He claims that the attempts by Muslims to deny this only work if they are willing to distort what the Qur'an plainly teaches.
Geisler's theological problem with Qadar is that, since in Islam God wills both the faith of the believer and the unbelief of the unbeliever, God is thus made to be the author of evil.
Finally, the metaphysical problem Geisler sees is in the fact that this concept of absolute sovereignty has led to the idea that since God's will is the only will, then God is the only one who actually acts: the rest of creation is passive, waiting for God to move. Further, some have suggested that if no-one but God has the ability to act, then nothing else has true being but God. This has led some mystical Islamic sects to seek the annihilation of one's individuality.

00:01:00 - Category: Islam - Link to this article -

Today on the Dividing Line
03/22/2007 - James White
Today I rambled, basically. Mainly focused on the cruise, the debate with Shabir Ally, and then continued his presentation on the subject of the death of Christ. Here's the program (free/high quality).


22:11:36 - Category: The Dividing Line - Link to this article -

Shabir Ally Debate Page
03/22/2007 - James White
Don't forget to make your plans to be in Seattle October 19th for the debate with Shabir Ally! For those who have been asking for a more details, here is the official website for the debate. I will be playing clips from Shabir on the topic today on the DL.
Well, maybe...


This is what my radar program on my desktop is showing me, and that line of storms is moving due north. So, should you tune in today and get dead air, it might be due to lack of electrical power!
Finally, Jay Adams was kind enough to read through From Toronto to Emmaus, and wrote,
"James White has done it again. This timely book handles the infidel ravings of people dedicated to destroy Christianity with care and precision. It is a devastating refutation of an outrageous claim."
14:33:07 - Category: Islam - Link to this article -

3 Steps to Reviewing and Improving NT Greek Grammar and Vocabulary
03/22/2007 - Alan Kurschner
Learning New Testament Greek comes by hard work and consistency. For those who know Greek, the following two links are guides, not just to stay on top of your Greek, but to improve it as well. The 3 steps may seem at first like a mechanical process, but that is because they should be. But donít fret because after some time these steps will become second nature, and you will not even be conscious of doing them.

The translating that I advocate is quality over quantity. Gone should be the days when Greek students rip through a Greek epistle (speed reading) by simply rendering verses without giving any thought to grammatical reflection. All that does, in my opinion, is increase your vocabulary a little moreósomething that would happen in due time.

I trust the following guides will be helpful in managing your language studies.

3 Steps to Reviewing and Improving New Testament Greek

A Method of New Testament Greek Vocabulary Acquisition


14:15:00 - Category: Exegesis - Link to this article -

See, I'm Actually Human!
03/22/2007 - James White
If I believed 10% of what I can read about myself on the Internet, I would have nothing to do with me! So to prove that I am actually human, here are two clips from two different debates that demonstrate that when your opponent is a nice person, debates can be useful, respectful, and in fact, moments of true humor can spontaneously occur.



13:13:51 - Category: Personal - Link to this article -

Alister McGrath, Justification, and Theological Novums
03/22/2007 - James Swan
Alister McGrath was recently on the Bible Answer Man Show. A caller asked McGrath to clarify his position on justification, because a friend was converting to Eastern Orthodoxy from a Reformed church. This convert was citing McGrath's book, Iustitia Dei: A History of the Christian Doctrine of Justification. McGrath is cited as proof the Reformers invented justification by faith alone.
McGrath clarified his position on the Bible Answer Man show. McGrath states justification has been debated throughout church history. He also stated, "the Reformation represents a rediscovery of what justification is all about."
likewise, Roman Catholics frequenty quote this book as proof Luther introduced a "theological novum" into the history of the Western Church. Using McGrath is supposed to prove the Reformers deviated from the historic and apostolic Catholic understanding of justification, and a Protestant scholar (McGrath) admits it. Implied in this argument is the proposition that the Roman Catholic Church received her understanding of justification from the Apostles, and subsequent Church history records the passing on of its understanding to the Church Fathers, and then ultimately to its dogmatic proclamation at the Council of Trent.
If you have a Roman Catholic or Orthodox friend citing McGrath's book, ask him what McGrath's position is on Augustine. McGrath sees Augustine's view of justification as pivotal to the development of the Western church on this doctrine. McGrath notes, "For the first three hundred and fifty years of the history of the church, her teaching on justification was inchoate and ill-defined (Iustitia Dei, p.23). Augustine's view was similarly a theological novum. Who previous to Augustine understood the term exactly the way he did? So the same thing Roman Catholics accuse Luther and the Reformers of can likewise be applied to Augustine. Using McGrath's book as an argument against the Reformers is an example of a double standard, and also not reading carefully.
There is also a further problem of Catholic apologetic double standards. The Catholic apologists assume Trent was following the tradition of the church, and there was no teaching of faith alone previous to Luther. In other words, Luther invented justification by faith alone. It didn't exist until Luther. It can't be verified in church history. It cant be true. On the other hand, when the same historical standard is applied to certain Roman Catholic dogmas like Mary's bodily assumption, Purgatory, or indulgences, this same historical standard is swept under the rug and hidden. One has to seriously question why a standard Catholic apologists hold Protestants to is not likewise applied to their own beliefs. Wade through the corridors of church history and search for the threads of all Roman Catholic dogma. One falls flat linking many of them back to the early church and then to the ultimate rule of faith, the Bible.


11:04:36 - Category: Roman Catholicism - Link to this article -

Prejudging and Missing the Point
03/22/2007 - James White
Mark, an anonymous poster over on TQuid's blog, has commented about From Toronto to Emmaus:

I've been reading your blog for a little while now and appreciate some of the stuff you do. This probably doesn't go in this comment box, but I'm not sure where else to put. I know that you are associated with Mr. James White, and I just have a quick question about something he is doing. While I completely agree with his position regarding the tomb controversy, what is the deal with his new book. He is supposedly publishing a scholarly, well-research book of 160 pages after writing for a grand total of 15 days. I appreciate a lot of the stuff that he does, but how can anyone take him seriously when his book is written in such a ridiculously short time. Anyone who has written a scholarly book knows that these things take months, if not years to fully research and write. Can you possibly explain why he would do something so silly as write a "scholarly" work in 16 days. This book will only serve to make non-Christians view Christians as even more ridiculous than they already do. It kind of makes me wonder how long he spent researching and writing those other books. Anyway, thanks for what you do and for the input.
It would be nice to think someone might actually read the book, but that's the way things go. I was falsely accused by an LDS scholar of pre-judging Peterson's new book on Muhammad, for example, when I had only indicated I had ordered it (it arrived two days ago) and would be reviewing it when it arrived, and that I would find it interesting to read an LDS take on Islam (let alone one published by Eerdmans).
In any case, Mark has missed the point. Yes, the book was written in a very brief period of time. However, has he read The Jesus Family Tomb? I did. Does he know what areas of study a response to it would involve? If he has read it, he would know it would involve the following: church history, Second Temple history (first century Palestine), Gnostic literature, Greek, Hebrew, DNA analysis, statistical analysis of names, ossuaries, and general apologetics information. My library already contains a great deal of information relevant to the topic, including the TLG CD-ROM, for example, the early church fathers, all the major Gnostic works, etc. What I did not have, I obtained. A&O spent hundreds of dollars on original resources. Folks were sending me scans from very difficult to obtain sources in major libraries across the country within the first few days of the work. ...
[Click Here to Continue Reading]


07:58:40 - Category: Tomb Issues - Link to this article -

Priesthood Debate with Mitch Pacwa
03/22/2007 - James White
I have done five debates with Mitch Pacwa over the years (starting in January, 1991--those two debates were video recorded, and I'd love to show you clips, but the Roman Catholic side--not Mitch Pacwa personally--have the tapes and have never made them available). Each one has been very useful, respectful, and focused, unlike...the Sungenis debate on the Mass. Here is a portion of the cross-examination portion of the debate. Note that Pacwa refers to himself as an "alter Christus," "another Christ," and says he is "married" to the Church. Also notice the amazing statement that the biblical evidence for the priesthood is equal in clarity to that for the Trinity itself. This truly took me by surprise, especially given the character of the biblical evidence that was offered. You will note the little vocal Catholic ladies in the front row decided to get involved in the debate at that point. They were vocally participating all along. I will post more from this debate soon.

This debate is available in mp3 format (#453), but the DVD still needs to be produced.
Some of the future debate clips represented by the tapes and DVDs on my desk at the moment include the debates on Inclusivism, the Apocrypha, and the Madrid debate on the veneration of saints and angels.
Finally, you will note that I posted this on "GodTube.com" rather than "YouTube." I had never heard of the website, and am testing it for reliability. Obviously, I figure I have a slightly better chance to not get bounced from this website than from YouTube, given the controversial nature of what I post. But, you never know. :-)


06:56:23 - Category: Roman Catholicism - Link to this article -

Predestination in Islam: The Doctrine Stated
03/21/2007 - Colin Smith
One of the major beliefs about God held by the majority of Muslims is that of His absolute sovereignty. This concept is unavoidable for Muslims since it is explicitly taught in the Qur'an. For example:

To Him [Allah] is due the primal origin of the heavens and the earth: When he decreeth a matter, He saith to it: "Be," and it is. (2:117)
Allah doth blot out or confirm what He pleaseth: with Him is the Mother of the Book [Umm al-Kitab, the "book" in which Allah has, supposedly, decreed all things]. (13:39)

And Allah did create you from dust; then from a sperm-drop; then He made you in pairs. And no female conceives, or lays down (her load), but with His knowledge. Nor is a man long-lived granted length of days, nor is a part cut off from his life, but is in a Decree (ordained). All this is easy to Allah. (35:11)

Whom God does guide,-he is on the right path: whom He rejects from His guidance,-such are the persons who perish. (7:178)


It follows logically from the above that Islam would have a concept of Predestination, and indeed it does. The Arabic term for this is Qadar, which has a semantic range that encompasses ideas of "decree" and "ultimate destiny." This being the case, it should come as no surprise that, just as within Christianity, so in Islam, there are those that embrace the idea of God's absolute control and decree over all elements of the universe, and those who struggle with it and try to find middle ground between what the Qur'an and the Hadith say with regard to God's hand on all events, and human free will. However, the many ayat in the Qur'an, along with many sayings quoted in the Hadith (e.g., Tirmidhi, 4/445, hadith no. 2135; Muslim, 4/2040, hadith no. 2648; Bukhari, Fath al-Baari, 11/477, et al.) seem to affirm the idea that nothing, even the destiny of the soul after life, is outside of God's control.



What the Qur'an and the Hadith Teach about Predestination
In essence, Islam teaches that God is the Creator of all things, and it is He who has ordained all that will happen. When a person is conceived in the womb, God writes the path of that person's life, so it cannot be anything other than what God has decreed. God will then so order the man's life and draw him toward good deeds or evil deeds so that he may be properly judged according to his conduct and, at the end of his life, receive the just reward for the life he has lived: Paradise or Hell. In the course of his life, the man may be tempted by jinn, which are spiritual beings that are supposedly morally neutral, but have a tendency to draw people into sin. However, his ultimate end has been decreed by God, and the balance of his life, whether he has succumbed to sin more than he has striven for good, has also been planned and decreed by God.
This is, of course, a very brief statement of the concept without the nuances and explanations that would normally be provided by the Muslim theologian to try to blunt the harsh edges of what this says. Historically, objections have been raised within the Islamic community along the lines of "if God has so decreed every aspect of my life to the very end, why should I strive? What's the point?" and "if God is able to decree anyone to Paradise, then isn't God unjust if He does not decree all to Paradise?" In response to these objections, the Muslim theologian might suggest that God decrees both the means and the ends, so one cannot help but strive, even though God has decreed the result beforehand. God does not force one to act, because He so affects the desires of men that they will want to act in the way God ordains:


Verily, (the ends) ye strive for are diverse. So he who gives (in charity) and fears (Allah), And (in all sincerity) testifies to the best,- We will indeed make smooth for him the path to Bliss. But he who is a greedy miser and thinks himself self-sufficient, And gives the lie to the best,- We will indeed make smooth for him the path to Misery; Nor will his wealth profit him when he falls headlong (into the Pit). Verily We take upon Ourselves to guide, And verily to Us (belong) the End and the Beginning. (42:4-13)


To the accusation that God is unjust to punish any when He could ordain all men to Paradise, one response is that if mercy belonged to man and God stole it from him, that would be unjust; but mercy belongs to God and He is free to distribute it however He wishes.
Ultimately, though, Muslims are not encouraged to dwell too deeply on the subject of Qadar, since it involves speculation in things that only God knows. Instead of becoming concerned with questions of God's justice, and one's own decreed end, the Muslim should concern himself with obedience and faithulness to God, and let God be concerned with the things He has prescribed.


The Next Installment: Dr. Norman Geisler's Critique of Qadar.


08:07:26 - Category: Islam - Link to this article -

As a Traveler Rejoices Upon Arriving at His Destination...
03/20/2007 - James White
...so is the end of a book for him who toils at writing. That's a fairly close recreation of a common colophon found in handwritten manuscripts of the New Testament, and I fully understand the sentiment. And with that I am announcing that I have finished writing From Toronto to Emmaus: the Empty Tomb and the Journey from Skepticism to Faith. What an intensive sixteen days! The final came out, ironically, to the exact same size as Pulpit Crimes, 158 pages! That's about ten pages a day, and if you know much about writing, especially writing material that requires documentation, you know I will probably be taking a few days off to recoup! But it has been wonderful to get to tackle this subject, and I must admit, I do not believe I have ever enjoyed writing a chapter more than the final chapter of this book wherein I get to speak of my faith in the risen Lord! Just wonderful.
So, we should be making a pre-order page available soon, so keep checking the blog for details!
Also, I mentioned on the DL that I put together a bulleted list of the major problems with the Talpiot theory. Here it is:

Summary of Errors, Problems, Contradictions, and Half Truths in the Tomb Theory

· The book and film were not subjected to serious scholarly examination prior to release to the public.

· Many scholars cited in the film and book have affirmed that they were not told the full story, and that their statements have been used out of context.

· The theory uses double standards in its tremendously inconsistent use of the New Testament, at times accepting its accuracy on one point, then rejecting it on the next, without following any logical standards.

· The film and book demonstrate a consistent willingness to document only particular facts related to its conclusions, ignoring those facts that are contrary to its conclusions.

· The central argument of the film (that Mariamne is the original name of Mary Magdalene) is subject to numerous counter-arguments and explanations.

· The inscription on the Mariamne ossuary can be read at least three ways, and the first two, which leave the entire theory without any ground, are more likely than the third, upon which the theory depends.

· Even taking the inscription as the theory does, there is no reason whatsoever to believe a fourth century work of fiction, The Acts of Philip, is relevant to first century Jerusalem.

· The Acts of Philip nowhere refers to, or identifies Mariamne as, Mary Magdalene. The name Mary Magdalene never appears in The Acts of Philip.

· The Acts of Philip say Mariamne could turn into an ark of glass and a pillar of fire. Do the theorists think Mary Magdalene could do this?

· The film misrepresents Francois Bovon of Harvard who has confirmed that he is only referring to the Mariamne/Magdalene connection in the realm of literary parallels, not history.

· Bovon refers to the theorys claims that Jesus and Mary Magdalene had a child as "science fiction."

· The film misrepresents even the existing text of The Acts of Philip by saying the book says Mary Magdalene (which it never mentions) would be buried in Jerusalem. It actually says Mariamne would die in the Jordan River (which does not flow through Jerusalem).

· The theory's willingness to abandon first century documents directly related to Jesus and his original followers (the New Testament) in favor of a work of fiction from the Encratite community of Asia Minor three hundred years later is a clear indication of its bias.

· The film and book misrepresent the nature and capacities of forensic mitochondrial DNA testing.

· Simcha Jacobovici claims Carney Matheson concluded that the genetic testing shows Yeshua bar Yosef and Mariamne were married. Matheson denies this conclusion forcefully.

· Mitochondrial DNA testing can only address maternal relationships, not paternal ones. Hence, the two genotypes tested could have included a father/daughter relationship, a fact inexplicably left out of the discussion by the film and book.

· The names of Jesus, Mary, Joseph, etc., have been found in other burial sites in Jerusalem in the past, including Dominus Flevit.

· All of the names in the Talpiot tomb are found amongst the top ten most popular names for men and women in the time period of the first century in Jerusalem.

· The argument that there is at least a 600:1 chance that this is the Jesus family tomb is based upon the assumption that 1) there is a Jesus family tomb in Jerusalem, and 2) it has been found. That is, the statistical argument assumes its own conclusion so as to have validity!

· There is no reason whatsoever to believe Jesus would own a multi-generational tomb in Jerusalem. He was from Nazareth, 120 miles to the north, in Galilee, and only visited Jerusalem.

· The theories propounded in the book concerning the Knights Templar are presented without even the pretense of factual or historical foundation, and as such, have as much validity as The Da Vinci Code. They are pure fiction.

· The alleged cross symbol on the Jesus ossuary is far more likely the simple "this side forward" mark to indicate which way to slide the lid so that it would fit.

· The idea that the Judah, son of Jesus in the Talpiot tomb, is the author of the Gospel of Thomas, which was written in AD 165, a century after the Talpiot tomb was sealed, is emblematic of the kind of scholarship represented in The Family Tomb of Jesus.

· The film and book desperately seek to avoid honestly stating the only possible ramification of their theory: that Christianity's primary claim in the resurrection of Jesus Christ is false, and hence Christianity is a false religion.


16:55:08 - Category: Tomb Issues - Link to this article -

Today on the Dividing Line
03/20/2007 - James White
Today on the Dividing Line Rich decided to do an impromptu interview, sort of, regarding the tomb book, based upon the e-mails he has been receiving. After the break I sorta...rambled on about some of the current controversies about which I have said nothing since I've been living in a cave writing my book over the past 16 days. Here's the program (free/high quality).


16:41:38 - Category: The Dividing Line - Link to this article -

Teacher Fired for Encouraging Critical Thinking
03/20/2007 - Colin Smith
This story appeared on the CNN website today, once again illustrating how modern, popular science is less about critical thinking and more about toeing the line and not criticizing cherished beliefs. The school teacher involved, the article states, has a master's degree in science, and yet had the audacity to provide "supplemental material" that showed both the logical consequences of evolutionary thinking (i.e., the dehumanizing of whole people groups as happened in Nazi Germany, and the disregard for the unborn as promoted by Planned Parenthood), and the fact that there are other tenable ideas out there that make sense of the scientific data. The teacher says he did not teach Creationsim explicitly, but merely provided additional information "to get them thinking."
We may or may not agree with his methodology, but the reaction to this young man's attempt to inject discernment into the classroom is certainly very revealing. The article quotes one parent as being "concerned" when his daughter came home "confused" by what the teacher had said, claiming that "it prevented her from learning what she needed to learn." Another wondered "how many minds did he pollute?" Nowhere does the article state that the teacher did not teach what was on the curriculum. It seems that all he did was to provide an alternative to the views expressed in the text book. As we know, however, this is not permitted in the classroom, especially over such a fundamental issue as life's origins. While no man is able, or ever will be able, to prove evolutionary theory, it is the sacred cow of science, since so much of modern biological, cosmological, anthropological, geological, and sociological study base their theories upon it. If you throw out evolution, you tear down the foundations upon which these rest, and you have to spend years rebuilding, looking for new paradigms, and so forth. And yet isn't this what science is all about? It seems, though, that the only places where science is taught this way are private (mostly Christian) schools and many thousands of Christian Homeschools.
If you have children in the public school system and you wish them to get a balanced science education, there are some great resources on the web. For starters I would recommend Answers in Genesis, also check out the CD of James White's discussion of the 1987 Supreme Court decision to ban Creation Science being taught in the public school system (#419 in the CD store), and the article on this site by Dr. White entitled "Evidence for Special Creation from Scientific Evidence". Also, James' book What's with the Mutant in the Microscope?, is an excellent introduction on the subject for youth. Sadly, it is currently out-of-print, but you can still get copies of it used on Amazon, Half.com, and other such places. You could also ask your homeschooling friends who are bound to know of good, balanced, science textbooks.


15:29:58 - Category: Christian Worldview - Link to this article -

Interpreter of Gnostic Texts: Simcha Jacobovici
03/19/2007 - James Swan
It pains me to explore the content of the Gospel of Thomas, as if it actually contained historical facts (it does not). Simcha Jacobovici thinks it does, and has put forth a story grid to fit the facts from this Gnostic book. For example, on page 98 in The Jesus Family Tomb, Jacobovici creates a story around facts culled from this alleged gospel. He speculates the spiritual and physical journey of Mary Magdalene had been "unusually difficult":

"As recorded in the Gospel of Thomas, Simon and Peter, in sayings 22 and 114, eventually rose and spoke out against Mary Magdalene. Declaring that a woman was not worthy of spirit-life, the two men demanded that Mary be ejected from the congregation. And Jesus replied, with more than a hint of wry humor, 'Behold! I shall guide her as to make her male, that she too may become a living spirit like you men- and...male and female [are made] into a single one, so that the male will not be male and the female will not be female' (Gospel of Thomas, saying 114)."


The Gospel of Thomas can be found here. Let's take a look at the citations offered.

Saying 22:
Jesus saw some babies nursing. He said to his disciples, "These nursing babies are like those who enter the (Father's) kingdom." They said to him, "Then shall we enter the (Father's) kingdom as babies?" Jesus said to them, "When you make the two into one, and when you make the inner like the outer and the outer like the inner, and the upper like the lower, and when you make male and female into a single one, so that the male will not be male nor the female be female, when you make eyes in place of an eye, a hand in place of a hand, a foot in place of a foot, an image in place of an image, then you will enter [the kingdom]."

Saying 114:
Simon Peter said to them, "Make Mary leave us, for females don't deserve life." Jesus said, "Look, I will guide her to make her male, so that she too may become a living spirit resembling you males. For every female who makes herself male will enter the kingdom of Heaven."

...
[Click Here to Continue Reading]


17:27:28 - Category: Tomb Issues - Link to this article -

Why the Mass Matters to the Gospel
03/19/2007 - James White

DVD available here (#583)


12:00:00 - Category: Roman Catholicism - Link to this article -

Monday Morning Miscellaneous
03/19/2007 - James White
Very excited, but very busy. I think I will make my self-imposed deadline, and seeing the book taking form is very exciting.
For those who have written e-mails to me asking for details on upcoming trips, etc. Book or e-mails. Book wins. Hopefully by the end of the week.
Here's enough evidence, for anyone who still cares, of why the folks at the oxymoronic website should be dismissed as ever having anything worthwhile to say to anyone who takes the Bible seriously and loves the faith.
Finally, one more example of why I really need to get this book done by Wednesday evening:

Dear Sirs, as a Jew in Israel, I really don't understand why this movie is an "attack on the Christian" faith. Instead of investigating all available sources, the author prefers to attack the film makers as money greedies. when he attacks them for not being "scientific" enough, he is falling just in the same trap he is digging: when one reads all available sources, the tomb the movie dealt with is at least possiblly what they said it is. I don't know how much Discovery paid them, but I couldn't care less. money is not the question. but attacking them is just the opposite of what Jesus said. whether they are right or wrong. the question is: can one dismiss the movie concept alltogether?
11:27:21 - Category: Misc - Link to this article -

Darrell Bock Interviews Amos Kloner
03/18/2007 - James White
For those following the story, this is an interesting interview.


17:15:15 - Category: Tomb Issues - Link to this article -

Art Sippo Judges a Debate...Which Will Take Place in May
03/17/2007 - James White
I truly love how fair and unbiased folks can be. An announcement has been made regarding the upcoming debate between Eric Svendsen and Mitch Pacwa. I happened to run across this post from Art Sippo:

Svendsen has already lost the debate. Sola Scriptura is pure Pelagianism. It reduces religious authority to mere human opinion. Sola Ecclesia Romana means that we depend on the Church as THE source of revelation and frankly that is correct. Scripture, Tradition, and Magisterium can only be found in the Church and interpreted by the Holy Spirit which superintends the Church especially through the Petrine ministry.
Well, there you go! The debate is settled before it takes place! Don't you just love it?

Update: For some reason, a bunch of folks have read this blog article as if I have announced that Art Sippo is moderating the debate. I confess I have a hard time seeing how anyone could come to that conclusion, but for those who have become confused, a clarification. Sippo is not involved with the debate. He has just demonstrated that it would not matter what evidence was presented to him: he believes in sola ecclesia, and nothing will change that.


13:30:26 - Category: Roman Catholicism - Link to this article -

James White is Infallible!
03/17/2007 - James White

DVD available here (#583)


00:01:00 - Category: Roman Catholicism - Link to this article -

Evidence of Progress
03/16/2007 - James White
OK, I know this is dangerous. I am posting ten pages of a freshly written, completely unedited and unproofed chapter, but hey, I am used to the howls of my enemies, and I really don't post here for them anyway. For those who are praying for this project, I thought I'd throw out a PDF of what I wrote last night--ok, only a portion of it, actually, ten pages. But it gives you a "feel" for the book. And I repeat myself, this is raw. Not even a first reading, let alone a second. In fact, some of you might find it mildly interesting that this is how I write. I set up my page to mimic the actual page size and I write in this format, directly to type-set margins. So this is the first draft, first run, of this material. Here is a pdf of the first ten pages of the chapter on the Mariamne/Mary Magdalene/Acts of Philip chapter.


10:53:49 - Category: Tomb Issues - Link to this article -

Yesterday on the Dividing Line
03/16/2007 - James White
Spent the program yesterday looking at the first portion of the dialogue between Ergun Caner of Liberty University and the guys from the "Rational Response Squad." If you are expecting me to be going after Caner, you will be disappointed. Sure, it was a bit hard to listen to, and I would love to send him a t-shirt that says "Greg Bahnsen is my homeboy," but that's another issue. I was primarily focused upon a fellow named Rook Hawkins, the Rational Response Squad's "ancient texts expert." After covering that we move back to good ol' George Bryson answering audience questions. Here's the program (free/high quality).


10:41:55 - Category: The Dividing Line - Link to this article -

When Your Opponent Gets Nasty #2
03/16/2007 - James White

DVD available here (#583)


00:01:00 - Category: Roman Catholicism - Link to this article -

An Insight into the Mindset of "Tomb Believers"
03/15/2007 - James White
As my readers know, I have been working very hard on the tomb story, doing the kind of background reading and research necessary to provide a sound response. But, despite the energy I have been investing, some think we are merely providing a "knee jerk" reaction. Here is an e-mail that came in last night:

Yea, okay. Let me first start out by saying. I'm no [sic] suprised [sic] at the close-minded repplies [sic] the "Christian" population is spewing from the bowls [sic? probably meant "bowels"] of ignorance. my [sic] reason for saying this? well [sic--broken caps key?] you people are close minded of course. and [sic] any notion that your words and "laws" are wrong is an insult and you point out some strong points just to cast doubt on this find. I have not 1% [sic] shred of doubt this is the tomb of Jesus. becuase [sic and sic] I know Moses started this christianity [sic] c**p [edited] and people picked up on it to be the "out-casts" to oppose the rulers of their time. It would have died out if it wasnt [sic] for the Roman Emperor ( forgot his name ) google it, he proclaimed that jesus [sic] WAS the son of the ONE true god and they all had to follow him or die. On another area of this Tomb business. Is why [sic] is it so hard to accept that its true. [sic] how [sic] incredible are the odds that this is NOT the tomb.... how many families back then would have all the names correct... honestly are you people this thick headed? wake [sic] up and accept that there is no purpose or god. we [sic] evolved and maybe yes something created us. but [sic] why the h**l [edited] would there be millions of stars and one belief? there [sic] isn't imagine [sic] another world of intelligent people. and [sic] think of their religions. yea [sic].... was their jesus [sic] green?
And here I am documenting facts about inscriptions, the encratite community of Asia minor (source of The Acts of Philip), Gelasius' condemnation thereof, and mitochondrial DNA! Goodness.


14:57:28 - Category: Tomb Issues - Link to this article -

The TQ Fan Club Speaks
03/15/2007 - James Swan
Here's a shocker: Kevin Johnson over at ReformedCatholicism.com actually liked a recent entry I wrote for Team Apologian. I would like to put forth a point of correction and clarification. Johnson notes,

"We've been attacked before by James White, Swan, and others for stopping just short of the Tiber and not stepping on to the firm rich soil that leads to the seven hills of Rome."

I have not written anything against the Reformed Catholic clan. I didn't even respond to a recent rant put forth by Paul Owen on Calvin and baptism. This doesn't mean I approve of this group, but it does suggest they do not read carefully.


11:41:50 - Category: Misc - Link to this article -

Gnostic Sources: The New Complete Version of Biblical Studies
03/15/2007 - James Swan
The other day I spent some time at the big chain bookstore. I usually grab a cup of coffee, and then head over to the religion section. Most of the time I'm thumbing through books on Roman Catholicism. It's unbelievable how many books Catholic apologists and those devoted to Rome put out. Usually, the ones I want to thumb through are sealed in plastic. I'm not sure why. It makes me wonder what information is so astonishing it must be shrouded in plastic to conceal it from the browsing public.
This time though, I branched out to the section containing books on the alleged lost books of the Bible. I was amazed how many books were put out on this topic. They weren't simply translations or compilations of non-canonical writings. They were actually commentaries and analysis of this genre. Recently Simcha Jacobovici made a big deal about the Acts of Philip. He says it contains "a much more complete version of Mary Magdalene than the Gospels." Are we to assume that the Gnostic literature gives us reliable information about historical New Testament people? Consider the picture of Jesus put forth by The Infancy Gospel of Thomas (possibly written about A.D. 125):

3.1. The son of Annas the scribe was standing there with Joseph. He took a branch of a willow and scattered the water which Jesus had arranged. 2. Jesus saw what he did and became angry and said to him, "You unrighteous, impious ignoramus, what did the pools and the water do to harm you? Behold, you shall also wither as a tree, and you shall not bear leaves nor roots nor fruit." 3. And immediately that child was all withered.

4.1. Once again he was going through the village, and a child who was running banged into his shoulder. Jesus was angered and said to him, "You shall go no further on your way." And immediately the child fell down dead. Some people saw this happen and said, "From whence was this child begotten, for his every word is an act accomplished?" 2. The parents of the dead boy went to Joseph and blamed him: "Because youhave such a boy, you cannot live with us in the village; your alternative is to teach him to bless and not to curse, for he is killing our children."

5 .1. Joseph took the child aside privately and warned him, saying, "Why do you do such things? These people are suffering and they hate us and are persecuting us!" Jesus said, "I know that these are not your words, but on account of you I will be silent. However, they shall bear their punishment." Immediately, those who accused him were blinded.

The use of Gnostic sources made me consider just what people like Simcha Jacobovici have up their sleeves. I think there is a concerted effort to put forth books left out of the Bible as if they actually contain reliable information. Why do this? It's simply another way to attack sola scriptura. God has spoken, and this truth drives non-believers to extremes. Quoting Gnostic literature as more complete versions is a desperate attempt to undermine the reliability of the Bible. There is nothing more infuriating to non-believers than an absolute standard.

Quick Addition from James White: If you want to know what Simcha has up his sleeve, click here.


11:40:50 - Category: Misc - Link to this article -

The Final Nail in the...Ossuary
03/14/2007 - James White
For the serious minded person, this controversy is over. Finished. Dr. Stephen J. Pfann of the University of the Holy Land in Jerusalem has just posted his paper, "Mary Magdalene is Now Missing: A Corrected Reading of Rahmani Ossuary 701" here. And with this information the case is quite literally closed. Without Mariamne, Jacobovici and his team have nothing whatsoever. Pfann makes a compelling case that the proper reading is "Mariame and Mara (Martha)," and given that Mariame is a normative form, the discussion is truly over, for as I have said repeatedly, the Mariamne identification is the heart of their theory. It was already a done deal in that the Acts of Philip do not, in fact, provide them with what they need in any way, shape, or form, but now that issue is irrelevant as well, in the sense that they can't even get to the Acts of Philip with a compelling counter-reading of the ossuary staring them in the face.
I have been focusing upon The Acts of Philip, the DNA evidence, etc., and all of that is, in fact, important. But the one area I knew I would not be able to address to any depth was that of the inscriptions, and the reason is not difficult to see:


Without the ability to use different angles of light, or at least have multiple very high-resolution scans, people remote from the actual inscriptions are at the mercy of those who have actually examined the inscriptions "up close and personal." Most of the images I have seen have either been moving (in video), or were not high enough resolution scans to allow any kind of close examination, as in the image above. While you can make out the broad strokes, any kind of critique of the reading is difficult to do. I had seen alternative readings. Bauckham had suggested Mariamenou Mara, and this made sense, grammatically, in Greek. There was no question that Mara was a full name, not a title, as suggested by Tabor and the Jacobovici team. But Pfann's very clear reading helps a great deal. Here is the inscription again:


Pfann points out the differences in orthography between Mariame and the following kai Mara, and he is quite right. But since most do not read Greek, here is his colorized tracing of the text:


This should help you to see the terms in perspective. Now, "kai" doesn't look a lot like kai, but Pfann goes into detail on other examples of this connetive being written this way. The fact that kai is a connective (the word "and") means that just as in English, it could be abbreviated or shortened, similar to our own "&."
So what we have is a second hand adding "and Mara," which would indicate that first Mariame's bones were placed in this ossuary then, at a later time, Mara's were added. It is not uncommon to find the remains of multiple people in a single ossuary (amazing how small we are when reduced to our skeletal remains), and as I have noted, Kloner's article averages 1.7 people/ossuary in the Talpiot tomb. So whose remains were tested via mitochondrial DNA analysis? Mariame? Mara? We have no way of knowing, since we don't even know they were the only people in the ossuary. One thing is for certain, it wasn't Mary Magdalene.
Of course, this is not going to slow me down on the book. This information must come out, and, what is more, this entire situation provides us with a glowing example of the kind of apologetic challenge to the faith we can expect in the future. What is more, do you really think those who want to disbelieve will be convinced by this kind of evidence? Did truth stop Dan Brown? Not at all. What is more, do not under estimate the human mind. "Mary...Martha...Mary and Martha! That's Mary and Martha, so, Lazarus must have been in one of the unmarked ossuaries, so, it is the family tomb of Jesus after all!" Stranger things have happened.
In any case, it is fascinating to read the response posted on the Discovery website. First, they finally admit that the film and book do, in fact, directly contradict Christianity:

The film and book suggest that a first-century ossuary found in a south Jerusalem cave in 1980 contained the remains of Jesus, contradicting the Christian belief that he was resurrected and ascended to heaven. Ossuaries are stone boxes used at the time to store the bones of the dead.
Then the article reports,

In Israel on Tuesday for a screening of the film, the Toronto-based Jacobovici welcomed Pfann's criticism, saying "every inscription should be re-examined."
But Jacobovici said scholars who researched the ossuary in the past agreed with the film's reading. "Anyone who looks at it can see that the script was written by the same hand," he added.
Jacobovici has faced criticism much tougher than Pfann's academic critique. The film has been termed "archaeo-porn," and Jacobovici has been accused of "pimping the Bible."
Jacobovici attributes most of the criticism to scholars' discomfort with journalists "casting light into their ossuary monopoly."
"What we're doing is democratizing this knowledge, and this is driving some people crazy," he said.

Democtratizing this knowledge? Or pandering falsehoods for money? That's the question.


15:36:55 - Category: Tomb Issues - Link to this article -

Parallel Methodology: The Tomb of Jesus and Roman Catholic Apologetics
03/14/2007 - James Swan
After the Discovery Channel aired The Lost Tomb of Jesus, a follow-up show was presented, The Tomb of Jesus: A Critical Look. Hosted by Ted Koppel, two guests were brought on to challenge the conclusions of Simcha Jacobovici and James Tabor. Archaeologist William Dever was asked what he thought of the documentary. Dever replied, "For me it represents the worst kind of Biblical archaeology, even if it is anti-biblical, because it seems to me, the conclusions are already drawn in the beginning." Dever nailed it. A tomb was found, Jacobovici began concluding it was Jesus and his wife Mary Magdalene. Then evidence from Gnostic writings, statistics, and DNA all testified to the necessary conclusion.
A non-Christian, Simcha Jacobovici notes he was only interested in finding ossuaries with the inscription "Jesus, son of Joseph." I dare say he found exactly what he was looking for, and it could not have been otherwise. I sometimes make the joke that humans are masters of selective perception. That is, we see only what we want to. That which doesn't fit gets filtered out. While his documentary was being cross-examined on the Koppel show, it was obvious Jacobovici was being forced to see the reality he had filtered out. He was noticeably upset. He commented more than a few times that he was just a filmmaker. He was simply presenting his findings as an introduction for others to scrutinize. In other words, he had no meaningful response to the reality he had filtered out.
As I thought about the methodology that went into the Jesus Tomb production, I couldn't help but think how similar this approach is to that used by modern Roman Catholic apologetics. It begins with a conclusion: The Roman Church is the true church established by Jesus. Then evidence from the Bible and history are brought in to testify to this truth.
Catholic apologist Marcus Grodi had initially been vexed by doctrinal differences within Protestantism. Commenting on his conversion, Marcus Grodi has said, "The more I read church history and Scripture the less I could comfortably remain a Protestant. I saw that it was the Catholic Church- the Roman Catholic Church- that was established by Jesus Christ, and all other claimants to the title 'true Church' had to step aside. It was the Bible and Church history that made a Catholic out of me, against my will (at least at first) and to my immense surprise" [Patrick Madrid (ed), Surprised By Truth (Encinitas: Basilica Press, 1994), 12]. Only a page or two before, Grodi mentions that it was a lecture and a subsequent meeting with Scott Hahn that led him to wonder if God was calling him to the Catholic Church. Grodi admits he immediately read through Karl Keating's Catholicism and Fundamentalism, and then launched into seriously reading Catholic books and the early Church Fathers. Grodi admits, "After listening to dozens of tapes and digesting several dozen books, I knew I could no longer remain a Protestant" (p.51). In other words, Grodi immersed himself into the writings of the Catholic worldview. It was Roman Catholic glasses that magnified certain facts he was already predisposed to. He saw only what he wanted to. ...
[Click Here to Continue Reading]


11:27:18 - Category: Roman Catholicism - Link to this article -

Team Apologian Goes Big Time!
03/14/2007 - James White
Well, Carla came through and set up an entire CafePress page for our blog, featuring Angel Contreras' classic artwork. So we were chatting and came up with the idea of maybe buying the sleeveless-T version, shown here, and sending it as our love-gift to Ergun Caner? I'm sure he would appreciate, and utilize, such a gift, don't you? Definitely. That led to the whole group brain-storming on possible future Angelz caricatures, but I can't comment on stuff like that. Angelz has this clause in his contract about secrecy and stuff, you know. Artsy types are like that. Very sensitive and all. He has flashy sneakers, too. Just thought I'd mention that.
So anyway, if you get a Christmas present from me and it comes from our Team Apologian shop, don't be surprised! Here she is!


03:00:00 - Category: Blog Stuff - Link to this article -

When Your Opponent Gets Nasty #1
03/14/2007 - James White

DVD available here (#583)


00:01:00 - Category: Roman Catholicism - Link to this article -

An Escapee From the Playground
03/13/2007 - James White
Sometimes I just sit here at my desk staring at my screen when Rich forwards some of the e-mails we get. The Internet creates "thugs," bullies with a lot of hot air but zero substance who thrive on acting out their childhood playground fantasies from behind a keyboard. Almost every group has them, sadly. I've run into KJV Only types like this, Muslims (Nadir Ahmed is a good example, and his followers), Mormons, you name it. And here's some kind of Oneness type guy who just wrote to me. I normally would not even finish reading a childish taunt like this, but some folks in the church today think Oneness denials of the Trinity really do not matter and we should all just "get along." So here is Terry's taunt, and my brief response below.

Hello Dr. White, My name is Terry and I think you are taking alot of lost souls to hell with you. This trinity doctrine you preach is from the devil himself. If you want to debate doctrine then you can find me on the trinity board CARM.org since no trinitarian will debate on my board unless you are not scared then I will be glad to host the debate. My board address is http://tonguespeker.proboards81.com/index.cgi? or we can have it at Forums.delphiforums.com/goldblack/messages which my friend Bob Caplinger runs. I do believe that the debate you had with Bernard was unfair because noone would let him speak when he wanted to. And he still beat you hands down. I would love to see you debate Hicks or Bayer or even Hanby and Blume.Anyways my friend Bob Caplinger is dieing to debate you. He will hand you your lunch befor it got started. Well are you going to take the challenge or run with your tail between your legs like all the other Trinitarians do on the internet. Matt Slick has already been defeatedby Bob Caplinger and I. I think Cohen Rehckart has defeated him also, your next. Step up or get out.
Well, Terry, your kind note has provided me with a chance to illustrate the kind of tactics false teachers such as yourself utilize on the Internet. Let me likewise clear up your obvious confusion.
I have challenged Dr. Bernard to debate. I have offered to come to his school and debate before his students. He has consistently declined my challenge. Aside from a few radio programs, which were not debates, we have not debated at all, so what you are talking about I cannot begin to tell.
Secondly, your words communicate such a massive spirit of arrogance and hostility it is obvious to me you are not interested in a debate. You want a food fight, a screaming match wherein you are only interested in one thing: consolidating your small following of folks who will cheer you on no matter what you say, or how badly you are refuted on a biblical, historical, or logical basis. Now, if that is why you engage in polemics, I gladly leave you to it. That is not why I debate. I debate for the glory of God, the edification of God's people, and the salvation of the elect God draws unto himself. I am irrelevant, which is why I find your taunts and bullying pathetic. The only folks who are impacted by such playground tactics are folks who, like you, have the wrong reason for engaging in polemics anyway.
By the way, "get out"? Get out of where? Your taunt does not even make sense.
Further, sir, anyone with a modicum of respect for the subject of how God has revealed Himself in Scripture, and how He desires to be worshipped, will never enter into such a discussion with someone who begins with the kind of attitude you have displayed. I do not fear you, I fear God, and I will not drag his truth through the mud so that you can stroke your ego. Consider well your ways, sir.


19:53:33 - Category: General Apologetics - Link to this article -

Today on The Dividing Line
03/13/2007 - James White
Spent the first fifteen minutes discussing the big story in the news today, the utter audacity of a leading military general in the United States---he has morals! We watch those who would deny us the right to say "homosexuality is wrong" writhing in anguish at the continued existence (by God's grace) of men and women in our society who still hold a biblically-grounded morality. We then played, and reviewed, the two video clips below from the tomb movie, took a call from Jeff (who had heard Karen King speak recently), and transitioned toward the end of the hour into a bit more of George Bryson. Here's the program (free/high quality).


13:48:02 - Category: The Dividing Line - Link to this article -

For Use on Today's DL: More Tomb Errors
03/13/2007 - James White
Here is more evidence of the errors of the tomb film, this time in spinning such a wild web of conspiracy theories that they can't keep time frames and simple logic together. They throw John the Baptist's death (pre-Christian, politically driven, not due to his relationship to Jesus) in with James' (post-cross) and then a tradition about Simon's death. Then they graphically present the great danger to Jesus' "son," Judah. Mary hides Judah when a Roman soldier just happens to walk past. But then the producers seem to blow a logic fuse. How? They spin a wild tale from John 19:

John 19:25-27 25 Therefore the soldiers did these things. But standing by the cross of Jesus were His mother, and His mother's sister, Mary the wife of Clopas, and Mary Magdalene. 26 When Jesus then saw His mother, and the disciple whom He loved standing nearby, He said to His mother, "Woman, behold, your son!" 27 Then He said to the disciple, "Behold, your mother!" From that hour the disciple took her into his own household.
Now, of course a first-century document that does not support their fanciful theories cannot be trusted, so they run off to wild speculations that lack even a foundation in something as wonderfully trustworthy on a historical level of the Acts of Philip! Though John tells us Mary Magdalene is there along with Mary, the mother of Jesus, the film decides to throw out the idea that Jesus is talking to Mary Magdalene about Judah, who are both at the foot of the cross! Here is the recreation:
Excuse me, but there are Roman soldiers standing around guarding those being crucified (if they left, the families would remove the prisoners from the crosses and try to save their lives). So we are supposed to believe that while Mary will hide Judah from a passing Roman soldier in a marketplace for fear of exposure, Jesus will address her as his wife, and make reference to his son, right there in front of Roman soldiers at the crucifixion? I'm sorry, but the utter inanity of such wild-eyed speculation leaves one breathless, especially when it is placed in the context of a bold, well-funded, yet groundless attack upon the very heart of the Christian faith.


09:16:15 - Category: Tomb Issues - Link to this article -

Making It Up Out of Whole Cloth
03/13/2007 - James White
Work on the book progresses (those of you waiting for e-mail replies from me, please be patient! There are only so many hours in a day). My biggest problem is choosing which errors of logic, fact, and argumentation, to leave out simply due to a lack of time. Here's one that would be a real hoot if not for the fact that gullible folks will be repeating this stuff for years to come. Here is one reading (the text of the Acts of Philip is very corrupt) of verses 137 and 138:

137 And the Lord said: Since you have been unforgiving and wrathful, you shall indeed die in glory and be taken by angels to paradise, but shall remain outside it forty days, in fear of the flaming sword, and then I will send Michael and he shall let you in. And Bartholomew shall go to Lycaonia and be crucified there, and Mariamne's body shall be laid up in the river Jordan. And I shall bring back those who have been swallowed up. 138 And he drew a cross in the air, reaching down into the abyss, and it was filled with light, and the cross was like a ladder. And Jesus called the people, and they all came up, save the proconsul and the Viper And seeing the apostles they mourned and repented.
Now, notice, Mariamne is prophecied to be "laid up in the river Jordan." This is in the context of the deaths of Philip, Bartholomew, and Mariamne. Now remember, this book is fiction. It is not history. Jacobovici and Pellegrino call this an "account" of Mary Magdalene's travels! It is a fictional work about Mariamne, a gnostic-inspired fictional character! But even with all of this, listen to what this film claims:
When you can turn Mariamne into Mary Magdalene and Jerusalem into the Jordan River (a day's journey away in the ancient world), there is no end to the theories you can spin.


09:05:50 - Category: Tomb Issues - Link to this article -

More on the Abuse of Truth in The Lost Tomb of Jesus
03/12/2007 - James White
We all know James Cameron knows how to use a camera to create an emotional impact. Sadly, when his starting information is grossly flawed, the results can be downright deceptive. Let's take the Mariamne inscription. Fourth century encratite text--a group of ascetics condemned by the orthodox followers of Jesus, and that quite rightly; that is, the author(s) of The Acts of Philip were vegetarians who disallowed marriage and procreation, and as such, were rightly condemned, given the plain teaching of New Testament texts on the propriety of marriage, and the fact that meats are given to men to be used for his life and health, see Hebrews 13:4, Col 2:16. They are not even remotely connected to the first century; they are not carrying some "tradition" that goes back in history. They are creating fictional stories to promote their movement, nothing more. Francois Bovon, the leading scholar on the Acts of Philip, has written to me just recently, indicating that his identification of Mary Magdalene with Mariamne of The Acts of Philip is "on the level of literary traditions and not on the level of history" (e-mail from Francois Bovon to James White, March 8, 2007). Bovon is talking about literary connections between texts like the Gospel of Thomas, the Gospel of Mary Magdala, etc., all texts far removed from the first century and the events of Jesus' life. The Mary Magdalene they fabricate shares only one thing with the Mary Magdalene of history: her name. The gnostics loved latching onto names in the New Testament about whom we know little; they would then fill the name with fanciful stories, all designed to give a "spin" that would support their own theology. They could not make their case from the original followers of Jesus, so, they had to fictionalize stories to gain followers. The Acts of Philip draws upon preceding texts that have already fictionalized Mary Magdalene, and, in the opinion of Bovon, fills its own woman, Mariamne, with the characteristics of the previously created gnostic version of Mary Magdalene. But Bovon recognizes this is a literary connection, not a historical one, and further, he admits that "the name Magdala does not appear in the Acts of Philip."
So are the viewers of the tomb film given a fair, balanced, accurate picture of the sources being used to make wild historical connections in the theory of the filmmakers? Judge for yourself:

By the way, the book and film loves to talk about how many names have been found on ossuaries. What you need to keep in mind is that only around 250 incriptions have been found, mostly of men (ie., 1000 ossuaries, 20-25% with inscriptions = 250 inscriptions). The database is therefore quite small, so to find an "unusual" inscription is only relevant---if you already have the conclusion you are wanting to find in the "evidence."


00:01:00 - Category: Tomb Issues - Link to this article -

Hey, I Even Suggested This!
03/11/2007 - James White
One of the regulars in our channel has a Cafepress shop and designs shirts. On a lark, when I saw her come into channel earlier today I said, "Hey, Carla should design an 'I Survived the Tomb Story' t-shirt!" Well, she took me seriously and did a great job with it. So, if you've been reading all of my blog entries on the tomb story, and want to make your faith known, here's a nicely done t-shirt! Here's the link to a number of items you can order, even a coffee mug, with this graphic on it. No, this isn't associated with A&O, but that is only because we weren't fast enough to come up with such a great graphic! Yes, I've ordered one for myself. I can't wait for the first conversation that comes up because someone sees me wearing it who likewise saw the "documentary."


22:00:42 - Category: Tomb Issues - Link to this article -

An Excellent Example of the Scholarship of The Tomb
03/11/2007 - James White
To say that The Lost Tomb of Jesus is a biased work is to engage in a tremendous understatement. It is very easy to document the bias of this work, and its incredible level of inaccuracy when presenting historical subjects related to the Christian faith. It lives and breathes in the air of the "Gnostic Academy," that popular area of religious study focused upon resurrecting the heresies of the early gnostics and investing in their every word authority far beyond anything granted to orthodox Christian writings.
Here is an excellent example. Watch this video carefully. You have hooded monks in the darkness committing ancient texts to the flames while the narrator speaks of "church fathers" in the "second century." The intention of the filmmakers is anything but merely presenting "facts." See for yourself:

Let's consider the facts. The second century was a difficult time for Christianity. This was the century of severe persecution in many portions of the Roman empire. The church was racked with the struggles produced by trying to answer the question, "What do you do with those who give in under torture?" This was a movement without political power, and without the ability to be "suppressing" anything at all. While the filmmakers directly assert editing of the gospels by these same men, they do not offer a scintilla of argument in support of their accusations against them. Evidently, Christian martyrs, as long as they are orthodox in their theology, can be slandered and lied about with impugnity in the Discovery Channel universe.
But most amazing is the assertion that the church "suppressed" two documents in the second century: the Gospel of Mary Magdala, and the Acts of Philip. Just how did this allegedly happen? You see, the Gospel of Mary Magdala was written in the middle of the second century at the earliest. This would mean its distribution, even amongst the minority gnostic community, would take time. What evidence is provided that a book that may not have even been written during the second century was "suppressed" by a persecuted Christian church during the second century? This is even more so the case with The Acts of Philip which Francois Bovon, the Harvard scholar featured in the film itself, identifies as a fourth century work. Were these hooded monks of the second century (monasticism was just developing at this time) prophetic so as to suppress a book that would not be written for more than a century in the future? (Ironically, the narrator, less than a minute later, identifies the Acts of Philip as a fourth century text.) This kind of wide-eyed abuse of history would be humorous, if it was not placed in the context of attacking the very heart of the Christian faith.
The reality is that the popularity of these ancient gnostic texts, which themselves are unconcerned with history (being written long after the events they portray), derives from the contemporary rise in "women's studies" in the academy. The pagan foundations of gnosticism included the concept of "the divine feminine," and hence, in today's academic climate, those gnostics were cutting edge! The gnostic texts of Nag Hammadi and elsewhere do portray conflicts between male leaders, like the Apostles, and women like Mary Magdalene. But rather than this representing a true historical connection to the events that took place in Judea in the early decades of the first century, it represents the conflict between the very commandments of Christ and His Apostles recorded in the New Testament and those who wished to overthrow their authority in later cults and schisms. They created "myths" to attempt to establish their beliefs, and both The Gospel of Mary Magdala and The Acts of Philip are nothing more than apologetic tracts written by idiosyncratic groups at a later time in the history of the church. They contain no meaningful history and have no meaningful connection to Jesus and the Apostles. To grant them equality with the gospels in authority or relevance is the height of absurdity; but to given them more authority and relevance, as has been done in this film and book, demonstrates either a historical naivete of shocking depth or, more likely, a bias and prejudice that goes well into the realm of simple dishonesty in the name of making money.


18:22:39 - Category: Tomb Issues - Link to this article -

A Reason for Concern
03/10/2007 - James White
I must confess, I am concerned. Over the past few days as I have been writing, gathering primary resources, and in general immersed in this project, I have taken the time to listen to the responses being offered by others. I am desirous of learning as much as I can from others, and I am truly hopeful that others will provide strong replies for the benefit of God's people as well. But to be honest, I have been disappointed by what I have heard.
Today while riding I listened to a two hour response from a national program aired the Sunday night the film aired on the Discovery Channel in the US. Now, granted, the book had only been out for four days at that point, and while I had obtained it that day and had it read by the evening of the next, I am focused upon this topic. Others might have other projects "in the way," so it was not too surprising that the scholar being interviewed showed no familiarity with the book. As a result, some of the responses were far less "full" than they could have been, and some were just not accurate. That is understandable: all of us "pre-book" and "pre-movie" were going only on what was currently available. But we are now "post-book" and we should be hearing focused, clear, compelling refutations.
Then, on Friday of this week, I listened to an hour long discussion of the tomb issue on a much more widely heard program. Now we are talking about a program that, unless it was not live at all, took place a full ten days after the book came out, and almost a week after the film aired. And once again, the scholar being interviewed gave not the slightest sign of having read the book, watched the film, watched the Today Show segment, the Larry King program---nothing. He could not even pronounce "Jacobovici" correctly. He knew nothing about mitochondrial DNA or the limitations of its ability to speak to familial relationships; he never mentioned (in what I heard) the true nature of the Acts of Philip, Francois Bovon, etc. Instead of providing in-depth refutation of the film and book based upon actual research and simply doing your homework, the premise was mocked and ridiculed. A wonderful opportunity for education was completely missed.
I am very concerned that many in the post-evangelical church are taking the "mock it, dismiss it" route in response to the film. We have an opportunity here, and I, for one, do not wish to see it wasted. You see, we all know that this will not be the last time this kind of attack is launched. Someone will undoubtedly take this story and re-work it, remove some of the more obvious errors that come from Jacobovici and Pellegrino lacking any and all theological knowledge, repackage it, add in a few twists, and another book will come out. What is accomplished if all you did last time was mock the argument? But if we take this time to expose the roots of this kind of abuse of history, educate serious believers about how to do their own digging, their own thinking, their own de-mythologizing of supposed scholarship, you have equipped them to handle the next attack before it even comes, while rooting and grounding them in the faith. It is like the old saying: Give a man a fish and he eats for a day. Teach a man to fish and he eats for a lifetime. Give a surface-level, "easy" response to the tomb story now, and you might keep people happy. Teach them to think through these things and learn about the groups that existed outside the church and whose writings are the darlings of the current crop of unbelieving anti-Christians and you equip them to deal with the next dozen attacks upon the faith that will come out.

That is why just this evening I corresponded again with Dr. Carney Matheson about the DNA evidence. I realized earlier today that I had not seen the slightest bit of discussion about how they would handle multiple people's bones being placed in the same ossuary. He was kind enough to respond and clarify. Yesterday I was corresponding with Francois Bovon of Harvard, and I was gathering original text materials in Greek and French for the chapter on the very heart of the Jacobovici/Pellegrino/Cameron argument: that Mariamne is Mary Magdalene. I will be providing information on the Acts of Philip regarding its textual history and character, and the world-view from which it arises. I have found that it is not technically "gnostic" as in virtually identical to the Nag Hammadi texts, the Gospel of Thomas, etc. Same general genre, but this comes from an encratite group, a group of vegetarian acetics who eschewed sex and marriage (a really good way to make sure your movement does not last very long). Is it not obvious that a text that presents Mariamne as a virtuous icon would not fit in with the idea of her being the wife of Jesus and the mother of a son? That is why Bovon says his identification of Mariamne as Mary Magdalene is not an identification relevant to history but solely a literary parallel. For that matter, in his article on the subject he draws a number of parallels between the Mariamne of this fourth century fictional literature and the Virgin Mary. Hardly the kind of thing you will find in the tomb movie.
In any case, it is my intention to once again take the offensive and use this attack upon our faith as a means of presenting its truth. But to do this properly we must do our homework and engage the topic without giving in to the temptation to simply "mock" it. So I ask for your continued prayer and support while I seek to put all this information into a readable, usable form.


21:05:20 - Category: Tomb Issues - Link to this article -

Greg Bahnsen's Apologetic
03/10/2007 - Jeff Downs
For those interested in presuppositional apologetics, here is a new resource:

Pushing the Antithesis: The Apologetic Methodology of Greg L. Bahnsen. Ed. Gary DeMar (American Vision, 2007).

Dr. Greg L. Bahnsen believed that to deal with the academics of the day and their arguments against the Christian faith, it is necessary to do battle with them at the highest levels of scholarship using their intellectual tools against them. He could quickly analyze and give direct and compelling answers to all their objections. Prior to his untimely death in 1995, Dr. Bahnsen delivered a series of lectures on apologetics at American Vision's Life Preparation Conference. These lectures are rare in that they are some of the only video presentations of Dr. Bahnsen's teachings. The week-long sessions, presented before high school and college students, set forth the basics of the Christian worldview and the biblical approach to defending the faith. These lessons have been distilled and turned into a one-of-a kind handbook on apologetics.

Chapter 1: The Myth of Neutrality
Chapter 2: Destroying Philosphical Fortresses
Chapter 3: Defining Worldviews
Chapter 4: Worldview Features
Chapter 5: Alternative Worldviews
Chapter 6: Worldviews in Collision
Chapter 7: Overcoming Metaphysical Bias
Chapter 8: Approaching the Unbeliever
Chapter 9: The Problem of Moral Absolutes
Chapter 10: The Uniformity of Nature
Chapter 11: The Problem of Universals
Chapter 12: Personal Freedom and Dignity
Answer Key
Glossary of Terms and Phrases
Index


12:51:39 - Category: General Apologetics - Link to this article -

Origen the Child Author
03/10/2007 - James White

DVD available here (#583)


00:01:00 - Category: Roman Catholicism - Link to this article -

Today on the Dividing Line
03/08/2007 - James White
Started out with an e-mail from Francois Bovon demonstrating, very clearly, the exaggerations presented in the tomb book and documentary. Then we took a call on the issue, and moved from there to some more of George Bryson's lecture against Calvinism, and closed up with some more Shabir Ally on the crucifixion. Here's the program (free/high quality).


21:03:42 - Category: The Dividing Line - Link to this article -

The Mass Debate: 1999
03/08/2007 - James White
A few days after this debate a young lady, maybe 14 or so, came up to me after I spoke at a local church. "Dr. White, why did Mr. Sungenis hate you so much?"
Yes, it was a pretty nasty debate. It led, for a brief period of time, to a bit of a "truce," meaning that at least the 2000 debate on justification between myself and Sungenis was mild in comparison. But this was back before Sungenis combined geocentrism with some odd form of Jewish conspiracy theory and ushered himself unceremoniously out of the Roman Catholic apologetics picture. I still get a note about him once in a while, but for all intents and purposes, he has fulfilled the constant element of the titles of his own books: he is now alone.
In any case, here is a discussion of various historical truths regarding the development, over the centuries, of the concept of transubstantiation in the Mass.

DVD available here (#583)


01:01:00 - Category: Roman Catholicism - Link to this article -

Kevin Johnson Pits the Gospel Against Defending the Gospel
03/08/2007 - Alan Kurschner
Kevin Johnson writes,

There are those who actually advocate that textual criticism is an essential thing for people to understand in practicing and exercising the faith.
I don't need to advocate this, given that it is believers themselves who want to learn such matters when they ask "Where did we get our Bible?" and "Is the Bible we have today, the same as the one used in the early church?"

The fact is that what is essential in our churches is the gospel.
A false dichotomy. If you love the gospel as much as you profess, why not have that same zeal to defend it? If you are witnessing to someone and they claim that the Bible is unreliable because it is corrupted by errant MSS, are you not going to respond to their textual critical concern?

Is it good for some to dabble in the area of textual criticism to better understand how we got our Bible...I suppose so.
This arrogance translates into: "We can allow some laypeople to dabble in this subject, but that should be the extent of them learning the history of the Bible."

Saying that textual criticism is important to the point of being essential is really rather odd when for centuries whole sectors of laypeople in the Church never even turned a page of the Bible to read!
So you admit there was a Bible during those centuries. And that Bible did not drop from the heavens, correct? Explain to me, where did priests obtain their Bibles? That's right...through the textual work of scribes. I'll let you finish this basic logic.

The idea also that every layperson on the planet must have detailed knowledge of these things and be responsible to answer those who would question the text of Scripture is just absolutely ridiculous as well.
Detailed knowledge? Apparently Johnson did not read too far into my article. I said, "To be sure, one does not have to be a TC scholar to answer such objections. It is not either/or (that is, ignore TC all together by convincing yourself it is not vital; or, become a TC scholar and be able to answer every question and objection). A basic knowledge of TC will allow the Christian to answer most of the superficial objections to the history of the transmission of the Bible."

Johnson continues,

...and not your average layperson who hasn't even been trained in the Greek language and can't even grasp most of the concepts of textual criticism without undertaking the equivalent of a college level course in manuscript science.
There you have Johnson's view of the average layperson's aptitude in all its glory. The Academy can now rest knowing it can continue to only communicate to themselves. Dr. White, you can now expunge all of your textual criticism work over the years on your website and Dividing Line shows. Evidently, Johnson believes that hoi polloi is inept to comprehend such matters. How did an average guy like me read The King James Only Controversy back in 1996 with no knowledge of Greek, yet I understood the basic TC concepts? Simple, it did not come down to aptitude but that little thing called...desire to know my faith and my source for my faith more deeply.
Kevin Johnson will be forced to spend eternity with someone he agrees with.

Additional Comment from James White:
Kevin Johnson suffers from LOS (Liturgical Ostrich Syndrome). It is the almost comical attitude of the incessantly wanna-be "Catholic" (without the temerity to get out of the Tiber on the other side) to stick his head in the nice, warm earth of "the Church" (definition changes regularly) so as to ignore the reality of the world around us. We saw just a few weeks ago when Johnson proposed "the mind of the Church" as the matrix of exegesis, though, of course, when challenged, he could not provide an exegesis of Romans 5:1 from "the mind of the Church." No one could. Last week, when I announced that I am going to set all my other projects aside to write From Toronto to Emmaus Johnson noted that Benedict XVI hasn't bothered worrying about the tomb story (then again, he doesn't seem to worry about the gross compromise of truth inherent in modern Roman doctrine regarding Islam adoring the one true God with Christians, either, but that's another issue). He said we should let "the Church" handle such things. If I was good with Photoshop I would try to put Kevin's face on one of the many prelates who sat quietly by during the Reformation, fully aware of the corruption of Rome and its theology, but, like him, suffering from a fatal case of LOS. And now when Alan rightly notes the functional necessity of knowing the history of the Bible in our ever-more anti-Christian society and in light of incessant attacks from all angles (Islamic, secular, cultic) on the text of Scripture, Johnson cannot help but pop a cork. Those who stick their heads in the sand cannot help but be upset with those who refuse to join them in the darkness of inactivity. Johnson has nothing to say to Islam. He cannot speak to Ehrman, or any of the other attacks upon the faith, let alone the current tomb controversy. He has abandoned obedience to 1 Peter 3:15, and I guess, when asked, will just say, "I don't know. Ask the Church."



00:01:00 - Category: Textual Issues - Link to this article -

Another Commentator on the Tomb Story
03/07/2007 - James White
I would like to comment on your Jesus family tomb article. You can always find arguments to support your belief system and disregard other arguments that do not fit in with your beliefs. This is only natural. Because you only chose to choose quotes from people that would like to discredit the documentary it is clear where you stand. I found the film to have a very compelling argument. The filmmakers truly believed they 'may have' found something profound. They are not saying it is definitive proof but encourage discussions and further scientific study. It amazes me how many had their minds made up before it even aired.... I'll continue to view this issue with an open mind and the question.. what if? John
Well, John, I suppose I could pull a Simcha here and say, "Hey, you haven't read my book, so you really can't say anything," but I'll avoid that.
Most of my commentary on the topic has been done on radio programs and web casts, actually, and in those programs I have played every bit of audio recording I could find, allowing Jacobovici and Pellegrino and Cameron and Tabor to define their own terms and make their own claims. So it is simply false to say I have only quoted those who "agree" with me. The fact is, John, I was writing about this before there were others to agree with me in the first place! The problem is that Jacobovici et al are making wild claims that even secular scholars identify as far-fetched, and part of their M.O. has been to play fast and loose with the data they have at hand (such as the mitochondrial DNA evidence). Further, I have quoted from men like Carney Matheson, from correspondence I have had with him, and he was the DNA expert used in the film! So how can you possibly make the assertion you have? ...
[Click Here to Continue Reading]


14:25:21 - Category: Tomb Issues - Link to this article -

Here's a Book I Need to Order!
03/07/2007 - James White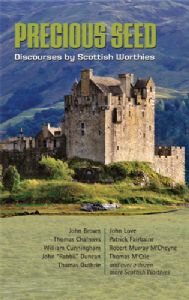 Hey, do you think if I link to this for the folks at Solid Ground (who are putting out From Toronto to Emmaus as well), they might sneak a copy into my current order? Hey, it's worth a try! Seriously, having been mercifully removed from the Pseudo-Scots Club Presidency by as great an authority as Pastor Jim Handyside, I truly have a place in my heart for all things Scottish, especially when it comes to the great men of God who graced that land for many years. There are some tremendous names here, and from what Mike says, and from the endorsements on the book, the sermons selected are amongst the best. Given what passes for Christian preaching today (here's a pretty sad example), this would be a refreshing reminder of what real biblical preaching is about. Quick before the price goes up!


11:30:10 - Category: Misc - Link to this article -

Yesterday on the Dividing Line
03/07/2007 - James White
What a wonderful surprise we had yesterday on the program! It was Julie Staples' birthday. Now, a number of years ago, I and some others tried to sing Happy Birthday for Julie, and the resultant mess was...humorous. We about blew up our phone system. So I put out a call for the world famous Mylo Hatzenbuhler to come to my assistance, and amazingly, he did! So you get to hear Mylo sing Happy Birthday, though, he asked me to join him, which sorta messes things up.
We likewise took a call from Martin of the UK, and played some Shabir Ally clips on the crucifixion. Here's the program (free/high quality).


11:22:49 - Category: The Dividing Line - Link to this article -

Reasons Why Textual Criticism is Essential for God's People
03/07/2007 - Alan Kurschner
During the past month, Dr. White gave an instructive primer on Textual Criticism, explaining the history of the transmission of the text, textual methods, and its practice in concrete Biblical examples. It should be self-evident that this apologetic field is essential for defending the faith and providing confidence that our source for the knowledge of God is true.
Because the very phrase "Textual Criticism" conjures up for many some abstract, non-practical academic exercise, many folks tune out when the subject is invoked. In reality, textual criticism is anything but an ivory tower activity; rather it is found every Sunday in church, in reading scripture, and witnessing to Atheists, Muslims, JW's etc.
Sadly, I have heard (and you may have too) both pastors and professors assert, "Textual criticism is not a subject that is appropriate for the local church; it is too technical and may undermine the believer's faith." My response is that it is true that it can be an in-depth and often technical subject, but it has, and can be, communicated in such a way that God's people can grasp important rudimentary uses; and second, what is in danger of undermining the faith of believers is to remain ignorant of the history of their Bible!
Here is an outline of reasons why TC is essential for God's people,

In the Local Church
1) Two of the most common questions in the local church which believers ask their pastors are actually two textual critical questions: "Where did we get our Bible?" and, "Is the Bible we possess today the same Bible used in the early church?" Who says that believers are not interested in textual criticism?! They want to learn not just what is in Scripture, but its history and reliability as well.

In Apologetics
2) You cannot witness to a Muslim for a half hour without them bringing up their most common objection to the Christian faith. Can you guess what is the nature of their objection? You guessed it...a textual critical objection. They will inevitably object by saying, "Your Bible cannot be trusted because it is based on thousands of manuscripts in which not a single one of them agree with each other."
All of a sudden textual criticism is no mere academic exercise...it is real life, practical---it is staring you in the face waiting for you to give a TC answer to the Muslim that you profess to love and hope to see come to Christ. There is a TC brick wall between them and the Christian faith.
To be sure, one does not have to be a TC scholar to answer such objections. It is not either/or (that is, ignore TC all together by convincing yourself it is not vital; or, become a TC scholar and be able to answer every question and objection). A basic knowledge of TC will allow the Christian to answer most of the superficial objections to the history of the transmission of the Bible. ...
[Click Here to Continue Reading]


07:30:00 - Category: Textual Issues - Link to this article -

Particular Redemption, etc.
03/07/2007 - Jeff Downs
John Piper, Mark Dever and Bruce Ware join together for a two hour discussion on topics such as particular redemption, N.T. Wright on justification, megachurches and more. Here is the link to the audio. This was recorded in November of 2006 during the ETS Conference.

BTW: James preached a great sermon this past Sunday on The God Who Justifies.


04:49:13 - Category: Misc - Link to this article -

On the Perspicuity of Catholic Apologist Gary Michuta
03/07/2007 - James Swan
Whatever happened to Catholic apologist Gary Michuta? Recall, Dr. White debated Gary on the apocrypha a few years ago (MP3's of the debate can be found here). Well, Gary has put together a large website and a blog with occasional entries. A recent entry stated,

"Christians often fool themselves into believing that the bible is guiding them into all truth and that the truth of the bible is so clear that any unbiased person can determine its true meaning. The fact of the matter is even the clearest texts have multiple possible meanings."


The irony of this statement is my recent purchase of Patrick Madrid's A Pocket Guide to Catholic Apologetics[Indiana: Our Sunday Visitor Publishing Division, 2006]. This handy little guide consists of nothing more than Scripture references designed for Roman Catholics feeling "flat-footed and ignorant about how Scripture supports Catholic beliefs and practices" (p.9). You would expect Madrid to tell his readers to keep the Catholic Catechism handy for interpretation, but he simply recommends purchasing an RSV (Catholic Edition) and highlighting all the prooftexts he lists.
Early on, Madrid lists those texts establishing the authority of the papacy. But I wonder why, since of the fifty or so texts cited, an infallible interpretation has yet to be given from Rome. The Catholic scholar Raymond Brown has actually said the Roman Catholic Church "...has never defined the literal sense of a single passage of the Bible" [The Critical Meaning of the Bible (New York: Paulist, 1981), p.40]. I'd like to ask Gary Michuta if he would recommend Madrid's book. It appears to operate on the assumption "the bible is so clear that any unbiased person can determine its true meaning."
What of Michuta's charges against the perspicuity of Scripture? One wonders if Michuta thinks the Bereans were fooling themselves when they examined the Scriptures every day to see if what Paul said was true (Acts 17:11). Paul assumes his words were clear: "For we write nothing else to you than what you read and understand, and I hope you will understand until the end." I'd like to ask Michuta how it was that even an unbeliever was able to read the Law and interpret it correctly (Luke 10:26-28).
Michuta is implying the Bible needs an infallible interpreter or else it can't be understood. But the infallible interpreter appears to be asleep at the job, or more precisely, sleeping for centuries. There is no infallible committee or pontiff I'm aware of diligently pouring over the Scriptures and infallibly interpreting them for the Roman church. I've yet to see the RSV (Catholic infallible interpretive edition) at my local Catholic bookstore.
Michuta goes on to present an example of one his clearest texts of scripture, "This is my body" (Matthew 26:26), and posits Protestants have at least 200 interpretations of these words. No examples are given, but a link to a document in Latin is put forward as evidence. One must press Michuta to put forth the goods. Does Gary really want to imply that unless one joins the Roman Catholic Church, one is left with interpretive chaos? How can his position explain the papal encyclical Divino afflante Spiritu that states there are very few instances of unanimous patristic exegesis? In other words, Gary should not put forth a standard he himself cannot meet. The alleged infallible church couldn't even decide on the number of sacraments for quite some time, but yet they are to be looked to for clarity and certainty!
The Reformers held Scripture interprets Scripture. "This means quite simply, that no part of Scripture can be interpreted in such a way as to render it in conflict with what is clearly taught elsewhere in Scripture" [R.C. Sproul, Knowing Scripture (Illinois: Intervaristy Press, 1977), 46]. This principle was at work before the Reformation. Even Catholic apologist Steve Ray notes, "The Protestant principle of Scripture interpreting Scripture, is not a Protestant innovation at all. It has been taught and practiced from the earliest years in the Catholic Church, as a short review of the Church Fathers writings and the subsequent teachings of the Church clearly demonstrates" [Stephen Ray, Upon This Rock (San Francisco: Ignatius, 1999) pp. 263-264]. Thus, the Reformers were in unity with those who preceded them.
We are called to be diligent students of God's word. It is that which thoroughly equips Christians for every good work. The words of God make one wise for salvation (2 Tim 3:14-17). They were written so that we may believe Jesus is the Christ, the Son of God (John 20:31). Michuta would have you believe you are fooling yourself by relying on Scripture, but Scripture is the very word of God. The Psalmist says, "The unfolding of Your words gives light; It gives understanding to the simple." If the Bible is the very word of God, how could I not be being guided into the truth by reading its words? If Gary wants me to think I'm fooling myself, I must simply ask who's words are really unclear, his or those found in the Bible?


04:00:00 - Category: Roman Catholicism - Link to this article -

Some E-Mail, More Links
03/06/2007 - James White
This is one of the reasons I am working on a book: there are so many little tidbits of important information floating about on the net, in this book, that article, this old journal entry, that trying to keep it all straight is pretty difficult. That is part and parcel of the problem with the Jacobovici/Cameron/Tabor/Pellegrino project: it merrily skipped right on past the necessary academic examination to its publicly presented conclusions. In any case, these links are important: Joe Zias and a statistical examination.
Meanwhile, I got the following e-mail from "Lawrence":

This is about your so called conclusion about the lost tomb of jesus. It is funny to me how many of you control freaks will dismiss the facts when faced with them. Not that the tomb has rendered facts yet,but that you stand ready to dismiss them before they can be proven. Because it may hurt your beliefs,or your control over others beliefs. There is no other documentation that proves Jesus exsited. The bible is not proof,because it was written centuries after the so called life of christ. God only exsists in your head. You will not respond to me because I challenge your faith. I accept that. You people are weak when it comes to serious debate,you will only continue to deliberatly lie to people about real truth. Believe in ghosts if you wish,but stop telling people it is truth unless you have the facts.
Hello, Lawrence. Don't think I've had the pleasure of hearing from you before.
Dismiss facts? Exactly which facts have I dismissed? I've documented that Jacobovici et al. have dismissed the proper limitations of mitochondrial DNA analysis with reference to familial relationships; I've documented that they have dismissed centuries of sound biblical scholarship relating to the NT, gnostic writings, etc.; I've documented their gross double-standards in their use of sources, their selective use of biblical material, etc. So just what "facts" have I dismissed, I wonder?
You say I dismissed them "before they can be proven." Isn't that the point? They skipped the entire "proving" stage called scholarship, chose their "experts" so that they would all have an agenda (or were not given the whole story), all to accomplish their own ends. I would love to see you attempt to establish your accusations here.

You say the Bible is not proof because it was written centuries after the so-called life of Christ. Really? The Dead Sea Scrolls were written prior to the life of Christ, Lawrence. Did you forget that the DSS contain many biblical manuscripts? Or are you very confused, thinking the New Testament is all of the Bible? If you are referring only to the New Testament, if it was written "centuries" after the time of Christ, why do we have manuscripts like P46, P66, and P75, all from around AD 200, and fragments like the one to the right, P52, from the Gospel of John, dating to as early as AD 125? I have this sneaking suspicion your knowledge of biblical history is somewhat lacking, perhaps?
Why did you think I would not respond to you? The problem is, Lawrence, you haven't actually challenged me. You have to have some kind of meaningful argument to comprise a real challenge. Merely blowing steam is not the same thing as a challenge. It is easy to make the accusations you do, but far more difficult to back them up.
Now, I do a live webcast every Tuesday and Thursday. The toll-free number is 877-753-3341. Details are over there on the left under "Webcast." If you have the courage of your atheistic convictions, try calling and backing up your accusations of dismissing facts, lying to people, etc. Since I am so "weak in debate," I'm sure you would do a wonderful service to all of my listeners to point these things out, don't you? I look forward to hearing from you.


08:20:12 - Category: Tomb Issues - Link to this article -

The Tomb Story on Iron Sharpens Iron Today and Tomorrow
03/05/2007 - James White
I will be joining Chris Arnzen on Iron Sharpens Iron today and tomorrow on the tomb story. Here's the link. Listen in at 3pm EST.


09:28:19 - Category: Tomb Issues - Link to this article -

Making Lemonade Out of Lemons: Using the Talpiot Tomb as a Witness
03/05/2007 - James White
It is the morning after. Those with an interest in the subject of the resurrection have already seen the film. As most of you know, today I launch into a high-speed book writing project to attempt to collect, collate, and present in a clear and understandable fashion the main arguments and facts regarding the Talpiot Tomb, DNA, patina, statistics, gnostic writings and the like. But at best, that book will not be out until Easter. So how about today? Rather than hope no one will ask you what you think, I believe we should be on the offensive---without being offensive. As I suggested with The Passion and with The Da Vinci Code, let's use this situation to God's glory and for the proclamation of the truth.
Well, it sure looks like the experts have put a crink in your religion! Actually, just the opposite. Instead, we have yet another example of how those who oppose the resurrection of Christ are willing to manipulate facts just to get maximum impact. In reality, the main problem with the film and book is its sensationalistic bent that leads Jacobovici and Cameron, etc., to take otherwise interesting historical facts and twist them into an attempt to turn a regular Jewish tomb into the family tomb of Jesus.
But they have DNA evidence! Yes, mitochondrial DNA evidence that conclusively proves that the tiny bone fragments recovered from ossuaries 80-500 and 80-503 came from people who were not related to one another maternally. Nothing more. They could have been related paternally, i.e., 80-503 could have been the father of 80-500 but the DNA evidence currently available cannot say much more than that. Finding people in a family tomb who are not maternally related is, of course, not unusual. In fact, it is normal. The assumption that Yeshua ben Yosef, if that inscription is being read correctly at all, was married to at least one of those whose bones were placed in ossuary 80-500 (there could have been more than one), is fanciful at best. Tell me, why do you think the authors of the book forgot to tell their readers about the paternal possibilities of relationship between these two ossuaries? Is it because that reality is fatal to the case they are trying to construct?
But the name cluster statistics prove this is the tomb of Jesus of Nazareth! Listen to what you just said! Jesus of Nazareth, not Jerusalem. At least 20 men would, using the same statistics, have lived in Jerusalem during that time period that had a father named Joseph and a brother named James. And guess what? All twenty or more of them died. And were buried. How many had ossuaries? Hard to say. We have found multiple attestations of the name Jesus in ossuaries from the time. The Talpiot tomb is nothing new. But Jesus wasn't from Jerusalem. He did not live there, nor would there be any reason to think that a multi-generational tomb would be owned there by someone from Nazareth which is far to the north of Jerusalem. But beyond the fact that it is truly stretching it to assert that a poor man from Nazareth would have a rich tomb in Jerusalem...where he was crucified...and where his followers were persecuted by the Jewish leaders...who would have made the tomb the main-stay of their apologetic arguments against the growing Christian faith (nothing like showing off Jesus' tomb to end rumors of resurrection!), the fact is that the odds are high against any particular combination of names appearing in a single tomb in any one place. The chances that your father, with his first name, would choose to marry a woman with your mother's first name, are high; then, that two such named people would choose your name for a child, is likewise higher; now add in your siblings, and you are getting the number ever higher. Yet, families, with names, exist, in some of the oddest, and statistically improbable, combinations.
But Christian scholars agree that the Mariamne in the tomb is Mary Magdalene! If "two or three" is the same as "Christian scholars," I guess so. But since the identification of "Mariamne" as Mary Magdalene is central to the entire theory, don't you find it rather odd that Jacobovici and his team overlooked the prevalence of the name and the source of it (Mariamne was the favorite wife of Herod--how many baby girls were named "Jackie" back in the 1960s?) in the contemporary records while running to a document written 1) at least three centuries later, probably four, 2) known in full only from a 14th century translation, 3) in a different language than that relevant to the ossuaries, 4) from a geographical location far removed from Jerusalem, 5) that itself never identifies Mariamne as Mary Magdalene (that is pure speculation on the part of Francois Bovon) and 6) that is utterly a-historical and mythical? Is this really how you do serious "investigation" and scholarship? Remember, this identification was the "insight" that "connected all the dots" for Jacobovici---and yet, it is the weakest link in the entire argument.
But what about their argument that the Gospel of Thomas was written by Jesus' son Judah? That's one of the more humorous speculations of the book, actually. See, the Gospel of Thomas was written far, far from Jerusalem, in a different language, and it comes from a completely different worldview. Those who are not invested in selling books promoting the Gospel of Thomas recognize that it was written no earlier than about AD 165. So, if Judah was buried around AD 65, it was quite the trick for him to write a book a hundred years after he was buried, in a land far away, in a language he would have no reason to speak!
This is just the beginning of how you might turn a skeptical inquiry into an opportunity to speak of the gospel. May God bless all of you who seek to be bold witnesses this day!


02:00:00 - Category: Tomb Issues - Link to this article -

Oprah's Secret
03/05/2007 - James Swan
Back in the early 1980's the Christian church clamored over this thing called the New Age Movement. Books and articles poured out, warning Christians about this dangerous worldview that was a mixture of Eastern religion, occultism, and chicanery. Now, mention the New Age movement to a church Sunday school class, maybe two out of a group of twenty will be able to tell you what it was. Has the New Age disappeared? Was the church successful in disarming this counterfeit worldview? Well, maybe the term New Age isn't popular anymore, but it popularized something that has become a given in Western society: relativism. Everyone claims their own personal spirituality. Everyone is his or her own guru.
Perhaps the greatest vehicle keeping New Age mysticism and relativism alive and well is the Oprah Winfrey Show. Oprah aired a few shows on The Secret, a New Age method promising happiness and success created by Rhonda Byrne. By knowing The Secret, you can create the life you want: getting out of debt, finding a better job, or finding your true love. Rhonda discovered The Secret in 2004. She states it can be traced from 3500 BC to the present. The Secret explained is the law of attraction. It is the universal law that like attracts like. It is said to be the most powerful law in the universe, at work all the time.
Oprah's website claims, "The principle explains that we create our own circumstances by the choices we make in life. And the choices we make are fueled by our thoughts which means our thoughts are the most powerful things we have here on earth." Imagine telling Stephen as he was being martyred that he wasn't giving out positive thoughts to attract others to him. When Jesus taught in John 6, almost everybody left him because of what was preached. In The Secret, the sovereignty of God becomes the law of attraction. Choices made by negative humans control their own destinies.
The Secret is a New Age version of the prosperity gospel. Everything a person experiences is attracted to us by ourselves. Within each of us is an absolutely unlimited power to control our destinies. All one has to do is learn gratitude for what one has already, be it success or failure. One of Oprah's guest's stated, "If you think about it, the universe has a conveyor belt of presents lined up for you, and until you receive the one and fully are grateful for it, the next one can't come out of the chute. It's all lined up."
The Oprah show wants you to know The Secret doesn't contradict Christianity. One of the shows stated, "The Secret isn't about contradicting religion it supports it. 'It actually goes underneath the culture and explains to you the sacred laws that these wonderful teachers have brought to us...' The Secret is about supporting the great spiritual traditions in a more modern form. 'It really is just putting Christianity, Judaism, all the great teachings into a current vernacular.' " A guest from Oprah's audience asked if The Secret was compatible with the Christian understanding of heaven, hell, and a final judgment:

"As a Christian, Maureen says she believes in heaven and hell, and she's concerned that The Secret's promotion of free will and personal choice imply that you do not face a final judgment.
James [Arthur Ray] says that while he honors Maureen's Christian belief system, he suggests looking at the concepts of heaven, hell and judgment in a different way. 'Jesus the Christ said the kingdom of heaven is within. He didn't say it was out there somewhere [he said] within. And so is it possible to consider that the kingdom of hell is within as well?' he says.
'The kingdom of God is actually in us, and what comes out of your mouth, what you think about, how you express you're either participating in the realm of ever-expanding good or you're cutting yourself off from the realm,' Michael [Beckwith] says.
Michael [Beckwith] suggests that instead of living a life preparing for some ultimate reward, you should live in the now. When you're anticipating some future good, you're preventing that good that is all around you from expressing through you, he says. '[Don't] put life on the layaway plan and try to anticipate that it's going to get good in the future.' "

The first part of the response says the Christian belief system is honored. If honor implies respect one would think that a Christian understanding of heaven, hell, and judgment would be presented. Oprah's expert suggests looking at these concepts in a different way. The kingdom of heaven represents the good thoughts inside of us. The kingdom of hell represents the bad thoughts inside of us. Don't look for a future reward; enjoy what you deserve now by putting forth the good. Heaven? Hell? Who cares. Eat, drink and be merry.
Notice the context of the Biblical phrase kingdom of God was completely devoid from the answer. In Luke 17, the Pharisees wanted to know when the Kingdom would come. When would God's people see their prophesied theocratic leader? Certainly Jesus didn't believe God's kingdom was within these religious leaders. He considered them religious hypocrites. In Romans 14:17, Paul states, "For the kingdom of God is not a matter of eating and drinking, but of righteousness, peace, and joy in the Holy Spirit, because anyone who serves God this way is pleasing to God and approved by men." Jesus is actually rebuking the hypocrisy of the Pharisees, pointing out that the kingdom is an inner righteousness, not an outward righteousness of eating and drinking, rules and regulations. We are given Christ's righteousness in justification. The Holy Spirit performs his work of sanctification, making our works pleasing to God. The answer given by the Oprah show does more than misquote a Bible verse. It denies the Gospel.
Since these Oprah shows aired, the local chain bookstore near my house said not only are they sold out of The Secret, but also the publisher has to print more to meet the demand. This doesn't surprise me. The Secret assumes the unity of all religions, Christianity does not. The Secret assumes a universal law of attraction channeled by each persons choices; the Bible declares the sovereignty of God. The Secret teaches you how to live a life of glory; the Bible explains your life will be identified with the cross. The Secret gives each person the power of performing good and evil; The Bible describes humanity as enslaved to sin. The thrust of The Secret is a blatant denial of the Gospel, and incompatible with Christianity. If someone tries to tell you The Secret, I suggest countering with the revealed truth of Jesus Christ.


00:01:00 - Category: Christian Worldview - Link to this article -

The Early Church and Papal Primacy
03/04/2007 - James White
It's been almost a decade but nothing has changed about the historical realities regarding papal primacy. This is my rebuttal period from the debate with Mitch Pacwa on the Papacy from Long Island in 1998, illustrating once again how Rome's claim to virtual ownership of church history is simply indefensible.

The DVD of this debate is available here (#581).


01:00:00 - Category: Roman Catholicism - Link to this article -

Bibliology Course
03/03/2007 - Jeff Downs
As some of you know (not by viewing the Calendar mind you), James is in Massachusetts teaching a class on Bibliology at Bethlehem Bible Church. Here is the description of the course:

Canonicity, inspiration, inerrancy, transmission, and preservation of the Biblical text will be evaluated in this course. The reliability of modern translations as accurate representations of the original manuscripts (along with provocative topics such as the King James Only controversy and gender neutral Bible translations) will be explored

Already they have up the audio for session 1 and for some time now, the Syllabus and Notes #1 and 2. Go here for all the details.


19:13:15 - Category: Misc - Link to this article -

Despairing Over a Perfect Savior and Divine Freedom
03/03/2007 - James White
The following letter appears without comment in the current edition of Dave Hunt's newsletter. It is a sad example of how the Hodges/Wilkin heresy on salvation, promoted by Hunt, not only leads to a rejection of God's divine freedom, but likewise creates gross confusion on the matter of assurance. Instead of finding one's assurance in the promises of a sovereign and free King of all creation, and a Savior whose death is perfect and complete and without the need of human additions, this person seems to find only "despair" in such things. What an incredibly sad commentary on the man-centeredness of so much of modern "Christianity." Here's the letter:

Dear Co-Laborers in Christ,
About two years ago, I was attending a good Bible-based community church when seemingly out of nowhere TULIP teaching became the focal point. I struggled with the "T" [Total Depravity] and the "U" [Unconditional Election] but when it came to the "L" (Limited Atonement), I looked around the congregation and noticed no one else seemed to be looking around--stunned, as I was. This Calvinist teaching was taught in-depth for several months. Even before moving on to the "I" and "P," I hit a pit of despair. For the first time since my salvation, I began to doubt and realized there was no assurance. If I'm chosen, I'm chosen. If I'm damned, I'm damned. And God is glorified in both? I was astounded to learn that the words "world" and "whosoever" did not mean what they implied but meant that "God so loved the 'chosen'..." and they were "whosoever." For months I continued searching and despairing....During this time, a friend came into [our] store and I tentatively shared with her my new-found doubts. My fear was that she too believed this TULIP doctrine. Instead she loaned me her husband's book by Dave Hunt, What Love Is This? It was underlined and highlighted and I knew I needed my own copy. I contacted TBC and ordered the book....The ministry at TBC is invaluable. Many of our customers are delighted to find books that offer substance and answers to those who are thirsting, starving, and despairing. LP (WA)
For the truth about "all" and "whosoever," see the information Hunt has never been able to respond to in any coherent fashion, found here.


02:00:00 - Category: Reformed Apologetics - Link to this article -

Dr. Carney Matheson Responds
03/02/2007 - James White
I am very thankful that Dr. Matheson, the paleo-DNA expert who is featured in The Jesus Family Tomb and in the film to be seen on Discovery this weekend replied to my e-mail today. He must be deluged right now! I feel sorry for him. In any case, I had asked the following:

On page 172 of The Jesus Family Tomb you are quoted as follows:


"That this man and woman do not share the same mother," Matheson said quickly and conclusively. "They cannot be mother and child. They cannot, maternally, be brother and sister. And so, for these particular samples, because they come from the same tomb--and we suspect it to be a familial tomb--these two individuals, if they were unrelated, would most likely have been husband and wife."


Given that mitochondrial DNA analysis can only address maternal relationships, leaving open the possibility that 80-503 was, in fact, the father of 80-500, and the mitochondrial DNA analysis could not address this, is the preceding quotation accurate to your recollection? Did you inform Simcha Jacobovici of the possible paternal relationship?
He replied in less than three hours (despite the book indicating he "rarely checks e-mails"):

This work was done as a service. We did not know who they suspected these individuals to be from. On the report it concludes that these two profiles from two different individuals were not maternally related. That is all the report states. When they did the filming and on the documentary they asked every question under the sun with permutations and manipulations. I provided the investigators with all the possibilities. They were not brother and sister, mother and child, maternal cousins, maternal grandparent and child etc. I also mentioned all of the possibilities, which I should not have done in hindsight. These included, father and daughter, paternal cousins, half brother and sister (sharing the same father) or simply unrelated individuals.
The media does what they want.
Please note the last portion of what is said here: "I also mentioned all of the possibilities, which I should not have done in hindsight. These included, father and daughter, paternal cousins, half brother and sister (sharing the same father) or simply unrelated individuals." There is not a whisper of this in the book. Not a word. You tell me why these possibilities were simply left out when Dr. Matheson reported them?


19:42:57 - Category: Tomb Issues - Link to this article -

Quick Additional Information (With Link Update)
03/02/2007 - James White
With the film airing in only a few days, this item of information is very interesting. We are getting a number of very helpful e-mails, and Laurie sent us a URL with this information in it. Jacobovici discusses in the body of the book and its conclusion the work of Bellarmino Bagatti and the "necropolis" he uncovered in Jerusalem called Dominus Flevit. There is an ossuary there inscribed "Simon, son of Jonah." Quite interesting indeed. But, what Jacobovici neglected to mention, in the chapter in the book or in the conclusion, is some of the other names found in the necropolis there in Jerusalem, including "Mary, Martha, Philo the Cyrene, Matthew, Joseph, Jesus" (source). Woops, that would not help your theory much, would it? So, that did not make it into this "carefully researched" work. One of our channel regulars did a little looking around when I mentioned this and came up with this site with documentation from Bagatti on the Peter ossuary. Just another helpful item to have ready for the Monday Morning Deluge coming your way.

UPDATE: a useful set of comments here.


19:34:44 - Category: Tomb Issues - Link to this article -

A Few Items from the Conclusion of The Jesus Family Tomb (Updated)
03/02/2007 - James White
Certain aspects of the conspiracy theory laden movie/book by Jacobovici and Pellegrino have not yet been given much attention in the media or in the Christian responses thereto. As our regular readers know, I will be launching into a book-length rebuttal and examination when I return home Monday. But till then, a few items should be noted:
1) Jacobovici was central in the production of the Discovery Channel's special on the 'James, brother of Jesus" ossuary special a few years ago. Clearly, there isn't a thimble-full of objectivity on his part in the analysis of sources used in his work, and he was the prime mover in "connecting the dots" through the use of a-historical gnostic sources from centuries later to "read back" Mary Magdalene into the Mariamne ossuary.
2) So central to this entire web of speculation and theorizing (maddeningly littered with "obviously" and "probably" and "it is most likely" phrases attached to historical absurdities) are the a-historical gnostic writings removed far from the original context in geography (one can't even connect the authors to the original locations), time (they were writing hundreds of years later), language (a consideration in and of itself fatal to the tenuous attempts to do linguistic gymnastics) and religion (gnosticism has always been, and always will be, fundamentally antagonistic to foundational pillars of Judaism and Christianity) that this project should be called the "Gnostic Fantasy of the Jesus Family Tomb."
3) Jacobovici is so wedded to this gnostic spin that he spends a good portion of his conclusion to the book arguing that the author of the Gospel of Thomas was, in fact, "Judah son of Jesus" from the Talpiot tomb (ignoring, of course, the original language of Thomas, the fact that it would have been written nearly a century after the destruction of Jerusalem and after the Judah ossuary was placed in the tomb--was there a fax in that ossuary I wonder?). The result of his over-riding theory on his part, especially when it comes to his use of biblical materials, is startling. I will post some of his arguments from Scripture as soon as time allows.
4) It is so very sad to see these men obscure solid scientific data. One of the main "tests" I had in mind for this book when I picked it up was this: Will the book honestly discuss the limitations of mitochondrial DNA? Will they admit that such analysis can only speak to maternal relations, not to paternal relations? Will they tell us what Dr. Carney Matheson has confirmed that such a test cannot rule out that Yeshua ben Yosef was the father of Mariamne? Or will they spin the results? The answer was: spin, spin, spin. Look at this direct quote from the conclusion, page 207: "However, they were able to extract mitochondrial DNA from both the Jesus and Mariamne ossuaries. This allowed them to confirm that these were indeed Middle Eastern people of antiquity and that they were not related." This is simply false. In an e-mail dated 2/26/07 Dr. Matheson frankly stated, "This can only identify maternal relationship of which the two remains do not share. However we cannot exclude paternal relationship using the mtDNA." And shortly after, "However the DNA results only show they are not maternally related the rest is the conclusions of the producer and the other researchers." Surely Matheson informed Jacobovici of this. Jacobovici somehow forgot. Or did he? This cavalier handling of vital information should reflect upon the entire project.

Quick Update:
For purposes of complete disclosure I wanted to note that in the brief chapter on the DNA analysis Matheson is quoted as properly indicating the limitations of mitochondrial DNA analysis in reference to familial relationships. However, never once in the book is the factual reality that a father/daughter relationship could exist between Yeshua ben Yosef (ossuary 80-503) and Mariamne (80-500) noted, let alone considered, expanded upon, or discussed. Instead, on page 172, Dr. Matheson is quoted as follows, and then the story moves quickly on.

"That this man and woman do not share the same mother," Matheson said quickly and conclusively. "They cannot be mother and child. They cannot, maternally, be brother and sister. And so, for these particular samples, because they come from the same tomb--and we suspect it to be a familial tomb--these two individuals, if they were unrelated, would most likely have been husband and wife."
I have inquired of Dr. Matheson concerning his recollection as to whether Jacobovici was clearly informed of the limitations of the analysis, and will appraise my readers upon his reply.


07:57:12 - Category: Tomb Issues - Link to this article -

This is Why George Bryson Won't Debate Anymore
03/02/2007 - James White
I have mentioned that last year we attempted to arrange a debate in Utah with George Bryson on Calvinism. He refused to allow for cross-examination in the debate. I think this video explains why. I have honestly never heard anyone spin in tighter circles in the face of basic contextual questioning than in this instance.

The DVD of this debate is available here (#594).


00:01:00 - Category: Reformed Apologetics - Link to this article -

And Now...My Secret Weapon in the Blog Wars...Angelz!
03/01/2007 - James White
centuri0n started it. Really. It is his fault. But I took up the challenge. And I have a secret weapon. No, it is not Colin Smith (cds), though, he is British. And a vegetarian. No, it isn't the Gobbler, though, he is a super hero...of some sort. No, it is not the Calvinist Gadfly, DeoVolente, though he still has all his hair. Jeff Downs is a likely suspect, but it isn't even him. Nor is it TQ and his musical talents (in case you are wondering, I was just went through the main folks on this graphic from left to right, sorta). No, my secret weapon is that little guy down in the left hand corner. See him down there? Yeah, that's Angelz. And when Angelz draws, people listen! So now, for the first time, the new Team Apologian graphic (which I managed to get inserted in the header even before I got home, though, not without a few difficulties!):


click here for full size image
For all their photoshop magic, Team Pyro doesn't have Angelz. It's like...playing the Bulls when they had Jordan, you know? You could be good, but you were never good enough. Sorry, Phil, Frank started it. Love you guys!


20:43:03 - Category: Blog Stuff - Link to this article -

Quick Notice: Update
03/01/2007 - James White
My apologies on being so late on this. I will be on WLFJ-AM at 1pm EST today on the program "Calling for Truth" to discuss the tomb issue. Here's the live link.
Update: Just finished the program, the archive should be posted here.


10:39:10 - Category: Tomb Issues - Link to this article -

Ben Witherington's Preliminary Conclusions
03/01/2007 - James White
Ben Witherington has read The Family Tomb of Jesus and I am thankful to see he has focused upon the same problems I have identified in the work. He also has some quotes from Bauckham on the translation of "Mara" as well.


07:46:22 - Category: Tomb Issues - Link to this article -