Alpha & Omega Ministries Apologetics Blog

I Will Be On Iron Sharpens Iron Today
11/30/2006 - James White
I will be on with Chris Arnzen on Iron Sharpens Iron at 3pm EST on WNYG. Listen in!


11:18:10 - Category: Misc - Link to this article -

The Price is Wrong | UK Islamic State | Meet the Puritans | Debate mp3s | Cruise Bookings
11/29/2006 - James White
That has to be the longest title for a blog entry yet. A new record. At least I don't have to worry about a comments string like poor Dan Phillips. There is something...almost sad about that. (wink)
First, Angelz now has his own blog, so, I can link to his toons and you can get mad at him instead of me! What a relief! He listened to Nelson Price's horrific, inexcusable bus stop illustration on the DL, slammed a Red Bull, and got out his pencil. Here's the result. I love the "arguments on the bus go round and round and round and round." The circularity of the argumentation currently flowing from the pulpit of FBC Woodstock is pretty easy to see, and rather simple to document.
Next, we have this scarey article from the UK, indicating that an underground establishment of Sharia law (Islamic law) is taking place there. The same is happening in Canada. Folks, it's real easy: law that has no divine basis is nothing but human opinion. Western "law" fell into the human opinion realm a long, long time ago when the clear connection to the Bible was ignored, and now openly denied. Western humanism is no match for Islamic fundamentalism.

One of the best presentations given on our cruise was by Dr. Don Kistler. Here is his website. I strongly encourage you to peruse the materials he has available, especially his presentations on the Puritans. Another great option for providing godly, thought provoking, mind-improving presents during this season.
I linked to the mp3s of the debate on baptism, but I'm concerned that the version we currently have is not complete. I know my introduction is missing, and someone has indicated that possibly some of the debate itself has disappeared. What we have is just a sampled-down version of what was posted on the opc website (the originals were posted in stereo--hardly need that for a debate--and at 112 bit sampling rate, which again, is way high, making the debate 124 megs in size. Our version is 27 megs, much easier to download, especially for those who still suffer from Dai Lup Syndrome). We have yet to receive the videos of the debate to be able to determine if anything is, in fact, missing, and if we will be able to do anything about it. If there is any audio of material missing from the audio recording on the videos, we will do what we can to amplify and clean it up digitally and insert it into the audio recordings. And, of course, we will do our best to sync up the audio recording with the videos (two cameras, independently of each other, using different recording media, were used). Please be patient as we attempt to provide a final and full version of this important debate.

Finally, a word of wisdom to those considering being a part of The Cross: Historicity and Theology in October of 2007. I know that sounds like a long time from now, but it truly is not, and in reality, what we can actually do then is pretty much determined by how folks respond now to the offering. Please do not put off registration. Let Sovereign Christian Cruises know of your interest today! This will help us not only to plan properly, but to provide the best cruise possible! It will also help us in planning the debate in the Seattle area the preceding Saturday evening. Pray as we seek to provide the most edifying and challenging experience ever in Seattle next October!


13:37:12 - Category: Misc - Link to this article -

Solid Ground Provides Another Gem
11/24/2006 - James White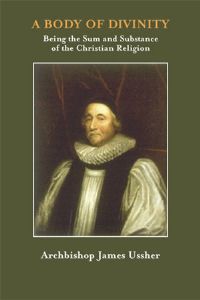 Well, just when you thought it was safe to dig your credit card out from under the rock in the back yard, the folks at Solid Ground leap out from behind a tree and hit you with A Body of Divinity: Being the Sum and Substance of the Christian Religion by Archbishop James Ussher, the great Irish Puritan leader. Till 12/31 SGCB is offering a pre-pub price of 30% off (it will be out in January). Note this information:

Archbishop James Ussher (1581-1656), author of the newly reprinted "Annals of the World," wrote his Body of Divinity in a way that would make it useful to the family. Long out of print, used copies regularly bring $400.00 and more on the used market. This edition is newly typeset and will be a smyth-sewn hardcover volume with a full color dusty jacket that will endure for generations. A new Introduction by Dr. Crawford Gribben and a complete Bibliography on Ussher make this the most valuable edition ever produced.
Though it won't be out till January, you might consider making it a present for yourself or your elders and just put the endorsements found on the website on a sheet of paper in a card or something in lieu of the book itself until it arrives. In any case, kudos once again to the folks at Solid Ground for bucking the trends in Christian publishing and bringing out what we really need! Here is the listing.


18:18:41 - Category: Misc - Link to this article -

Tradition Glasses Once Again
11/20/2006 - James White
Over the years I have certainly done my best to be consistent in examining my own traditions in the light of Scripture and encouraging others to do the same. I've surely ruined a lot of "good" sermons that way for many, but the long-term value is more than worth it. Two examples of the damage done by man's traditions nullifying Scripture have me thinking this morning.
First, Phil Johnson has done a series on the "Lordship Controversy" over at Pyromaniacs that is well worth looking at. His article today on Spurgeon struggling with antinomianism in the early days of his ministry is well worth the read (and is short enough not to consume your day). The more I reflect on the growth of open, gross antinomianism (Hodges, Wilkin) the more I am convinced it is a cancer that is reflective of the shallow nature of so much of what calls itself "evangelicalism" today. We cannot forthrightly and honestly battle the intrusion of works-righteousness on the one side if we are not consistent in decrying its opposite error on the other. And once again, the balance is to be found in historic Reformed theology's accurate and consistent reflection of biblical teaching on the nature of God's decree, man's deadness in sin, grace, mercy, faith, justification, and sanctification. Campi has likewise commented on this issue recently as well. Given the fact that it is natural for men to compromise on these very issues, always finding a way to intrude ourselves into the glory of Christ in salvation, faithful pastors will always need to be reminding the sheep of the dangers found lurking on both sides of the narrow path.
Another example of "tradition glasses" overthrowing the text can be found in the ever-popular game, "Let's Chop Romans 9 Up and Mute Its Teaching." This game, popular on national radio programs, in books, commentaries, and in Bible college dorm rooms worldwide, seeks to allow those who do not want to believe God is the Potter, we are the clay, and He makes from one lump vessels of honor and vessels of dishonor, i.e., that He mercies whom He chooses and He hardens whom He chooses--to pretend they are still believing the Bible while rejecting the meaning of this text. The "this is only about blessings and nations and service and stuff" excuse is still quite popular, but it doesn't survive even a casual reading of the text in context, so a little more tricky gambit is often used. It goes like this.
First, cut the text up. Almost anyone reading from Romans 8:28 through 9:24 will be overwhelmed by the consistency of the argument and the inexorable force of the flow of the text. Throw as many roadblocks in the way as you can, and, it is always good to toss in The Big Three, i.e., 1 Timothy 2:4, 2 Peter 3:9, and Matthew 23:37 (in fact, go ahead and misquote the last one, nobody seems to notice anyway) even though none of these texts are actually relevant to the topic at hand. For those who are predisposed against Romans 9, they sound like they are relevant. But whatever you do, don't let anyone follow the argument and note, just like in John 6, that if you start at the beginning, follow the argument, note the use of terms, the text really does interpret itself. That would be disastrous. Chop, chop, chop. You can come up with a plausible excuse for a few verses, but that's impossible for the whole thing. Isolate and conquer. The motto of eisegesis.
Second, once you have isolated the really offensive part (9:19ff), chop even this portion up and then throw this canard out and wow your target audience. Ignore the Potter and the clay thing and get to the vessels of wrath/vessels of mercy portion. Yes, clearly, the "vessel for honorable use/vessel for common (dishonorable) use" parallel is still in view in 22-23, but tradition glasses don't see things like that. Ignore it. Just go to 22-23 and point out that "vessels of wrath prepared for destruction" is a little bit different than "vessels of mercy, which He prepared beforehand for glory." There is no "He" in the preparation of the vessels of wrath, see! Rely on the fact that the person you are talking to is desperate for a way out of the dreaded trap of Calvinism! See, God did not prepare these vessels of wrath! Yes, yes, of course, if they read it in context the Potter is the one who prepared both groups in verse 21 and 22-23 is the continuation of that argument but again, if you have made sure to use the right music and drag a few bright, shiny objects by you should be able to keep someone from noticing the fatal flaw of your argument. So, you either claim that the vessels of wrath prepare themselves (letting God off the hook and giving you room for your true ultimate prize, human autonomy!), or you let Satan do a drive-by here and do the preparation for the vessels of destruction (as if Satan is not, in fact, bound by God's sovereign decree). In any case, you get to give your audience a way out of the text for which they will be ever grateful.
Now, of course, it is true that the terms "God" or "He" do not appear in the preparation of the vessels of wrath in verse 22. It is also true that vessels of wrath, by nature, continue to be vessels of wrath and, in fact, outside of God's restraint upon them, would express ever greater detestation of God and His law. There is a modicum of truth in stating that vessels of wrath are complicit in their being what they are. Quite true. But that doesn't change the point being made by the Apostle. This kind of eisegesis ignores the flow of the text; it ignores that God is concerned about demonstrating His power and wrath (compare v. 17 with v. 22); it ignores the fact that the Apostle is responding to a particular objection against his teaching, an objection that is exactly the viewpoint of those who seek to get around this text!
Ironically, I completed my review and rebuttal of Frank Page's The Trouble with the Tulip book in the Sunday morning Bible studies at PRBC (the 14 part series is found here). The last three or four segments were on Romans 9. Then, tomorrow on the DL, I will be playing another nationally-broadcast attempt to deal with Romans 9 before we get back to the Dr. Vines sermon.


09:40:47 - Category: Misc - Link to this article -

More Stuff Found in Boxes
11/17/2006 - James White
Now here's something I didn't expect to see. This is a picture shot through the studio window of WEZE in Boston back in 1993. I'm facing the camera. That's Gerry Matatics' back. The host's name was Janeane Graph or Grath or something like that. This was the very day I referred to in my book, Mary: Another Redeemer? in these words:

It caught my eyea small booklet, tucked in the fold of a chair in the corner. I normally wouldn't have seen it, but it was sticking out just enough to be seen. I picked it up. The blue-and-white cover bore the title, Devotions in Honor of Our Mother of Perpetual Help. I thumbed through the booklet, scanning a few of the prayers it contained. My eyes caught a line about my eternal salvation, so I backed up and started from the beginning:


O Mother of Perpetual Help, thou artthe dispenser of all the goods which God grants to us miserable sinners, and for this reason he has made thee so powerful, so rich, and so bountiful, that thou mayest help us in our misery. Thou art the advocate of the most wretched and abandoned sinnerswho have recourse to thee. Come then, to my help, dearest Mother, for I recommend myself to thee. In thy hands I place my eternal salvation and to thee do I entrust my soul. Count me among thy most devoted servants; take me under thy protection, and it isenough for me. For, if thou protect me, dear Mother, I fear nothing; not from my sins, because thou wilt obtain for me the pardon of them; nor from the devils, because thou are more powerful than all hell together; nor even from Jesus, my Judge himself, because by one prayer from thee he will be appeased. But one thing I fear, that in the hour of temptation I may neglect to call on thee and thus perish miserably. Obtain for me, then, the pardon of my sins, love for Jesus, final perseverance, and the grace always to have recourse to thee, O Mother of Perpetual Help.


At first I could not believe what I had just read. So I ran back through the last few lines. Was this prayer really saying that the petitioner did not fear his or her sins, the devils, and Jesus?? Thats what it said. I shook my head in disbelief.
A few years later I found myself in a radio studio in Boston, Massachusetts, doing a radio discussionwith a former Protestant turned Roman Catholic named Gerry Matatics. The topic was Mary and the saints. Mr. Matatics and I were scheduled to do two public debates at Boston College over the course of the next week. But today we were live on the air taking calls on the subject of prayers to Mary and the saints. As I packed for the trip I found the little blue and white booklet and decided to bring it along. Now I reached into my bag and brought it out. Surely quoting this prayer would bring a strong reaction from Mr. Matatics. Surely hed deny that such a prayer is proper, and that the people who had written it were just going overboard in their piety. The talk show host involuntarily gasped as I read the final lines, and as I put down the booklet I looked across at my opponent, waiting for the expected reaction. The host, likewise, turned to Mr. Matatics. He was quiet for a moment, and then spoke. "Mr. White," he began, "I can only hope that someday you, too, will pray that prayer."
Now here is a shot from the debates at Boston College that followed. 1993, I remember it well. Now, I've mentioned a few times what happened after this. We had intended to be back on WEZE, but were told that the program had been canceled. So, a few days later, we are driving around out in Southbridge, MA, and we turn on the radio. We could barely hear it, but we hear the same program, and Matatics is on, and they are wondering where I am! So we flew back home (I was staying with George and Aline Bonneau) and I called in and we did the rest of the program over the phone. I sat on a bed and spread out my Bible and some books in front of me. Here's the actual scene from more than thirteen years ago:

So, this was the program where I threw out "the White Question" as it has become known. I asked Gerry, "So, Gerry, if you are correct, then how did a believing Jew living fifty years before Christ know that Isaiah and 2 Chronicles were Scripture?" I recall the incident very clearly, but did not know that the Bonneau's had taken any pictures of it as it happened! Well, like I said, what interesting things you find in boxes as you move (or, in my case, are finally getting everything to your new office and trying to find a place for it).


15:51:35 - Category: Misc - Link to this article -

Monday Potpourri
11/13/2006 - James White
We had the largest group on the Veendam, 149 folks in all. Here's the group picture from formal night.

As I mentioned, I hope to play a few clips from the Spong debate tomorrow on the DL. But one of the comments he made that really caught the attention of many was his repeated assertion that everytime, during the audience questions, that I spoke of redemption, forgiveness, atonement--in other words, when I spoke of the gospel--he replied, "I hear a lot of guilt in what Dr. White is saying" or "I hear judgment over and over again." And all the Christians in the audience are nodding and saying, "Yes, you are---if you don't know guilt, if you don't know judgment, you won't be looking for a Savior."
Of course, those on that side of the cultural divide truly live in a world of double standards. They scream for inclusion, but exclude any kind of Christian worldview in the process. They demand freedom to express any kind of perversion they wish, but demand that the Bible be labeled as hate speech. An item I saw in my blog run this morning, and one noted in #prosapologian, illustrate the point.

First we have this story about a Missouri State University student punished by school officials for refusing to sign a letter supporting homosexual adoption. Professor Frank G. Kauffman "assigned to his students a project promoting homosexual foster homes and adoption. The project required the entire class to write and individually sign a letter to the Missouri Legislature in support of homosexual adoption, a letter Brooker refused to sign due to her religious objections." Now, focus on what is said next in the article: "On Dec. 16, 2005, Brooker faced a two-and-a-half hour interrogation by faculty members, who allegedly asked her personally invasive questions such as, 'Do you think gays and lesbians are sinners?' and 'Do you think I am a sinner?'" Sound familiar? Can you see the real motivation behind these actions? Thankfully, things turned out properly in this case, though, one must wonder how often "academics" get away with this simple persecution of believing Christians.
Then we have good ol' Elton John calling for the banning of...religion! Here are his comments. You won't find a scintilla of logical thought, historical understanding, or consistency, but then again, would you expect to? I repeat: this kind of stuff does not bring the wrath of God. It is the wrath of God being poured out upon men. Judgment has already begun, and it is taking a great toll upon the society that continues to exemplify its love for all things ungodly. "Professing themselves to be wise, they became fools" is not an insult, it is a description of men whose foolish hearts have been darkened.

Moving on to other things, I see Rich is working diligently in getting our debate and conference audio and video materials ready. The conference began with a tremendous exposition of the primacy of preaching from Scripture delivered by Pastor David King. Just as Jim Renihan's opening presentation last year on the inspiration of Scripture set the tone for the rest of the conference, so too David's presentation did this year as well. I was tremendously grateful to have such fine brothers as Don Kistler, David King, and Steve Camp on the cruise, and of course, Tom Ascol and Burk Parsons at the conference. I do hope all who were there were blessed and edified. I am truly thankful that we have been blessed by God to have a long history of providing important, sound presentations on vitally important topics for years now. We have resisted the temptation to go after the "sensational" and we have concentrated on that which has eternal importance. May He bless us to always keep that perspective in mind as we plan future events and outreaches.

Finally, now that I have access to my scanner, I thought I'd provide one more formal picture. The nice thing about a cruise is that they have lots of photographers on hand during the two formal nights, so, if you want to get a nice picture, you can do so without all the hassle of most
photography places who try to sell you big huge packages and the like. Of course, any picture I take with my lovely wife will make me look better!


20:04:29 - Category: Misc - Link to this article -

Campolo on the Haggard Situation + Mawdudi
11/10/2006 - James White
I just happened to pop on CNN in my cabin and whose face did I see but Tony Campolo. On the screen he is identified as a "spiritual adviser." So I started listening very closely, as they were discussing the Haggard situation. What words did I hear? "Problems." "Asking for help." "Issues." "Problems." "Needed to be liberated." "Restoration process." "Demons you are struggling with" (not in a literal sense of that term, of course), "Love himself," "not being judged," etc.
Of course, nothing was said about sin, rebellion, wrath, punishment, or, the big word, "repentance." Never appeared. Not once. No cross, no atonement, no repentance, nothing uniquely Christian at all. But then again, isn't this the norm now? Would we not be shocked if, in fact, we heard someone speaking the truth about repentance and forgiveness at the foot of the cross?
Then Campolo attached the promise of Christ's love for the elect in Romans 8 to all people. No matter what you do, God will continue to love you. Sloppy agape, nothing about the fact that not all are children of God, but many are, in fact, children of wrath. He described God as our "most significant other."
When the interviewer brought up grace, while Campolo spoke of it as undeserved favor, he never once said it is undeserved favor for the repentant. It is never, ever separated from God's purposes in salvation. This kind of easy grace that is separated from sin has nothing to do with the grace revealed in divine Scripture.
Addition
Given that Internet access requires time and moving to another part of the ship, some of these blog entries are...somewhat mixed up. My apologies, but the fact that I can still get access at sea via satellite still amazes me. In any case, I have been reading Abul A'la Mawdudi's Towards Understanding Islam, a work written from the Islamic perspective itself. I have been struck once again by certain basic things that many Christians do not understand, such as the Islamic insistence that the Bible's truthful revelation of the sin and failures of prophets is in error (prophets cannot be sinful). Also, many Christians would be taken aback to see the exalted language used of Muhammad. Page after page after page appears before the eyes, including one subtitle, "A Savior is Born," and yes, of course, that is about Muhammad. I am using this text in my GGBTS class in January, along with the Qur'an itself. Time to start getting Christian leaders familiar with original Islamic sources!
This morning Steve Camp spoke from 2 Tim. 1:6-12 and not being ashamed of the gospel. This afternoon I speak on the King and His Ambassadors, and then it is time to pack up and get ready for that always enjoyable experience of getting your carry-ons through TSA screening! So, we should be back on our regular DL schedule starting on Tuesday. I hope to be able to grab a few clips from the Spong debate to play on the DL as well.


11:11:25 - Category: Misc - Link to this article -

Oh, A Quick Reminder
11/09/2006 - James White
Some of our fine folks on board are still live-blogging the Pulpit Crimes cruise here. Make sure to drop by and see their running commentary!


09:46:41 - Category: Misc - Link to this article -

Another Quick Report
11/09/2006 - James White
I promised to post a pic of Don Kistler speaking in the main auditorium. He spoke on buying the truth and not selling it (Proverbs 23:23), so here it is. It was a great presentation and folks were very blessed thereby.
In the afternoon, David King spoke on the centrality of the headship of Christ to the very nature of the church from Colossians 1.

As evening fell, I found out my digital camera is capable of capturing glorious images at sea, as this one demonstrates. Can you guess what my desktop looks like now? A tremendously beautiful view of God's creation.



05:55:58 - Category: Misc - Link to this article -

Back At Sea
11/08/2006 - James White
Just finished the session with Steve Camp on the Emergent/Emerging Church movement. Tomorrow Don Kistler speaks in the morning, and tomorrow afternoon David King speaks as well.
It truly amazes me that as we move along at 20 knots out here in the middle of the ocean I am able to be on the Internet via satellite uploading pictures and blogging. What an amazing world we live in.
Here is a quick photo of a photo...I don't have access to a scanner out here (well, I probably do, I just have not asked). See? It was the full outfit, nothing left out. Scotland the Brave and all that...
Update even before posting: could not post the above till this afternoon. Don Kistler spoke this morning on buying the truth and not selling it, and it was incredible. I snapped a shot but forgot to move it to this unit, so I'll try to post the pic a bit later.


10:22:11 - Category: Misc - Link to this article -

Greetings from the High Seas
11/06/2006 - James White
Greetings from somewhere in the Gulf of Mexico. Though our first night was pretty rough (high seas due to high winds) we are all doing well here on the Veedam. I have already spoken three times, Steve Camp has spoken as well. Tonight there is a panel discussion. We have 149 folks in our group, meaning more than 1 out of 10 of the guests on the ship are with our group! We have had sweet fellowship already, and I have truly enjoyed getting to know new brothers and sisters in the Lord
Since we will be in port tomorrow I hope to find time to write up a few thoughts on the Spong debate and get them posted. I am sure Rich will be focused on getting that prepared as quickly as possible. A number of folks in the group have commented on how clear the contrast of world-views was, and how only one side cares to interact with the other. Such is surely true. Who knows? Maybe I'll get to put up a picture or two as well. I also want to find someone to play some chess this time around! I brought my USCF sanctioned board, my timer, and I hope to get a few games of 5-minute chess in before this short week is over.
So till my next report...


08:22:36 - Category: Misc - Link to this article -